Gravel is a funny thing. Either you like it served fast and furious, or slower and more leisurely with a sprinkling of camping thrown in. Once you have decided which camp you fall into (pun not intended) you will gravitate towards a certain generic style of bike. The long and ultra distance crew tend towards more relaxed bikes with load carrying capacity. The fast and furious mob generally prefer racier designs…tweaked road bikes as we like to think of them.
There is no doubting which faction the Cipollini MCM All Road will appeal to. It looks fast… no compromise fast! In fact most people I met while out riding asked variations of the same question: "Isn't that a road bike?" If long, slower, touring is your thing, you'll hate this bike. If you like storming along trails and gravel tracks at warp speed, step this way.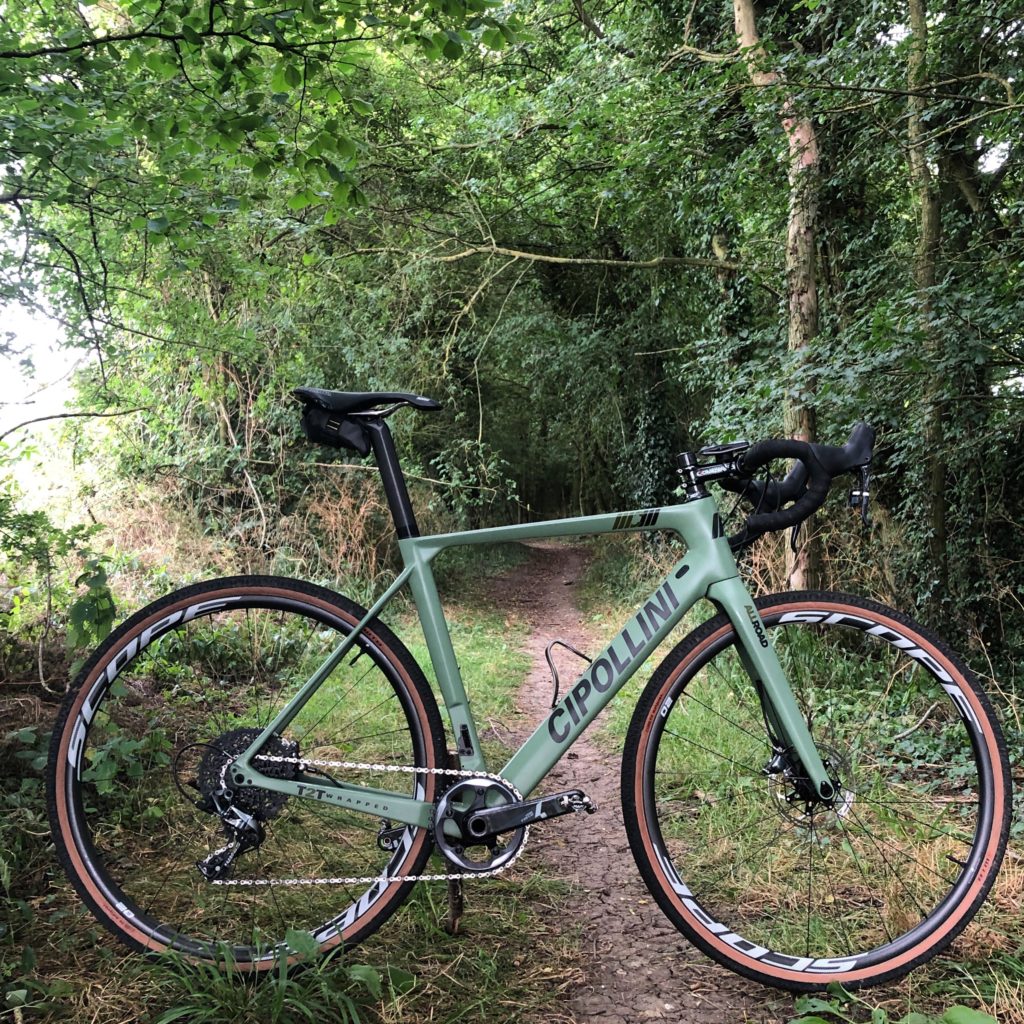 Custom heaven
UK distributor, Paligap, is importing the Cipollini MCM All Road as frame only. They argue that the target market for the Cippo will probably prefer a custom build than an off-the-shelf model. We think they have a point.
Our test bike came equipped with a SRAM Force 1x groupset, Vittoria alloy rims (low spec), Good Year Connector tyres and a very traditional set of FSA road bars.
I promptly swapped out the wheels for something more appropriate (and tubeless), but decided to put up with the roadie bars for the test period.
Wrapped up
Most carbon bikes are formed in moulds. This is very efficient and helps to keep down production costs. The 1,180g Cipollini MCM All Road however, is built using a tube-to-tube construction method that the brand call 'T2T Wrapped'.  The process is favoured by low volume, 'artisan', manufacturers who cite, among other benefits, the fact that they can factor in custom lamination for each frame size.
First they make the main tubes which are then tacked up with epoxy, before being overwrapped with carbon. Evidence of this technique can be seen at the tube junctions. The Cippo certainly looks more 'hand made' than the flowing, organic, shapes of most carbon frames.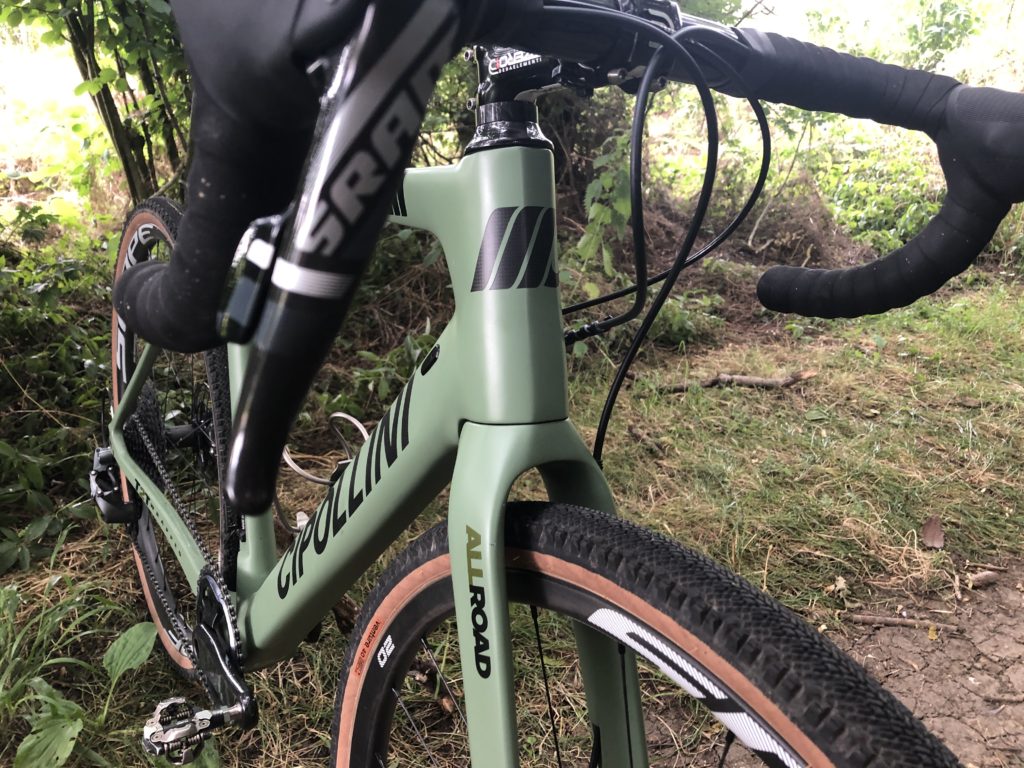 Flash Carbon
The Cipollini MCM All Road is made from Toray T1000, one of the toughest and strongest, fibres available today. This aerospace grade carbon has a high tensile strength and lets the engineers build those oversized tubes with much less material, while retaining a high degree of stiffness. Great for getting the power down, but there is a trade off. It is a little harsh!
Having said that, the design engineers have worked hard to stop you being battered to death. Kevlar inserts have been added at strategic flex points in the fork and rear triangle. Cipollini call it their 3S System (Shock Shape System).
A road bike for gravel
The All Road is available in five sizes, with effective top tube lengths of 512mm through to 590mm. Our 'large' test model (570mm top tube) has a head angle of 72.5, seat angle of 72.8 and a head tube height of 152mm. Pretty racy numbers for a gravel bike and rather close to those of their endurance road bike the Cipollini MCM. The bottom bracket drop is 73mm and the chainstays 417mm.
With no asymmetric chainstay, even a 700x40c tyre is a little tight.
I suggest you take the claimed maximum tyre clearance of 40c with a hefty pinch of salt. I rode the bike with 700x40c WTB Ventures and the clearance was snug to say the least. Fine when trails are dry and dusty, but definitely not when they turn muddy!
650 Curious? So was I, especially as the product literature made no mention of the 'wheel size du jour'. A quick wheel swap was enough to show that a WTB Byway 650b x 47 was never going to be a comfortable fit. Case closed.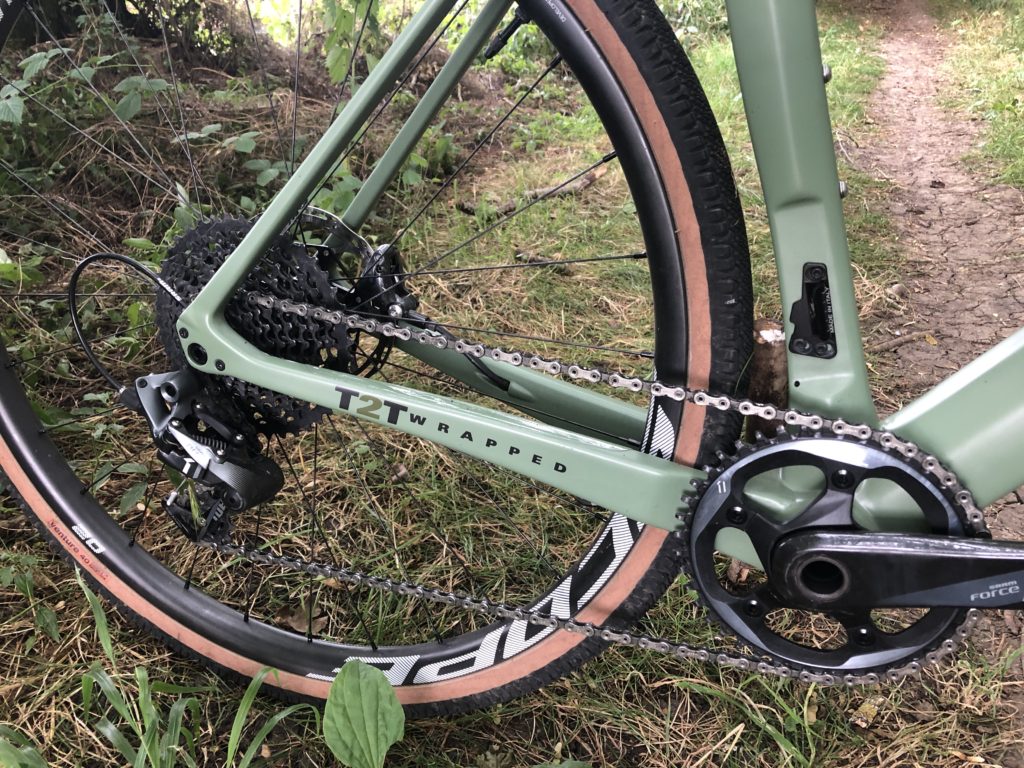 Two colours but only one choice
There are two colour options. This very cool 'matte army green' and the obligatory 'naked' carbon fibre finish. It is a no brainer in my opinion. The olive drab suits the character of the Cipollini. Weapons grade fast!
If there is one area where bike owners and manufacturers are likely to disagree, it is paint. If you are prepared to spend £3,800 on a frameset, you have every right to expect a tough and resilient paint job. From the manufacturer's perspective however, paint adds weight and this is 'a bad thing'. The lighter a frame is, the more likely you are to appeal to the 'performance driven' weight weenie with deep pockets. Well, that is the theory anyway. Unsurprisingly, Cipollini subscribe to the 'less is more' school, so do not expect your frame to escape unscathed after your next off road trip! Personally, I would expect a frame to continue looking good for as long as possible.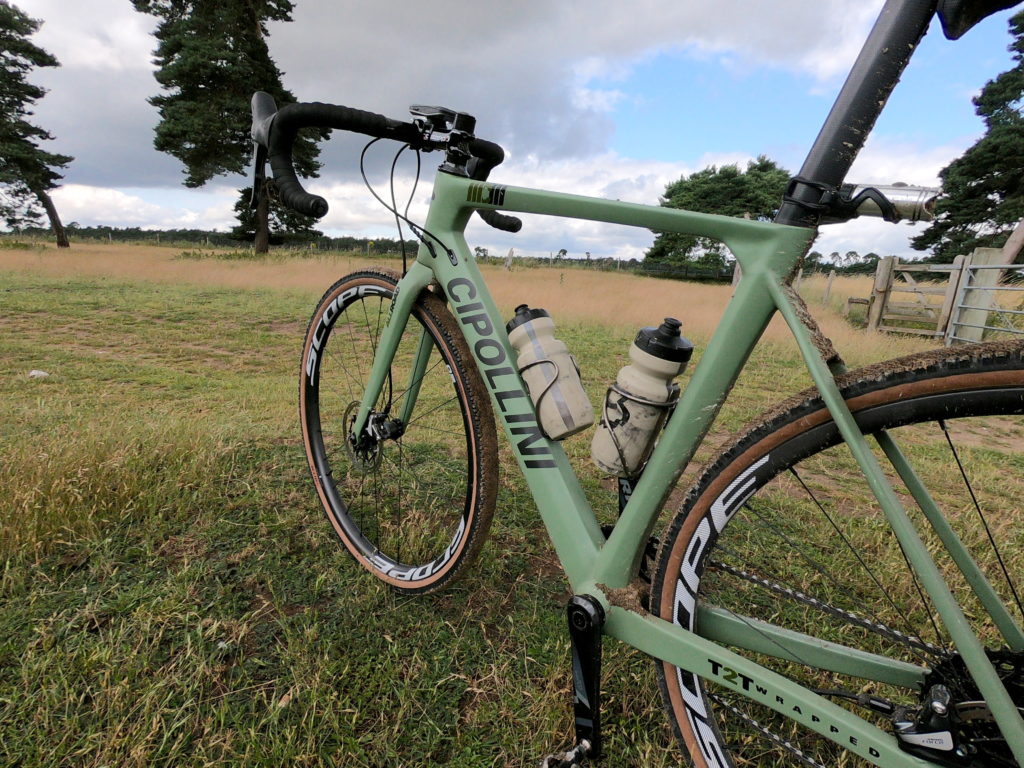 Features
In pursuit of performance, the All Road has a press fit bottom bracket. Ideally we would have liked to see a threaded unit. Maximum power transfer seems to demand a chunky bottom bracket area so maybe this is the only practical choice on such a performance oriented design. As the miles racked up during the test period, the BB made itself known on every ride with a little creaking sound under load.
All the cabling and hoses are internally routed. There is the usual option to run mechanical or electronic groupsets. You can even fit a front mech if you want!
If you opt for a 1x system, Cipollini supply a cyclocross style chain catcher to fit to the seat tube. I have never dropped a chain with a clutch rear mech, but if it makes you feel safer, it is handy to have.
All the current 'standards' are present. Both brake calipers are flat mount. Both axles are 12mm thru-axles too.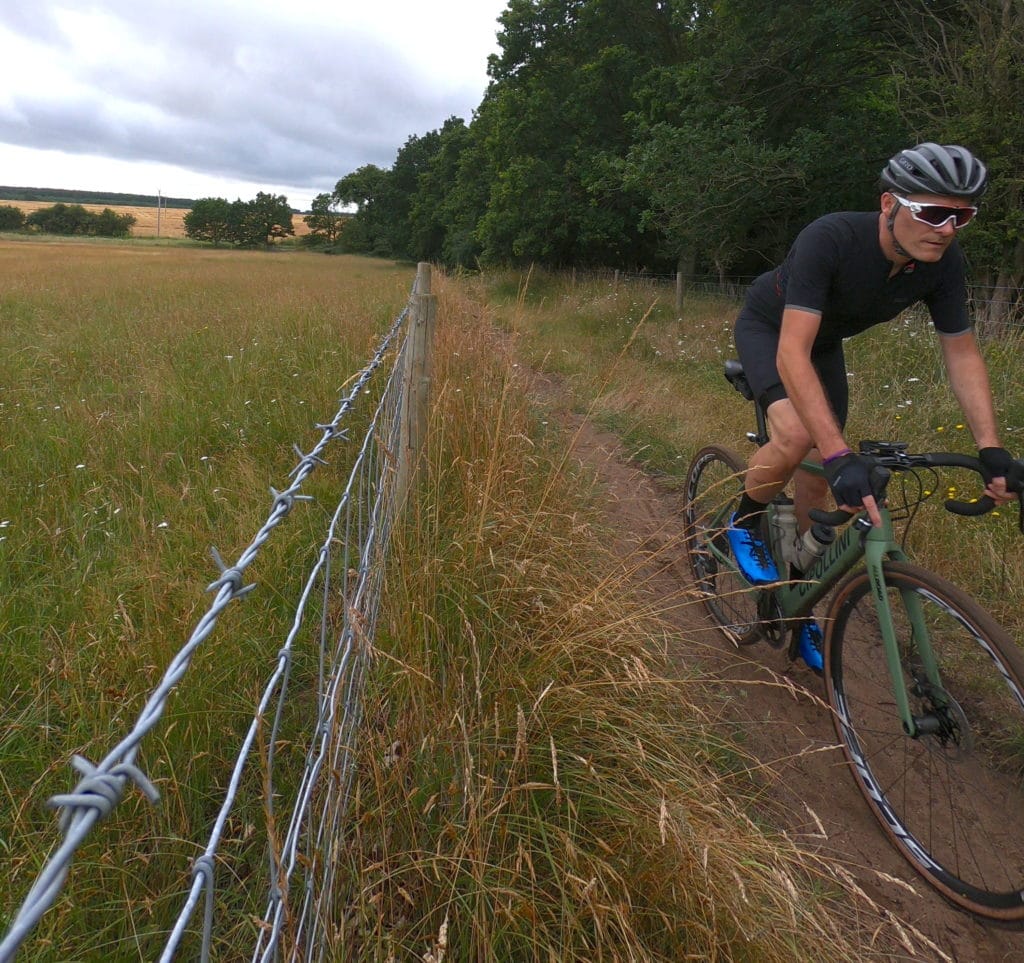 Negatives
In common with a growing number of bikes, Cipollini have employed a custom 'delta tube' seatpost, similar in style to that used on the 3T Exploro. I am not sure I entirely approve of this. In the first case, you are stuck with it, there are no after market options. Possibly more important, it is nowhere near as comfortable as a standard 27.2 post. There is flex if you show a lot of post, but not a lot.
Another growing trend is the adoption of a seat wedge clamp as opposed to a seat collar. On the plus side, the post on the All Road was totally secure and but it would make some noise on bumpy terrain. The creaking is amplified by the large tubes and it can drive you to distraction. The best solution is to concentrate on riding at terminal velocity.
Make no mistake, the All Road is a racer. There are two sets of mounts – for bottle cages. That is it. I do not think Cipollini expect you to take this bike out into the wilderness for multi day bike packing. You could strap on some soft luggage but frankly, there are better tools for the job.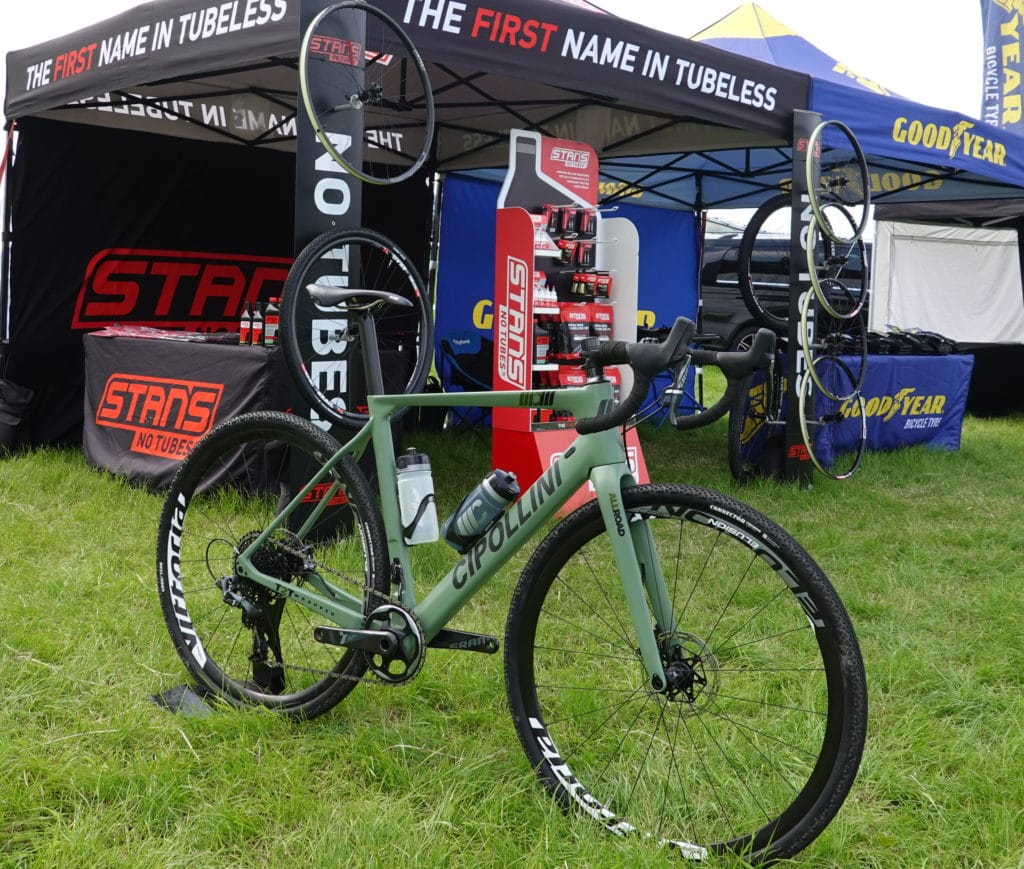 Ride
If I was asked to summarise my first impressions of the All Road I would say it was fast, aggressive but confidence inspiring. One look at the geometry will tell all you need to know about the riding position. The tubes are an obvious indication of excess rigidity and whoever heard of a Cipollini being slow?
Seriously, it is ridiculously fast. If you love nothing more than pushing as hard as you can, smashing all your personal records and dropping your friends, the All Road will be a match made in heaven.
If you venture onto singletrack, the All Road is more than capable. The only limiting factor is how long your body can withstand the pummelling of roots, rocks and braking bumps. There are more forgiving gravel bikes out there, but few will match the speed of the Cipollini.
In general, fast as it may be, the All Road is not an unsophisticated brute. You will find it more comfortable than you expect and more forgiving than the race geometry suggests.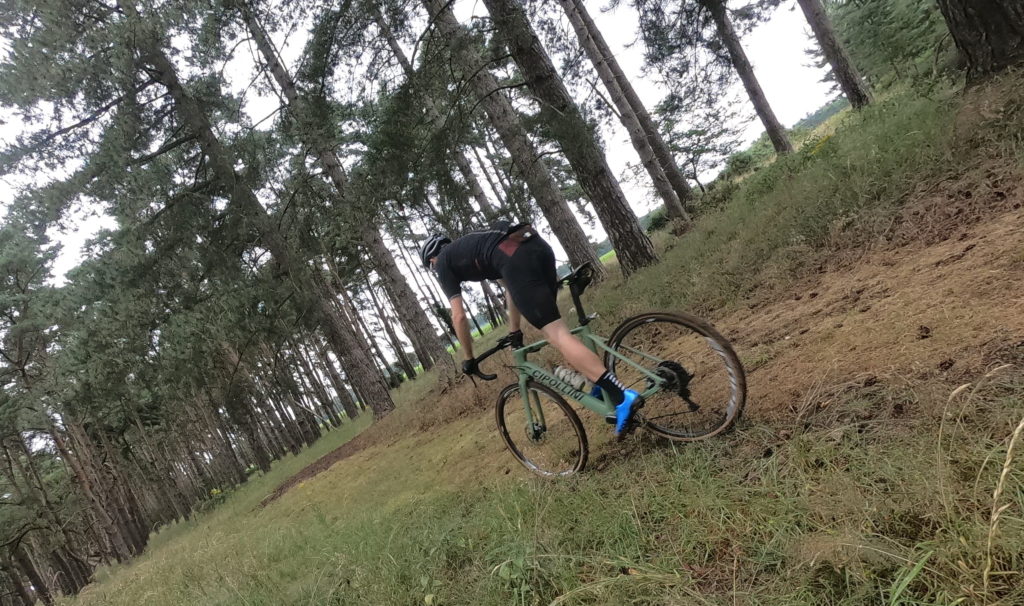 Value
Value is subjective. The brand commands a high price for the boutique image. Like anything Italian, you buy with the heart not the head! £3,800 will buy you a lot of bike, not just a frame. If you want the cachet of owning a Cipollini then it will be worth every penny.
Conclusion
The Cipollini All Road is quite simply, the Ferrari of Gravel Bikes. You either 'get it' or you don't. Like any Italian performance exotica, it has its quirks. Uncompromising and high maintenance. But open it up on the right trail and all is forgiven.
Last modified: 21st July 2019