Baggy shorts that you can ride in, kick about in and wear at work without looking like a donk are the industry Holy Grail right now. With the Folsom Short 2.0, Chrome Industries have come so very close to nailing perfection.
San Francisco based Chrome Industries have been making their 'indestructible' messenger bags since 1995. Adored by city dwelling flat bar fixie owners the world over, Chrome have a loyal following.
Chrome Industries have long since expanded their range from just making tough messenger bags. A whole wealth of men and women's specific shorts, shirts, shoes, socks, and trousers now accompany their award-winning luggage. All founded on the same belief of surviving a lifetime of abuse on the bike.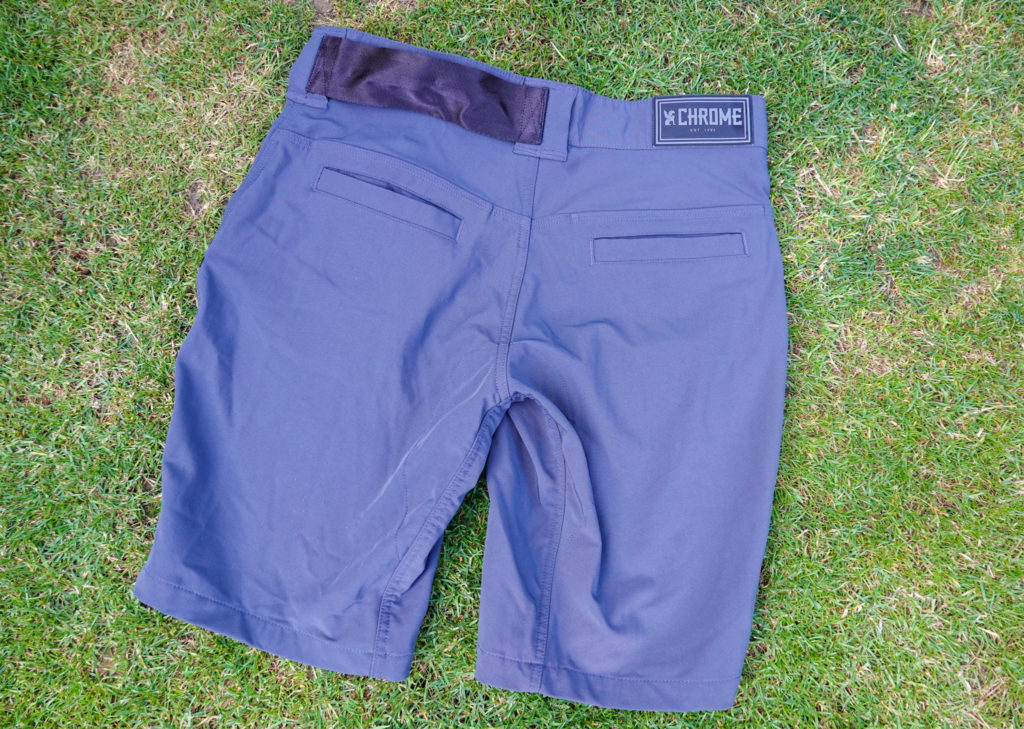 Folsom Short 2.0
Straight away that company motto of built to last is very apparent. The Folsom shorts look and feel tough, made from a heavy duty, Everest 4-way stretch material with water repellent coating. All the seams are reinforced and the crotch features a double layer seat gusset.
The shorts consist of 6 panels with a cycling biased cut with a close fit. Not too baggy, not too tight. The legs terminate just above the knee, which is perfect for pedalling without annoying material flapping or rubbing the tops of your knees.
Despite feeling like they're built to survive a direct nuclear strike, the Folsom shorts are lightweight and despite not having any  ventilation holes in the leg, are nice and breezy too.
Features
The Folsom 2.0 should have been called the No Nonsense Short. The feature list is as simple as you can get. In total there are 4 pockets with two on the side, perfect for slouching about, the other two are on the rear. Annoyingly, the pockets are all of the open variety with no zippers or poppers to provide a secure refuge for valuables. I'm not keen on stashing stuff in pockets when riding as I find it uncomfortable, but a small zipped pocket would be useful for change or keys when off the bike.
Chrome's simplicity continues with holding your shorts up. One metal button and heavy duty zipper on the fly along with belt loops is all you get here. There's no internal waistband adjustment so if you do find them loose, you'll need go old fashioned and fit a belt. While on the subject of fit, I found them to be true to size and the 32 fitted me perfectly.
I would have liked the Folsom 2.0 to have had some form of silcone gripper on the waistband. Just something to help them grip and prevent the inevitable slide that always happens when you team baggy shorts with slippy pair of bibs or padded pants.
Another nod to urban practicality is that large strap of webbing on the back of the shorts. This strip of car seat belt (a nod to Chrome's bag making history) is in fact a U-lock holder. Not something I've tried myself, but it does add a quirky bit of character to the shorts. The rear badge is reflective, but will likely be hidden under a baggy tee or flannel shirt.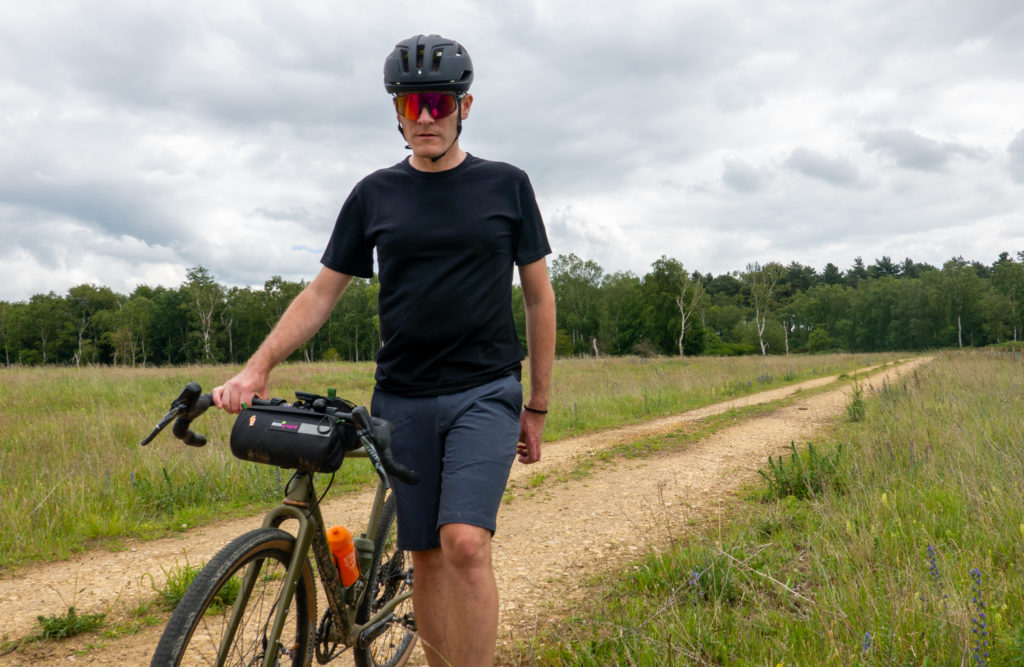 Riding in the Folsom 2.0
On the bike, the Folsom shorts are super comfortable. I have been using them with a pair of summer weight bibshorts underneath whenever heading off on longer rides, just with normal pants on anything 20 miles or under. They're a tough pair of shorts that'll withstand rough abuse off-road, yet the stretchy material is forgiving enough to offer up great comfort.
Off the bike they also look great. You could easily blend in with a crowd and no one will pick you out as the cyclist of the bunch! I'm actually using them pretty much every day during the current hot spell. They're seeing the inside of the washing machine almost daily and still look like new.
The dry weather hasn't stopped me testing out the Folsom shorts in the wet either. Thanks to our local farmer who loves to floor local bridleways with his irrigators, I've been splashing through muddy puddles more often than I'd like to. Chrome Industries DWR treatment on these shorts can withstand a pretty good soaking before it wets out. It'll easily shrug off rain if you get caught in a light shower.
Verdict
The Chrome Industries Fulsom 2.0 have quickly become a firm favourite of mine. Both on and off the bike! They're a super functional short which is tough and feels like they'll last and last. And they also look great, which I rarely say about cycling shorts.
Priced at £110, they're a pricey garment but compare them to the £136 Renee Gravel Shorts from Cafe du Cycliste and there is no contest which pair is going to last you longer and pocket you some change. The Overland's Selector Shorts are £20 less at £90, but feel a lot thinner and less durable.
If only the Fulsom 2.0 shorts featured a silicone gripper on the waistband and a zipped pocket, they'd score a perfect 10. Even without these features, they stand out as the best baggy shorts, both on the bike and off, that I have worn.
Last modified: 25th June 2020