Sun's out, guns out!
What better way to celebrate the return of the warmer months than to get some new kit? Remember the old adage – 'if you can't be fast, look fast'? Well it is not just about having a new bike. Looking good in the cafe is just as important.
Luckily for me, the good folks at Chapeau! sent us a sample of their summer kit to review. With any luck it will be distinctive enough to distract the cafe crew from the few extra pounds I put on over winter.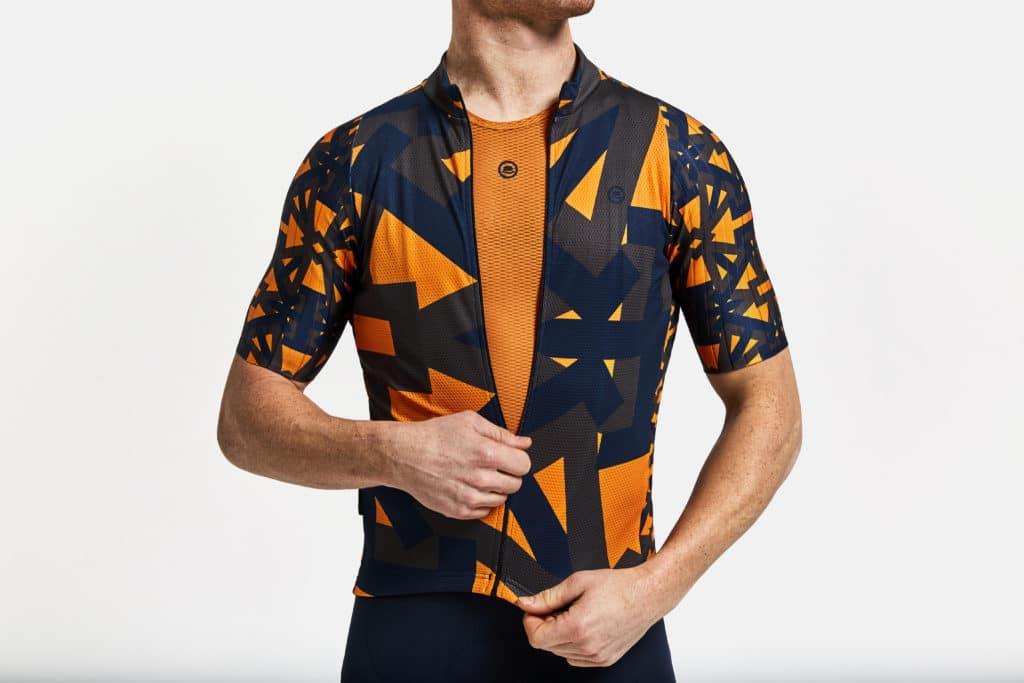 The height of sartorial elegance?
I really like the bold colours and designs of this year's collection. I have never been seen outdoors in orange and purple (sorry – aubergine) before, let alone in such bold and geometric patterns! So I waited until 2019 to emerge from the cocoon of my somewhat muted wardrobe. It had to happen some time!
Whether you like the bolder patterns and colourways is of course, totally subjective. (Chapeau! also have plainer shirts for the less flamboyant among us!) The point of this review is to assess the garments from a performance perspective.
On review from the Chapeau collection are the Men's:
Club Jersey Pro (short sleeve) in Aubergine – Extra Large £89.99
Mesh Sleeveless Base Layer (Bright Orange) in Large  £29.99 and
Club II Bibshort in Carbon Grey – Large £129.99
Chapeau Club Jersey Pro
The jersey design is fairly traditional. It has a full zip, short sleeves and three main pockets at the rear. There is also a zipped security pocket for cash or keys.
The main body is a breathable, lightweight, 2-way stretch fabric. Fully aware that not everyone is sub 10% body fat, Chapeau! have used the 2 way stretch fabric to make it relatively flattering to wear. Some 4 way stretch fabrics cling to every lump, bump and roll of excess that we have, which is not always a good look!
The side panels are however, 4 way stretch lycra to provide a good fit across a range of body shapes. Chapeau! work from five basic sizes and the idea is that the fabric combinations work together to form the best possible fit. So, the design not only has a performance slant but there is also a nod towards the visual aesthetic too.
There is a full length silicone gripper around the hem to keep it in place.
According to the website, the fabric provides a degree of UV protection. As summers seem to be getting hotter and the sun fiercer, this can only be a good thing. Do not forget your sun cream though!
There is a small rubberised disc on one of the rear pockets. It has reflective elements on it but it is quite insignificant. Do not rely on it to increase your visibility in dull conditions.
The sleeves
The sleeves have no gripper, nor do they have a finished hem. This is a bit of a departure from normal so I had to find out what the thinking was. The following is a precis of Chapeau!'s response.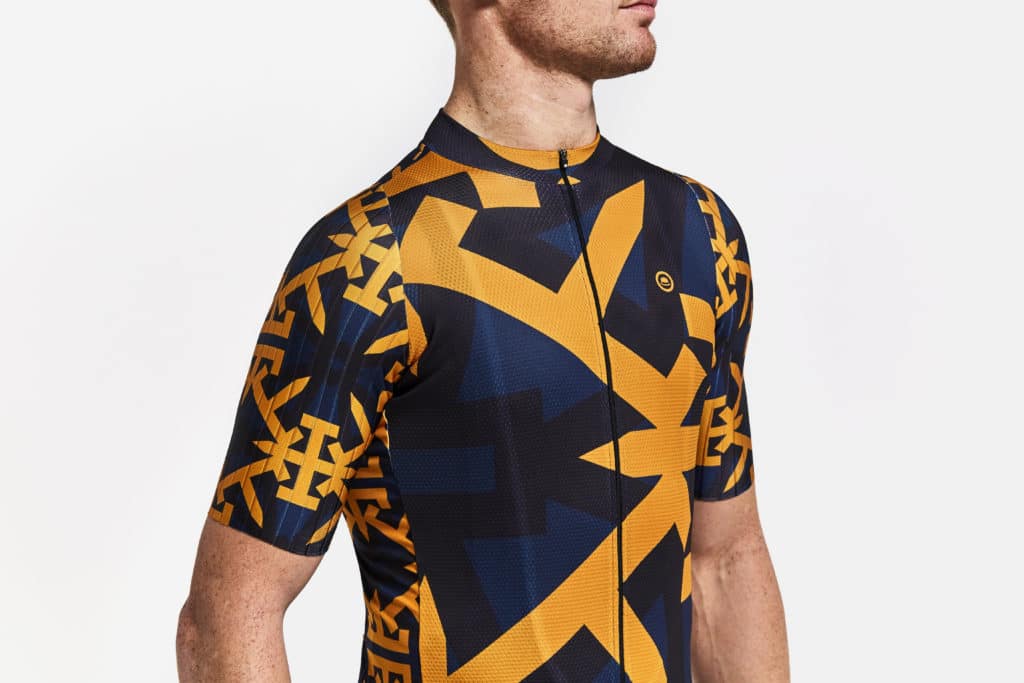 The benefit of grippers, relative to cost, is minimal. For a start, their effectiveness depends largely upon arm size. If you have small arms, they will not grip and just flap about. Apart from anything else, this has a negative impact on the look.
We chose the raw cut as it caters for a wider range of arm sizes, it looks cleaner and allows a lower retail price.
By using the raw cut (no hem) you get a nice, flat finish. Best results are achieved by cutting with a laser or a bandsaw, depending on the material. While it is impossible to get a perfect, razor sharp, finish, the end result is pretty good.
We have been testing the shirts in house for some time and have yet to have any issues with fraying. If a customer was unhappy or did get a dodgy sleeve, we would replace or refund it anyway. So far this has not happened.
While I had initial concerns, the sleeves have stayed flat and avoided any temptation to ride up in use. The shirt has been through many wash cycles and I have yet to find any stray threads or other signs of fraying.
The Design – Plenty of Razzle Dazzle
The first time I saw the design of the shirt, it reminded me of dazzle camouflage from WW1.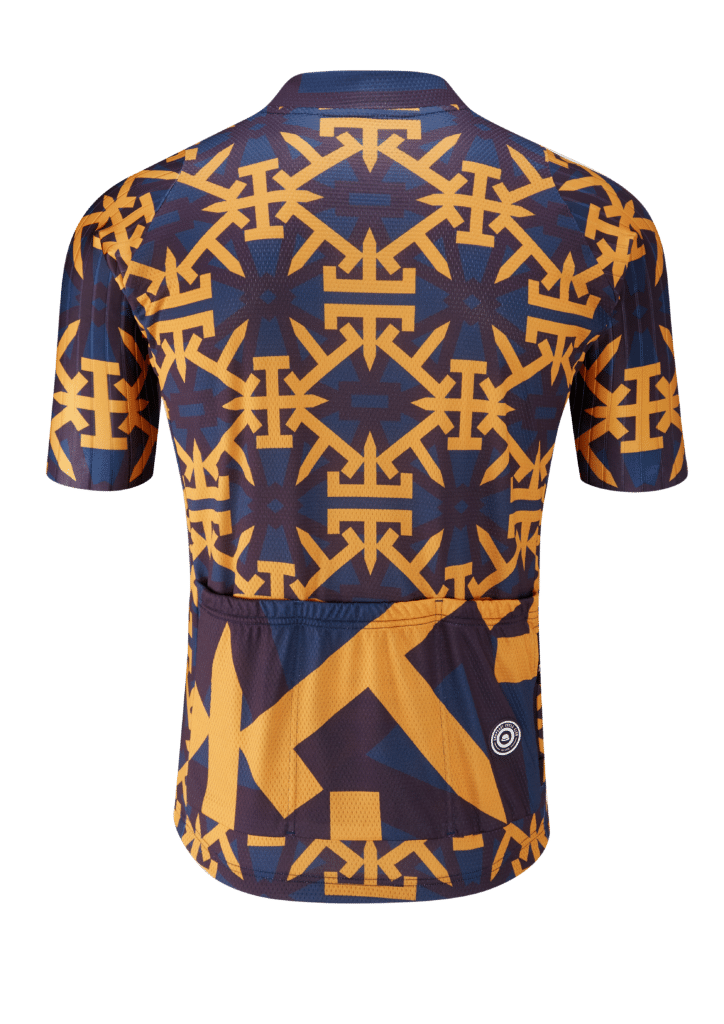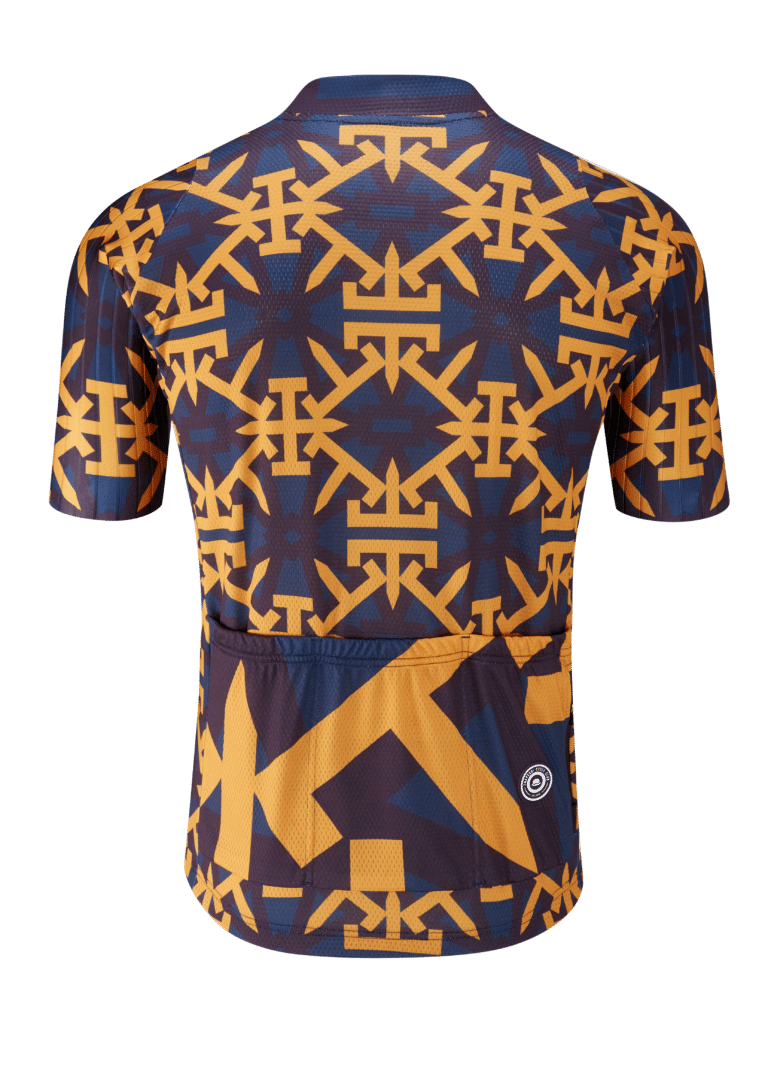 Bearing in mind Chapeau!'s comment that they recognise not all of their customers will be less than 10% body fat, I was curious to see if the dazzle camo design helped disguise the impact of a few too many cafe stops. Well, at our coffee stop this morning, a chap walked in wearing one of the Chapeau shirts. He was overweight but it was not until we saw him in profile that his true girth became apparent. I don't care that he was erm…..portly, but the dazzle camouflage thing really does seem to work. Chapeau….Chapeau!
Negatives
In common with many garments we have tried this year, the jersey I was originally sent was way too short. I replaced the 'right size' with the next size up and while it was an improvement, it was still not perfect. Was I imagining things or was this shirt as short as it felt? When in doubt, get the tape measure out!
I took three measurements and compared them with measurements from shirts from three other brands. All the shirts were XL.
The measurements in question were: the zip length, top seam at the neck to the hem, and neck seam to the top of the pockets.
On the whole, the zip length was similar across three of the shirts (including the Chapeau!). They were all more or less 58cm although one came out quite a bit longer at 66.6cm. The Chapeau! was the shortest.
From the top seam at the neck to the bottom of the tail, the measurements were all over the place ranging from 66.5cm to 75cm, with the Chapeau only 0.5cm away from the being the shortest. And finally, the measurement of the neck seam to the top of the pockets fell into two camps. The Chapeau! and one other came in 42cm while the other two were 48cm and 50.5cm.
Now maybe I have a long body, but the length of the shirt really makes a difference. The moral of this story is that it pays to check the critical measurements. Going up a size does not always resolve the issue as many garments just get flappier, not significantly longer.
Chapeau base layer
The description is 'bright orange' but it really is not. Bright orange conjures up a rather garish hue but it is really quite muted. I like it a lot, so much so that it has been a constant companion on the bike ever since it arrived.
The two main panels are mesh and the side panels are a stretch fabric. The fit is what I would describe as 'spray on'. The neck is plenty big enough and the arm holes are nice and low so you avoid that tightness under the arms. I would not want it any longer so it is pretty much spot on as far as fit is concerned.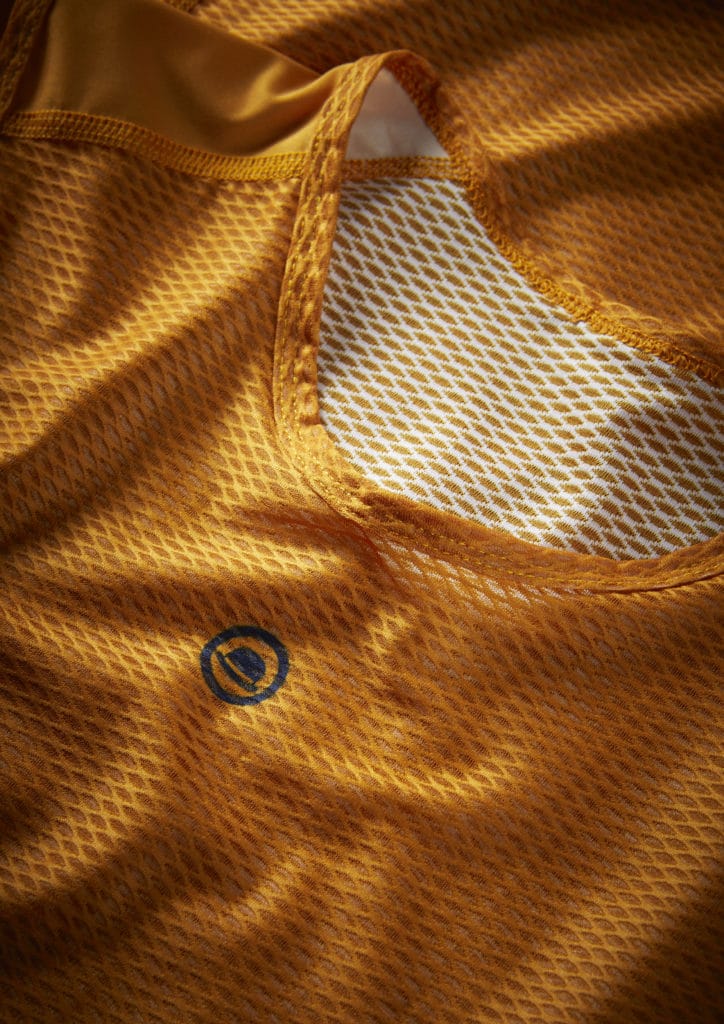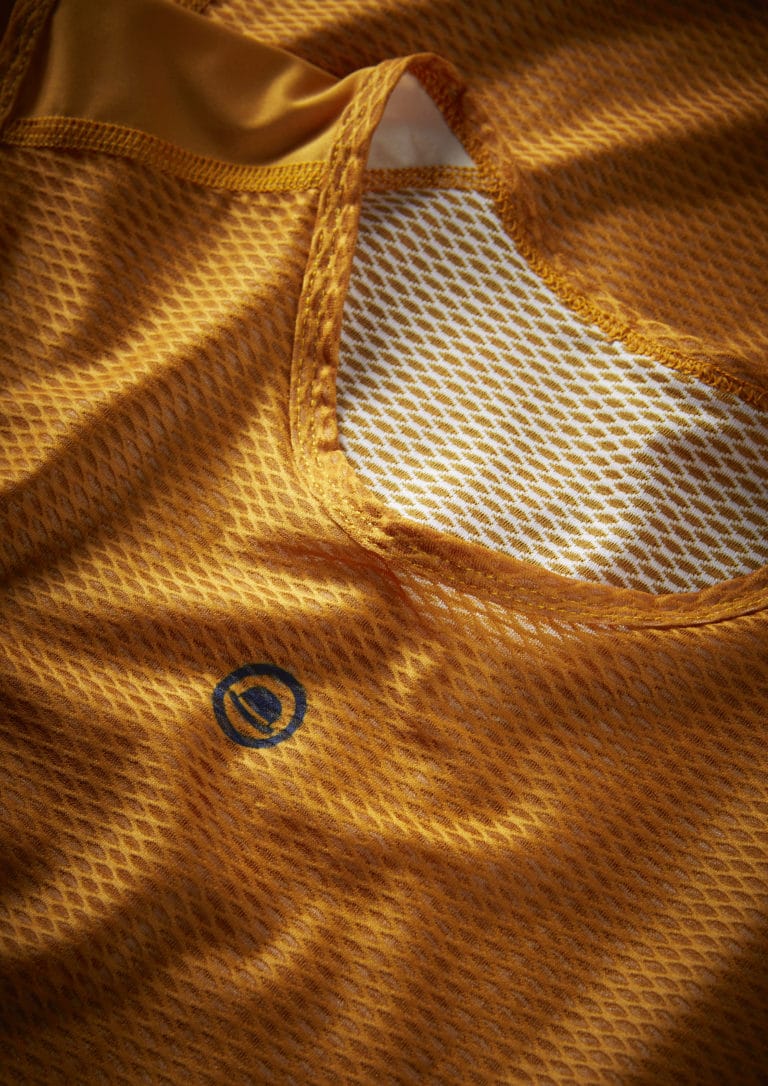 Base layers are designed to wick moisture away so the acid test is….does it work? Apart from normal riding duties, I have used it for a few hard, one hour plus turbo sessions as well as a four hour road ride on the warmest day of the year so far.
The worst I can say about it is that it performed every bit as well as a mesh base layer should. I kept comparatively cool and avoided that horrible 'wet t shirt' feel that some base layers manage to achieve.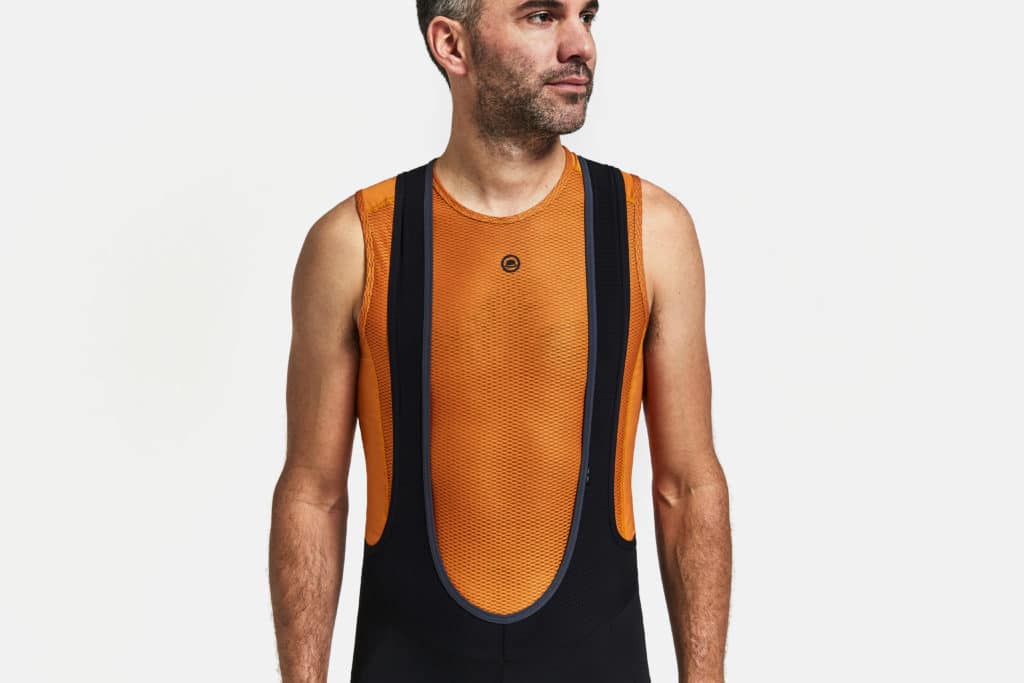 Chapeau Club II Bib Shorts
These have to be the highlight of the trio for me. The Club II bib shorts had everything I look for in a summer short. They are lightweight, fit well and wick moisture away effectively.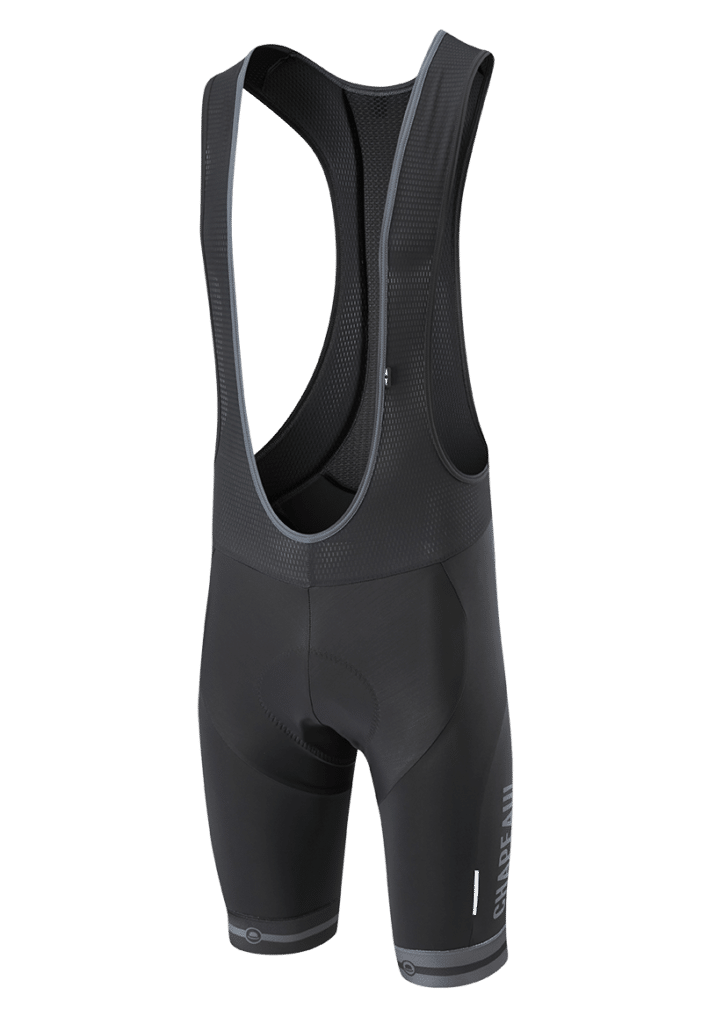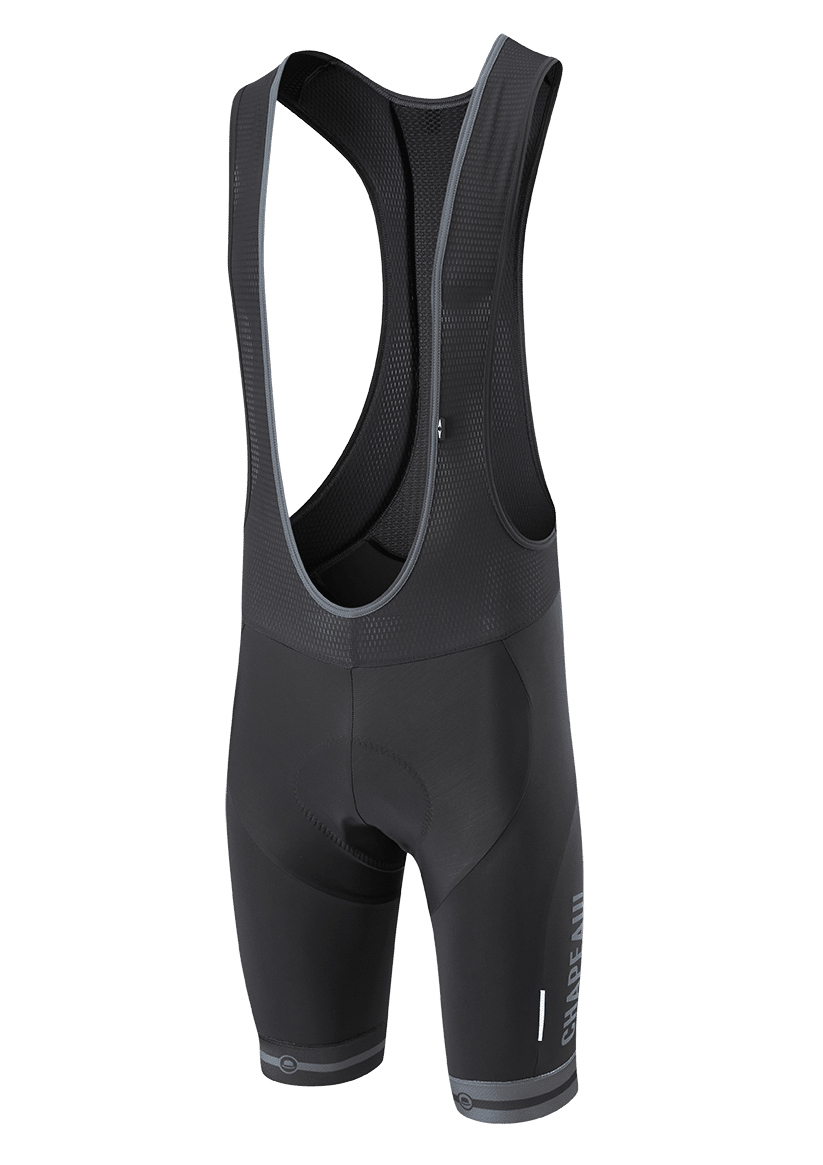 The grippers are quite deep (45mm) and they do a decent job of keeping the fabric in place. They stayed put whatever I threw at them.
I was particularly impressed with the Elastic Interface pad. When the shorts arrived in the post I thought it looked a little thin but I need not have worried. It has to be one of the most comfortable pads I have used for a long time. On or off road, over long days in the saddle or just on a two hour blast, they were invisible. The last thing you want is some stitching to irritate you, a seam to be too large or an uncomfortable pad. Being able to forget about something is ideal.
Another nice feature is that the legs have a sort of 'compression' feel to them. It does not really make much difference on short rides but, at the end of a long day, when your muscles are tired, it is nice to have some support.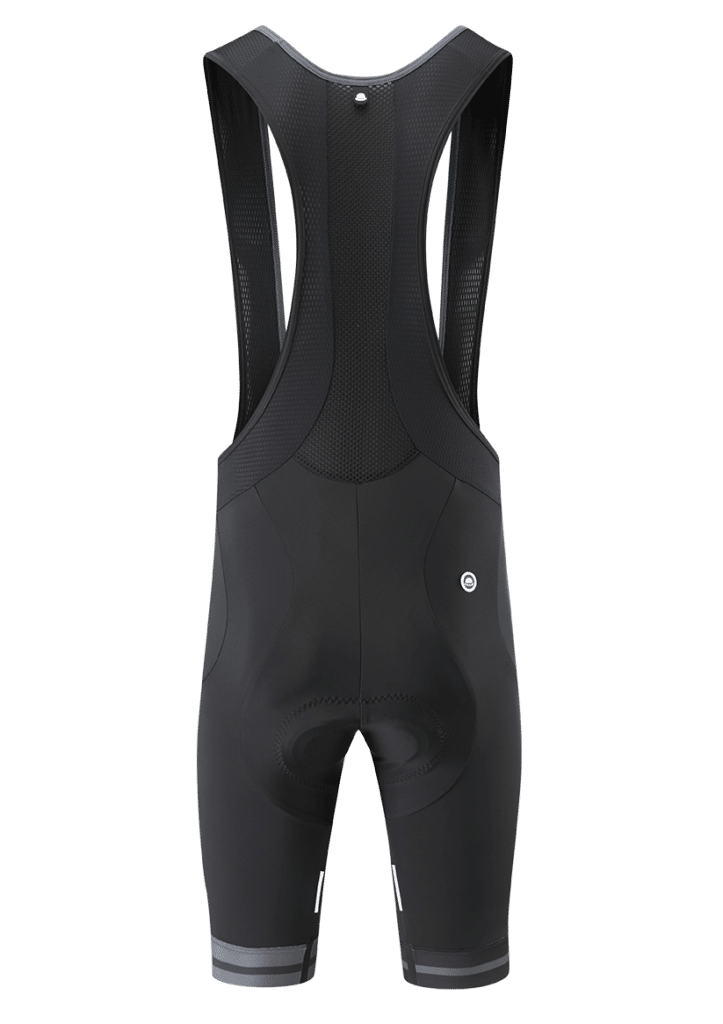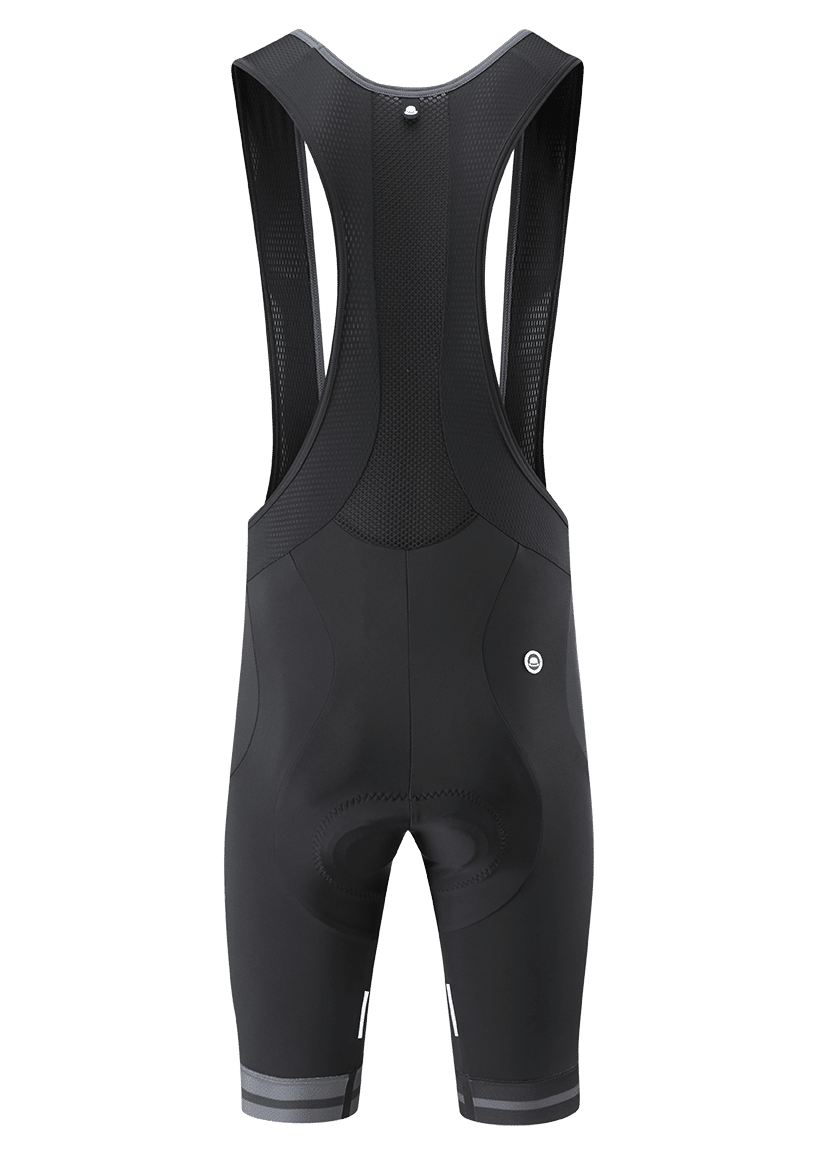 I like these shorts a lot and they get my unequivocal seal of approval.
The wash cycle
I have worn this kit almost exclusively for a little over a month and it has been washed three or four times a week. The fabric has withstood all the abuse an automatic washing machine can throw at it. It still looks as good as new.
Conclusion
Taken together, I really like this kit. The shirt may be a little short for me but I am prepared to accept I might just be (proportionately) longer in the body than most.
Despite the bold graphics on the shirt, the overall impression is of the kit being understated, in a good way. It manages not to be loud and shouty but it certainly gets noticed.
I wholeheartedly approve of the neat and subtle branding.
Did I mention the crash replacement policy? If you buy any Chapeau! kit, make sure you register it to be covered by their crash replacement plan. (Hang onto your receipt though as you will need it as proof of purchase.)
The crunch question I always ask when I review kit is whether I would buy it myself. Notwithstanding my reservations about the shirt length, I think I would.
Last modified: 16th July 2019