The Basics
The Chapeau Club Thermal Bibtight are a full length, thermal bibtight. I wouldn't describe them as particularly 'thermal' however. They are more of a medium weight that should be fine in cool to milder temperatures. Anything below 5 degrees and my legs felt the chill.
The bibs are made from a soft touch, moisture wicking, fabric which is light and stretchy. So stretchy, that getting them on can be a struggle! Ankle stirrups make sure the legs do not ride up, although they are a little fiddly to get your feet into at first.
The tights came in a 'medium' and the fit was spot on. I'm 5′ 10″ with a 32″ leg measurement and the length was perfect. The shoulder straps are a good width and spread comfortably without causing any discomfort. There is a small zip interface around the belly so the bibs cover up a good amount of your stomach for extra warmth.
Features
If you've seen one pair of bibtights, you've seen them all and the Chapeau Club Thermal are no different in that respect.
The stand out feature for me is the chamois. Chapeau have not cut any corners here and have invested in a premium chamois from Elastic Interface. In use it is comfortable and well suited for rides up to 3 hours, which at this time of year, is more than enough for me.
Chapeau must have blown the budget on the chamois however as the stitching is a disappointment for a pair of bibs that cost over £100. Although the stitching is neat and tidy, none of the seams were flatlocked which was a surprise as you'd normally only see this kind of finish in budget garments. Other than some red marks where the seams had pressed into my skin during the ride, I can't say they caused me any discomfort or rubbing.
Reflective detailing has been well thought out. Features are reflective bands around the back of the knees, and large Chapeau logos on each side of the legs. These reflect well at night and certainly make you a lot more visible to traffic. Disappointingly, on the first ride, the Chapeau logos started to crack and peel. Each subsequent wash has seen more of the logo peel off. After 3 months of testing, the bibtights already look a couple of seasons old.
Styling
The styling is typically Chapeau as in subtle retro. The asymmetrical style may not appeal to everyone though. The logos on the right-hand side are white, and black on the left.
Being right in the firing line for puddles and dirt, the white details don't stay white for very long. Along with the peeling reflective details and the dirty white sock, these bibtights are looking decidedly shabby.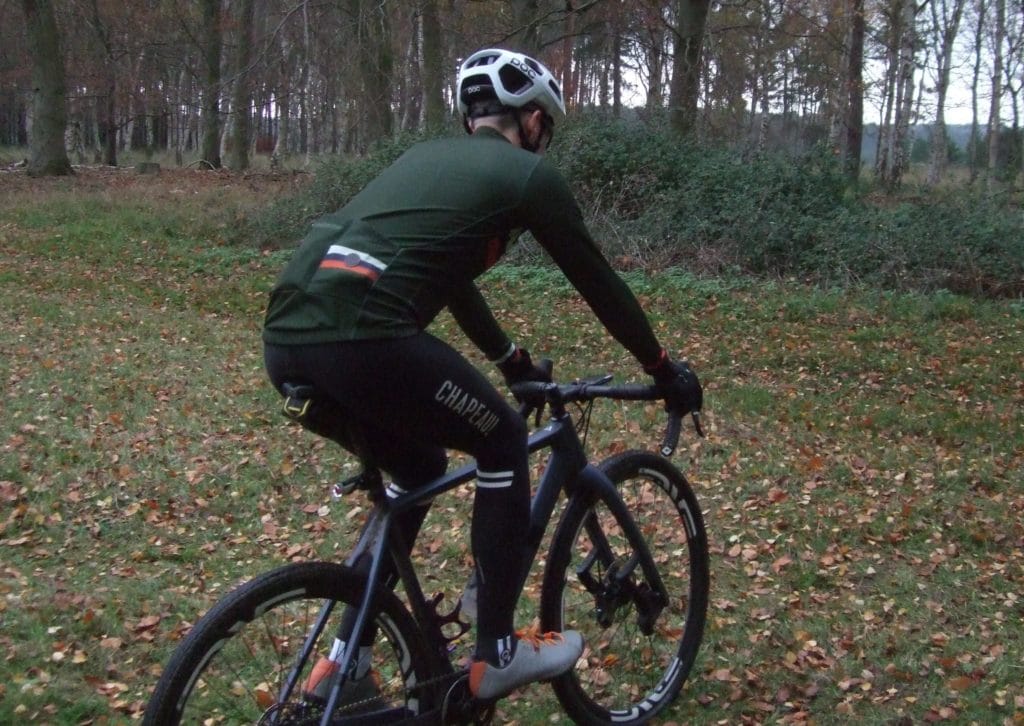 Conclusion
The comfort and overall quality of the Chapeau Club Thermal bibtights is generally good and I've been using them a lot during what has, so far, been a mild winter. The fit is excellent and they are a comfortable mid-weight tight. I'd even accept that the peeling logos and lack of flat-lock stitching is just one of those things you get with budget clothing.
Except that, at £139.99, these are not what you'd call budget. And at this price, the minor niggles you'd accept on lesser priced items, really should be addressed.
Last modified: 26th January 2019