If you are looking for a cycling top that's neither road racer lycra, nor a bikepacker trail tee, you're in luck. Chapeau! have the answer with their Café Colour Block Jersey. Pitched as the perfect top for cafe rides, commutes, gravel and adventure rides… time to find out if it is up for the test.
Laidback style
No sooner had I unwrapped the Chapeau! Café Colour Block Jersey, I was impressed by the look and style. It's a classic short sleeve jersey design, brought bang up to date with modern fabrics. Visualise a cross between a casual polo shirt and a cycling jersey and you've pretty much imagined the Café Colour Block Jersey.
On test here is a medium in the 'Deep Ocean' colourway. Chapeau! also offer the jersey in a white/light blue, grey and red variants. So there is plenty of choice for even the most finicky of fashionistas. The jersey consists of two panels of contrasting colour separated by a screen printed stripe across the chest.
Keeping with the classic theme, the jersey features a 3/4 rather than full length zipper. Unless you frequently ride with your jersey wide open flapping in the wind, it should make no odds. The only other feature to the front of the jersey is a subtle Chapeau! logo printed on the left breast. Subtle is the name of the game here.
Out back things are just as simple. Three large pockets and a forth, security pocket with zipper is located on the exterior of the right pocket. A reflective logo also adorns the right pocket – a welcome nod that we ride on the left here in the UK!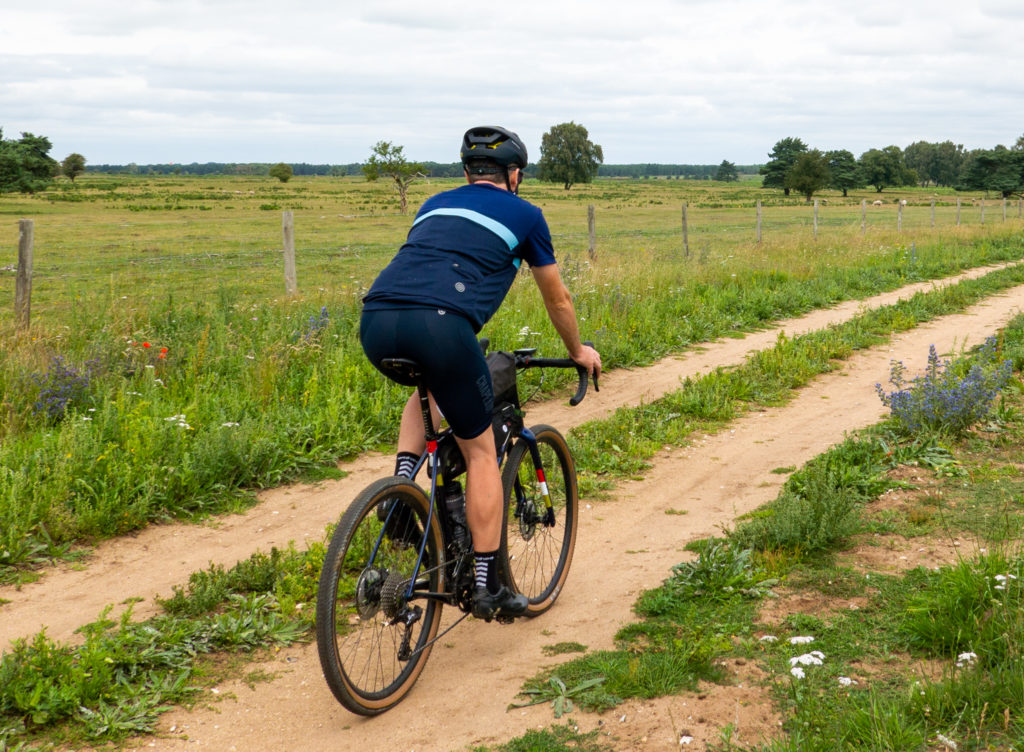 Fit and comfort
If you like a loose fit, the Café Colour Block Jersey will be right up your street. There's nothing racer tight about this, it's as relaxed and casual as you can get without wearing a t-shirt. Perhaps I'm showing evidence of my roadie persuasions, but I'd prefer a bit more of a tapered shape to the body to reduce loose, flappy material.
The sleeves are a decent length, but with no elastic or silicone grippers, they have a habit of rising up while riding along. It could have a detrimental effect if you wish to keep your tan lines super sharp, but otherwise no bother. Under the arms, the sleeves felt a little tight in this medium sized example and I'm pretty certain a size up would have been way too big for me.
Although pocket popularity is on the wane, I still like them. Bags have their place, but if I'm just flying out on a short ride, the bags stay in the shed and the pockets get loaded up. Trouble is, the pockets on this Chapeau! jersey are pretty baggy. A spare tube, multitool and a phone is not an excessive load, but it was enough to create some serious rear end droop. My cargo was safe on the road, but as soon as I was on bumpier trails, I became all too aware of things jiggling around excessively. Rather than press on, I took it easy over the bumps for fear of loosing my phone. The zipped security pocket proving too small for an iPhone 11.
Although the Chapeau! Café Colour Block Jersey isn't the most technical of tops, it is pretty effective at wicking away moisture rather than sweating out. But it is quite a heavy weight material, more suited to cruising rather than hitting personal records. Hit the high intensity and you'll soon start to feel hot under the collar.
My verdict
The Chapeau! Café Colour Block Jersey is a stylish alternative to your typical lycra roadie jersey. And at £49.99 it is very reasonably priced. I would rather Chapeau! addressed the baggy pockets and worked on the sleeves and charged a little more to make it right.
As a relaxed jersey for hacking around without looking like a pro in the off season, it's a good choice. The name of this jersey reflects the reality of its intended purpose; taking life easy and making your leisurely way to the cafe. The decent price means you can treat yourself to an extra slice of cake too!
Last modified: 27th July 2020