Introducing Cascada
I first noticed Italian start-up Cascada a few years ago on Instagram. Earthy tones and eye-catching illustrations worn by both bikepackers and trail runners. I liked the ethos, in their words:
'a call to seek out and discover hidden lands, an invitation to live active experiences outside your comfort zone'.
Rather than create clothing specifically for a singular sport or discipline, Cascada aims to produce items that can be worn for multiple uses. Whether that's on or off the bike, or even with a pair of running trainers.
We were sent their new Trail Tee, the Land Wool Shirt, one of their caps and a pair of Cross Socks to try on home trails and give you our verdict.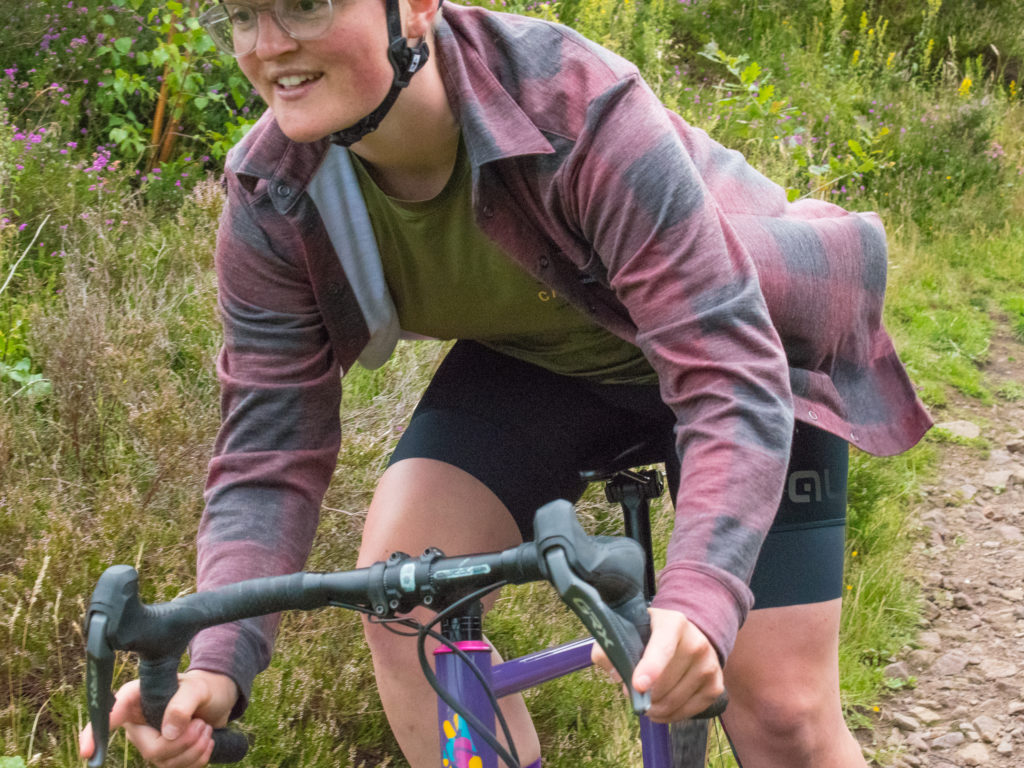 Trail Tee
With such a striking design, the Trail Tee immediately caught my attention. 'Living for the ongoing search of unknown lands' is emblazoned across the back, surrounding a Radavist-style leaping wolf. The deep wine coloured tee features a campsite scene, and the black tee a woodpecker, with the words 'nature always wears the colour of the spirit'. I just love it. On the front, a smaller Cascada logo sits on the left of the chest. As I love riding in tees rather than jerseys, I was keen to try this one.
The tee is incredibly lightweight and thin. Perforated all over by a series of tiny holes to aid breathability on the hottest days. I plumped for a size medium, which fitted well everywhere except the shoulders, which seemed exceptionally narrow, causing the fabric to pull and stick up either side of the neck. The neckline didn't sit right, so I swapped it out for a size large. Now this was rather baggy, and the shoulder situation was a little better, but not completely solved. I don't mind a baggier tee, especially when it's really hot, but I think this shoulder fitting is something that Cascada needs to work on. Having looked at their website imagery, I can see that I'm not the only one with these neckline issues!
That aside, it was a breeze to wear, literally. The material is almost sheer, silky against the skin and really stretchy to give a good range of movement. The only thing that I'd change aside from the cut would be the material colouring process. It's been printed rather than dyed, which means that the reverse of the fabric is left white. That's not a problem unless you see the underside, like when it flaps in the breeze. Again, not a huge issue, but something that I think could be improved on.
Price-wise, I think they've made the tee affordable at £41, a little less than mainstream brands and especially cycling brands in this area.
Verdict: Great designs and fabric, but the cut across the shoulders needs to be improved

6/10
Land Wool Shirt
'Take a flannel, but make it cycling' is the impression I get from the Land Wool Shirt. No-one would know as you leant against the bar that you were actually in cycling apparel, yet on the bike the difference is quite noticeable. Little design features all over make the Land Wool Shirt a pleasure to ride in, and perhaps contribute to the hefty £100 price tag.
As the name suggests, the shirt is a blend of wool and polyester, designed to be warm, yet breathable, and a small amount of elastane to give a more stretchy material. This gives the shirt exceptional warmth without bulk, which is perfect as a layer for riding or packing on the bike for multi-day adventures.
Down the front, poppers replace buttons, so you can undress in a flash in 'Full-Monty' style, which is pretty great when you're getting a bit hot while pedalling. At the cuffs, There's no button fixings but just the elastic material close to the wrist, and on the back there's a dropped hem to improve the fit while in the saddle. I haven't found much use for the two poppered chest pockets, but the left one does also have a neat holder for your glasses which can be handy for sunnies.
On this inside, the material is beautifully soft, lightly brushed like a brand new hoody. The only downside here is that the inside is white, contrasting obviously with the darker colours of burgundy, dark green and mustard yellow checks that the shirt comes in, when flapping in the breeze! These darker colourways are a good choice and hide the worst of the dirt, especially for an item that you're more likely to wear in the cooler, and consequently muckier months.
I've been testing the unisex size small, the smallest on offer. It's a little wide on the shoulders, but otherwise a good, loose fit. I'd like to see a smaller size on offer for more slight riders, especially for women.
Verdict: Great technical flannel, but could do with a coloured reverse fabric and smaller size

8/10
Stay Wild cycling cap
I mean, it is adorable. Cycling caps aren't really my thing, but this is too cute not to love. With the little bear illustration on the side panels and 'stay wild' on the peak, Cascada have really been flexing their design muscles when it came to this accessory.
The one-size cap seemed to fit my rather small head well, with an elasticated back giving more space for larger head sizes. The central rectangular strip means that you don't get any bunching at the top, either.
The cap is synthetic, made out of polyester rather than the cotton of traditional cycling caps. Although this may be slightly less soft on the skin, it does mean that it dries out much quicker, which is more important in my opinion.
Verdict: A cap collector's must-have

10/10
Cross Socks
There's not always much to say about socks, but Cascada's 'Cross Socks' have really impressed. They're a wonderful halfway between a thick hiker's Bridgedale and the thinner, tall socks generally accepted in cycling. Unlike most other cycling-specific socks that I've tried, they have a thickening around the toe box and over the heel. Plus an elasticated rib over the mid foot that took my mind back to my (rather unsuccessful) tennis days.
Pulling them on, they're instantly cosy. As Cascada really advocates producing technical apparel for multiple sports, I can see where these features come in useful for running and hiking. Thing is, if you're bikepacking or riding in pretty extreme terrain, a bit of hike-a-bike is usually mixed in there. Having some extra support around the feet, as well as thickening areas of the socks more likely to wear quicker, is a great idea.
There's nothing more disappointing than a great looking pair of socks that turn baggy and loose, crumpled around your ankles after ten minutes of cycling, or start off great but deteriorate after a few washes. I'm glad to report that this wasn't the case, as they stayed in place perfectly and have only shrunk marginally. They're pretty long on the leg which I really like (I wore a size medium (EU 39-42) on size 40 feet).
I was delighted to receive a purple pair. They're also available in cobalt blue, slate grey and khaki green, all in a two-tone design. Each pair has the Cascada word logo in white across the back of the ankle. These darker colours are certainly more practical for off-road use (i.e. getting filthy), but without being boring.
At 20 Euros or about £18, they're at the top end of what I'd reasonably pay for cycling socks. But I'd be happy to pay this for a second pair. They're among the best I've tried (I'm usually a Ridge Supply fan which are priced similarly) with the extra support on the toes and heel. Makes me wonder, why haven't more brands done this already?
Verdict: Robust and comfy, yet subtly colourful. 10/10
Verdict
Overall, my thoughts on this All Road collection from Cascada is pretty mixed. I absolutely adore their designs, and ethos of multi-use gear that you can enjoy just as much on the bike as off it.
Cascada are relatively new to the game, and there are a few aspects that I think can be improved. In terms of first impressions, I'd like to see the products supplied in a more environmentally-friendly packaging for a start. Sure, a branded envelope with your invoice in and printed mailbag is pretty bouji, but I'd rather receive my goods in compostable or biodegradable materials instead.
I couldn't fault either the socks or the cap at all. But there are a few aspects of the top and shirt that I think could be done better. Most apparent was the fit of the tee, with some issues around the shoulders. Both the tee and the shirt could be improved by colouring the reverse side of the fabric, to avoid revealing the white back-side while flapping in the wind.
Overall I really like the creativity of the brand; obviously run by people who live and breathe the outdoors, and without being excessively expensive either. With a few small changes, I think that they have massive potential
Photo Credits: Tim Wilkey
Last modified: 20th July 2020