No longer available in the UK, unless you can find old stock somewhere, the Cannondale Slate still has a loyal following. The Cheshire Cat shares his long-term experience of what is the epitome of the Marmite Bike.
If there's a bike guaranteed to divide opinion, it's the Cannondale Slate. From the outset it's a bike that doesn't quite know what it wants to be. Even Cannondale weren't sure. Refusing to call it a 'gravel bike', they call it a New Road bike. Riders are encouraged to find their own new roads to discover and explore. Whether they are tarmac or trail, it's up to you to decide.
From its 650bx42c slicks to the 30mm travel Lefty Oliver fork, the Slate tries hard to give the impression that it is a trail bike. But are these just superficial accoutrements or do they make the Slate a credible off road bike? After owning one for 15 months, I'll give you my perspective on this quirky machine. Is there a real mixed terrain bike bursting to get out, or is it just form over function?
Buying a Cannondale Slate
Buying a Slate isn't an informed process, at least it wasn't for me. After a successful season competing in the inaugural North West Sporting Time Trials league on a standard road bike, I thought I would make a real push for glory for next season by shopping around for a full-on TT machine. This momentary madness lasted all of about five minutes, before sense prevailed. Cycling is meant to be fun right? While looking at pictures of sleek looking TT bikes on a well-known online web store, I stumbled across the Slate. Hmm interesting. Looks fun.
Mail order bride….
At 184cm tall,  and based purely on the 57cm top tube, I opted for a size L.  As there are no Cannondale dealers in the immediate area, and even those further afield didn't stock a Slate, I plunged for mail order and hoped it would fit. Apart from fitting the bars, some pedals and adding some wind to the Lefty, the bike arrived ready to ride.
Compact or just small?
Immediately noticeable is how small the frame is, or should I say compact?  Of additional concern was the fact that the seat post offers little in the way of layback – more on this later. I had opted for the SRAM Force 1 x 11 group-set and suddenly found myself in double-tap territory. Right, five minutes of faff and I had it sussed.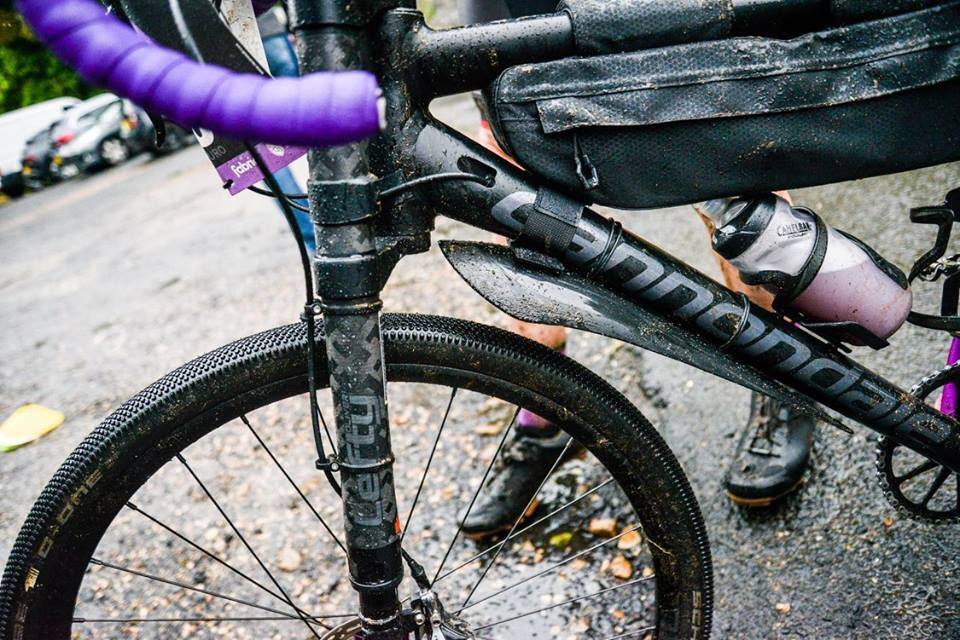 Initial impressions
Initial impressions were of a bike that although quick off the mark, is a little slow to steer. It corners well enough but you just have to make more effort. To be fair, I was probably doing it a disservice, essentially comparing the (steering) feel to that of my road bike. After an hour of blasting around the local park and canal towpath, it was time to call it a day. It would be a week before I could take it out for a proper ride.
The First Real Test
My first extended ride was a mashup of tarmac, cut-up minor roads and forest trail,. Two things immediately became apparent.
The spread of gears offered by the 1x set-up.
The bobbing fork – particularly apparent when in the open position and you are pedalling out of the saddle.
You adapt to both of these very quickly, but they seem worthy of comment.
First thing, 44 x 10 is difficult to push on a flat road unless you have a tail wind – forget being under geared on the road – you soon learn to use the wide spread of ratios and either spin faster or push harder.
Secondly, yep, the fork bobs excessively when it's not locked out (I always ride with the fork open) and you stand up out of the saddle, the answer… sit down and spin. Which brings me nicely to the Lefty for road use – 30mm of travel is not much when you consider the amount of travel offered by a mountain bike, even a short travel cross country machine, but for the road it's ideal.
Slip sliding away…
Being able to ride our pot holed and torn up roads without constantly jarring your teeth at every impact is a joy. This only becomes a problem when you go on a club run, or you ride with a friend.  What is a chasm of rim destroying proportions for a road bike, is nothing to the Slate. I was often reminded of this after forgetting to point them out to the riders behind when out with my local club Chester RC.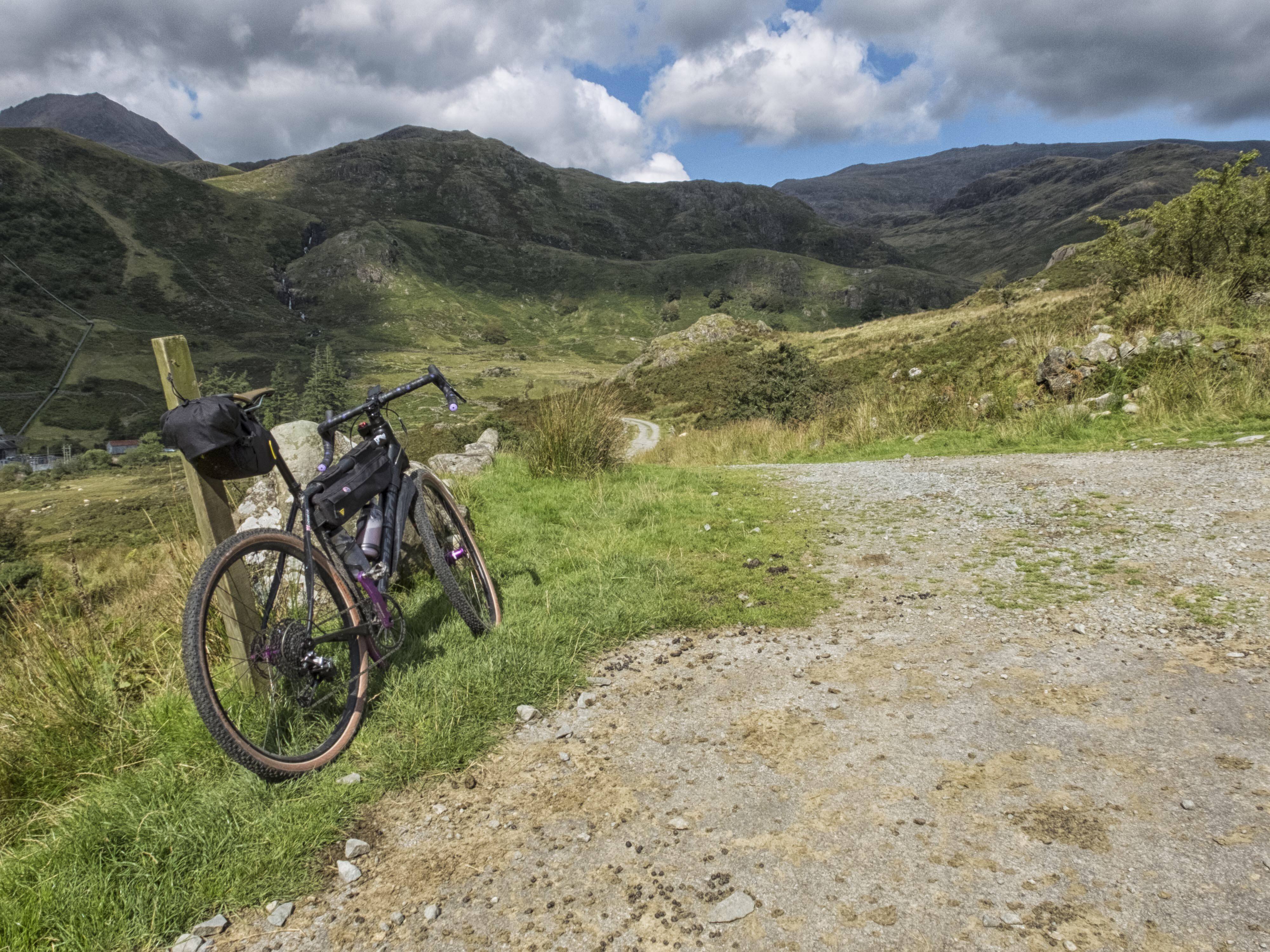 The fork is not the only reason the bike rides so well. The fat 42c slick tyres that come as standard, offer little rolling resistance, even at relatively high pressures of 44psi rear and 42psi front. But boy is the carcass thin, and prone to punctures! Alarmingly, they offer little in the way of confidence the minute you go off road either. What grips on a dry road doesn't translate to grip on the trails, even when dry! Great in a straight line, but push the pace in a turn and you'll be off. Oh yes, and with the first sign of damp any pretence of grip completely disappears. And did I mention they're puncture prone? Three in the first ride!
Upgrade Central
So, upgrading starts early if you own a Slate. Tyres are number one on the list. That's when you hit the first problem. Putting a positive spin in things, tyre choice is limited.  A little research reveals that choice is limited to about, err two (three now with the introduction of the WTB Resolute). The Schwalbe G-ONE and the Surly Knard. There are a couple of others, but that's only any good if you can actually get hold of them. As they're slicks I didn't consider them anyway.
Let's start with the Knard, fairly cheap, comes in 41c, and offers a decent amount of grip with the small square block tread pattern. As they're not tubeless compatible that left the G-One. Expensive, tubeless ready, they offer marginally more grip than the standard tyre and are and a little less likely to puncture on the first ride. What's not to like?
Design Issues
Tyre choice is limited by the lack of clearance in the rear triangle, and the 650b wheels. The Slate is designed around 650bs but inexplicably, the maximum tyre width is 42c. By whatever design process they employed, Cannondale needlessly limited the choice of suitable tyres. So on went a pair of Schwalbe 38c G-One's. Their small. dimpled profile, means they roll well on the road, and tubeless set-up was painless, just requiring a track pump to inflate.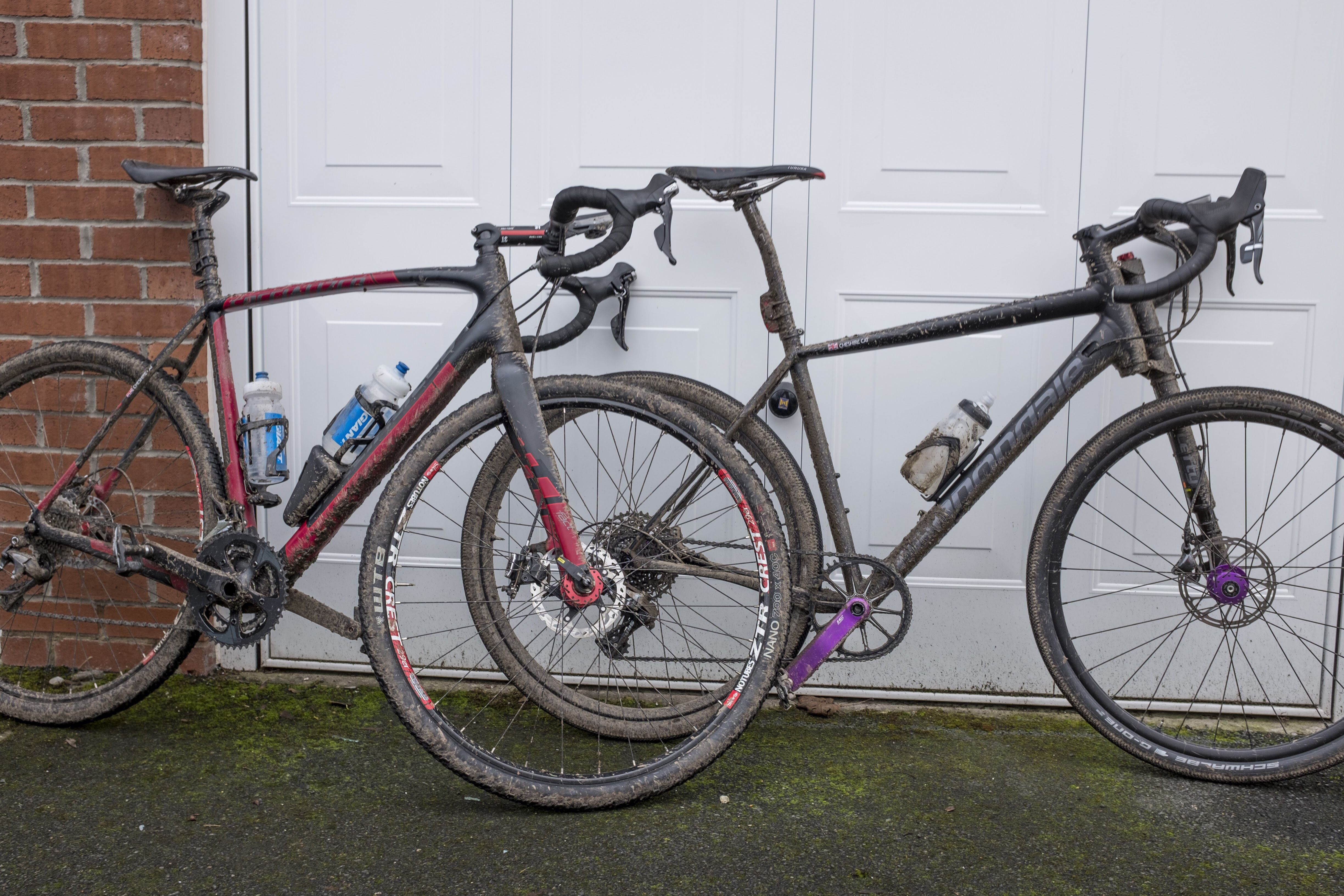 Plus ca change, plus c'est la meme chose.
I would like to say there was a noticeable improvement in the way the bike rode after fitting the G-Ones, but, there wasn't. While offering a modicum of grip, they're not the saviours of the trail rider that you would hope. Still, they weren't any slower.
Seat Post
The compact frame, combined with the standard seat-post made it feel that I was being pitched too far forward. This was remedied by a 420mm, 27.2 Thompson lay-back post. Upgrade #2, it certainly looked the part. The narrow diameter made for a comfortable ride. In fact, the frame is surprisingly comfortable considering how compact it is, even after several hours of trail riding. And this is the real benefit of the Lefty fork.
The Lefty
Ride the Slate as you would a rigid bike. The Lefty just gets on with the job of taking out constant trail chatter. You only really notice this towards the end of a long ride,. Your hands don't ache and you still have movement in your shoulders. But, the Lefty is not without its downsides. It needs servicing (by an authorised dealer) after 100 hrs use and it needs a full rebuild after 200 hours. Skipping these service intervals invalidates your warranty.
Lock up…
One fault with the fork arose during a ride around Kielder, after 50 odd miles in the rain. The fork decided to lock out, fully rigid. No amount of swearing, cursing or insulting got it to move. The remaining 20 miles were very painful as every single bump was transmitted through the bars. After a couple of days of drying out, the forks were fine. The fault has not reoccurred, even after an exceptionally wet, inaugural Grinduro in Scotland.
That steering again
Another thing the ride around Kielder threw up, was the  steering response, or lack of it. The bike does not steer  the way the short wheelbase suggests it should. It's sprightly enough, but it does have a tendency to oversteer. Noticing how mountain bikers favour a shorter stem to quicken their steering I bit the bullet and went for Upgrade #3. A 90mm Thompson stem replaced the 110mm original. Happily, this is one upgrade that made a difference, and I felt my money had been well spent. Steering was improved and the playful nature of the bike shone through. But, as with all things, this comes at a price, and it became obvious at the 2017 Dirty Reiver.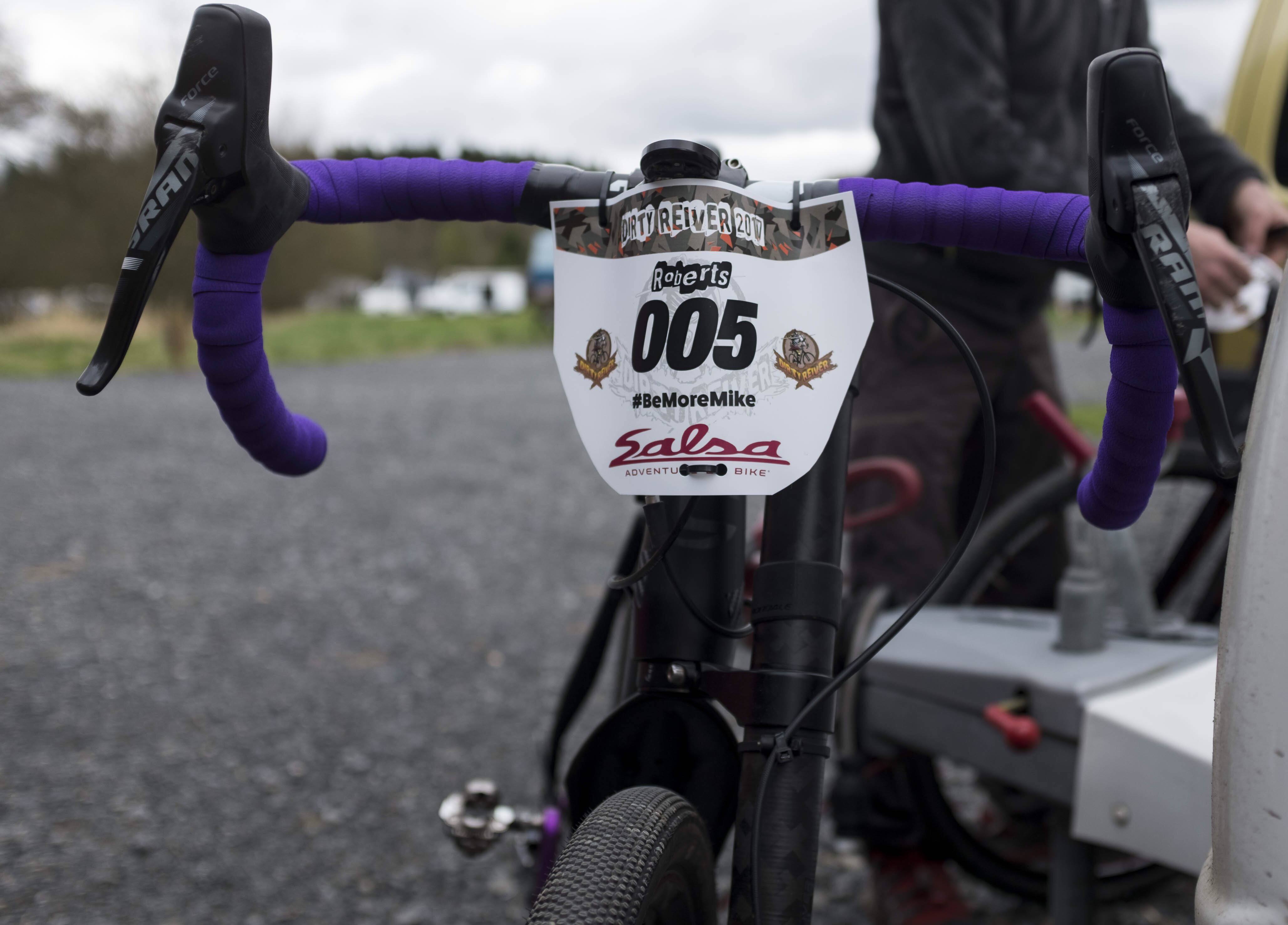 Back pain
I quickly adapted to the shorter reach, and began enjoying how responsive and snappy the bike felt. All these rides were in the region of three hours or so. The Reiver however, would prove to be a bridge too far. Eyeing up a sub 8hr 30min time I was confident I had the right bike and was feeling fit enough. That is until I awoke the morning of the event and could barely put my socks on, or get dressed, or stand up, or walk without an intense pain in my lower back. Bugger…
Although my back eased up as the event progressed, it still inhibited my ability to pedal with any conviction. Combine that with a puncture, on a relatively benign section of gravel and it was turning into a proper grind. It is rides like this when you want your bike to behave, and not jump around like a crazy spaniel pup.
The Slate's playful nature was beginning to get tiring. When your mind is fresh you can concentrate on how the bike rides, enjoy how it takes the exact line you want, get a kick out of how it skips about the trail and rewards you with a stupid big grin. But when you're tired, it becomes hard work. That snappy frame with its instant response becomes a liability, and mistakes can be easily made.
The right stuff
Despite its shortcomings, I believe the Slate is a great choice for an event like the Reiver. You just have to be constantly on your game to get the most out of it. Where it really shines though, is enduro racing, but not without one irritating niggle. Fast forward to July 2017 and the wonderful Isle of Arran, host to the inaugural Grinduro. Yep, the successful concept first appeared in Quincy California in 2015, and it was now making its way to Scotland. Four timed sectors split over 76km of total riding. Ride as hard as possible through the sector, and then relax and enjoy the ride to the next timed sector. Repeat. Total time through each of the four sectors is added together and the fastest time decides the winner. Easy.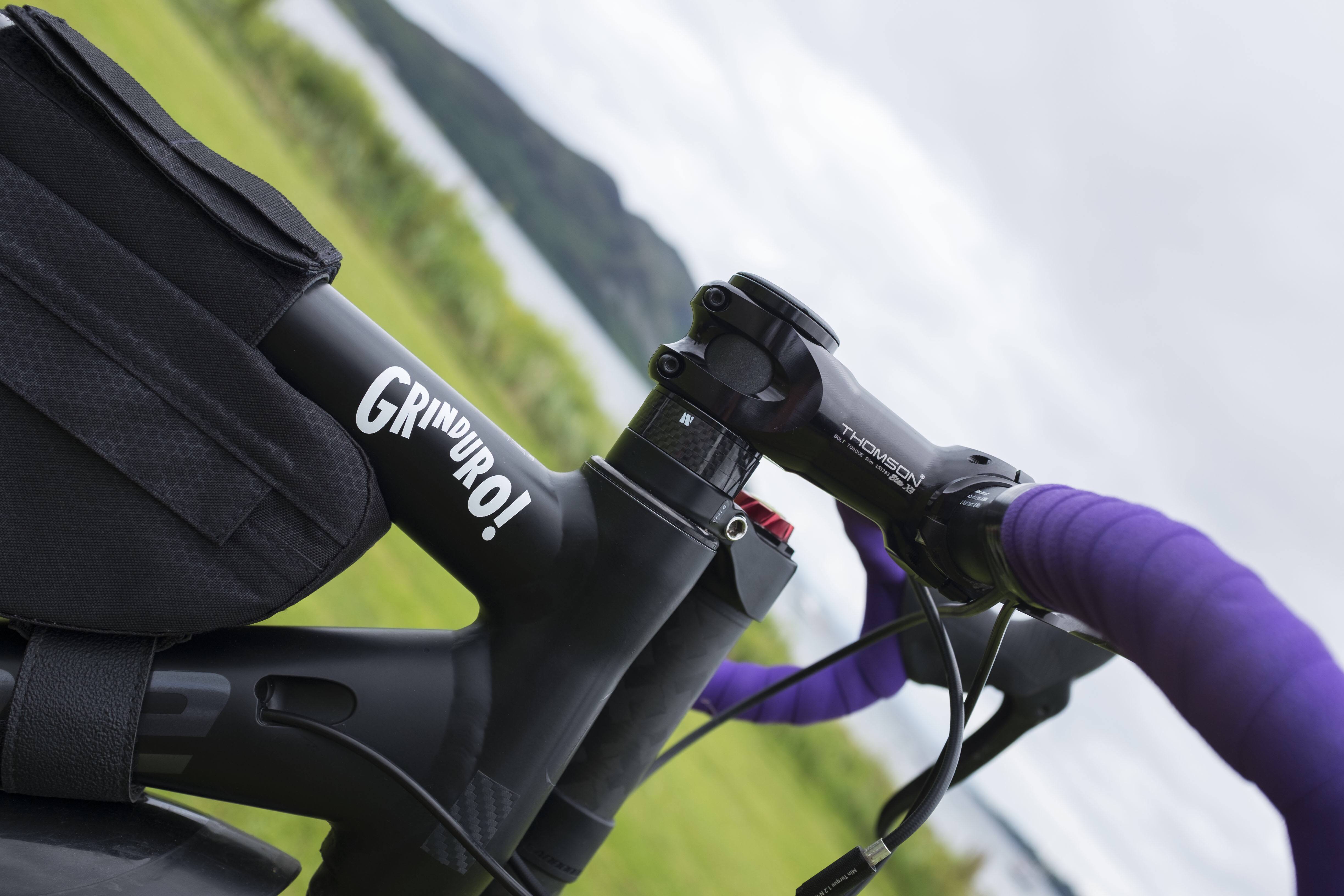 Enduroooooo!
It rained, lots, and it didn't stop until the event finished. It didn't detract from anyone having a great time but, more importantly, the Slate had discovered its true vocation. Enduro racing is the competitive version of going out for a blast in the hills, or round your local woods. Essentially, just playing out on your bike, and that's what the Slate does best.
Pedal Strike
That niggle I mentioned…pedal strike. 650bs lower the bottom bracket significantly. Forget this 700c equivalent outside diameter lark, a low BB is a low BB. This became all too apparent on the root infested singletrack of Stage 2. It's something you quickly adapt to, but it can make riding rutted Land Rover tracks or rock strewn byways more of a pain than it needs to be.
The Final Countdown
Following Grinduro, I made two more (final) upgrades. Salsa Cowbell bars were fitted, their gentle flare and shallow drop making for a very comfortable place to hang onto. Secondly, WTB Resolute tyres. At last, a 42c 650b tyre that rolls well and grips in corners! The Slate is now the way it should have been the day it left the factory.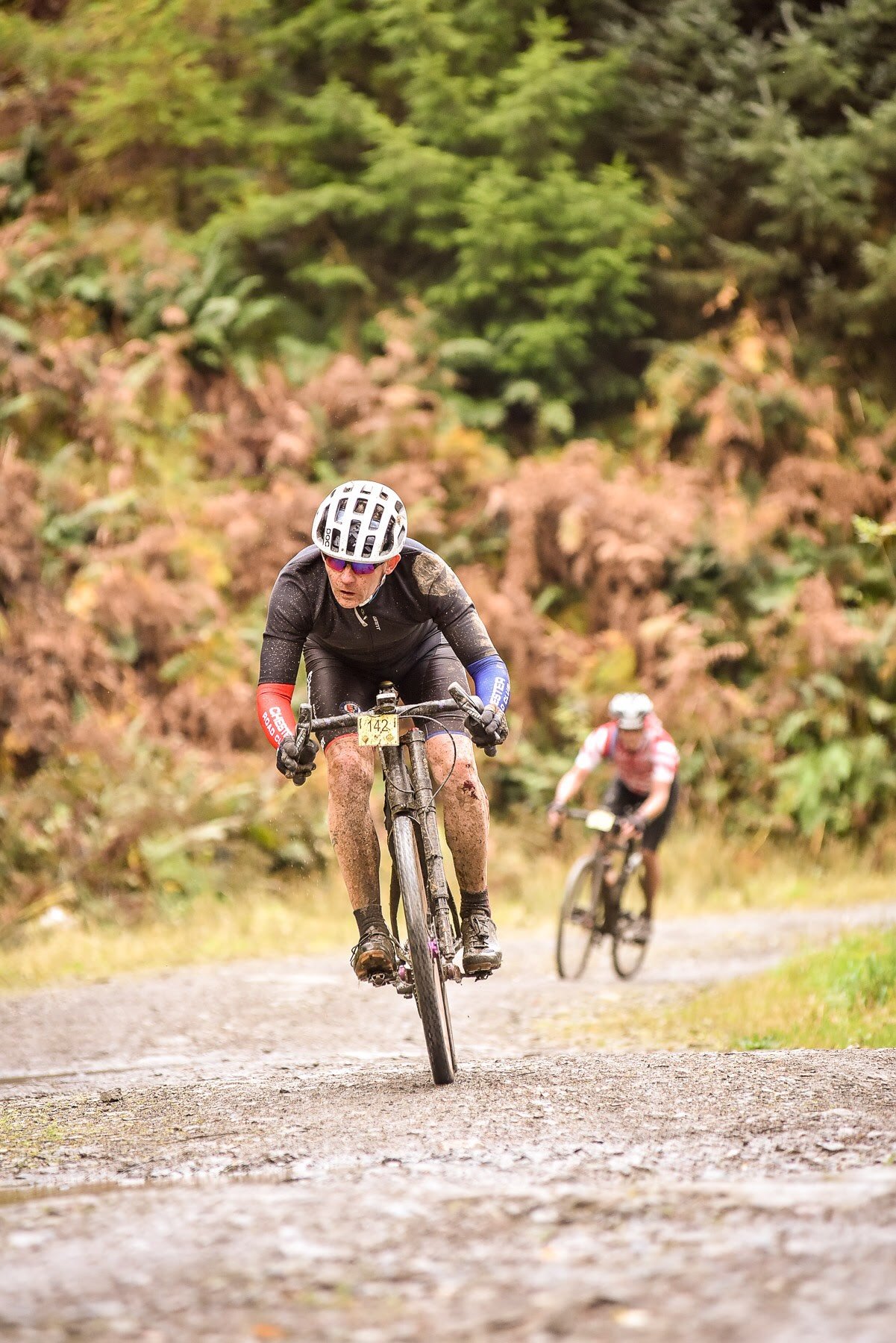 Since owning the Slate I have come to appreciate what a great bike it really is. It just needs a bunch of upgrades to realise its full potential. But what bike doesn't?
Slate – catch it while you can
The aluminium frame is far more comfortable than its compact size would imply, while its snappy nature makes it great fun when the trail twists and turns. I have found it ideal for rides of three to four hours, while others have successfully competed in gravel endurance races (three wins at Dirty Kanza 200). Its quirks may have put many potential owners off, and are probably one of the reasons the bike hasn't been as successful in the UK as it deserves. For 2018 it will no longer be available to the UK market.
The Lefty had a funny moment once when it locked out and refused to move, but it hasn't occurred since. And that has been the only problem I have encountered. The original BB bearings are due replacement, considering my 84kg weight and 4k miles of abuse I can't complain. It will be raced throughout this year in several gravel enduro's, including a return to the Isle of Arran in July.
If you happen to see a black, well used, Cannondale Slate with a gold saddle at an event this year come over and say hello, you may even get offered a spin on it.
Cheshire Cat
Last modified: 7th May 2019