Bombtrack are riding the wave of the fast moving adventure cycling phenomenon. The small, Cologne based, team have created a strong following and market presence in record time. They are astute enough to ensure their designs always capture the current zeitgeist, and prescient enough to keep ahead of the market. Combine this with the fact that their diminutive size means they can be more nimble that major manufacturers, and they have a winning combination.
Last summer we reviewed the Bombtrack Hook EXT, a fabulous Columbus steel 650b bruiser, which won us over with agile handling and mile munching comfort. Bombtrack claim the Hook EXT-C has the soul of the original Hook EXT, wrapped up in a light weight carbon package.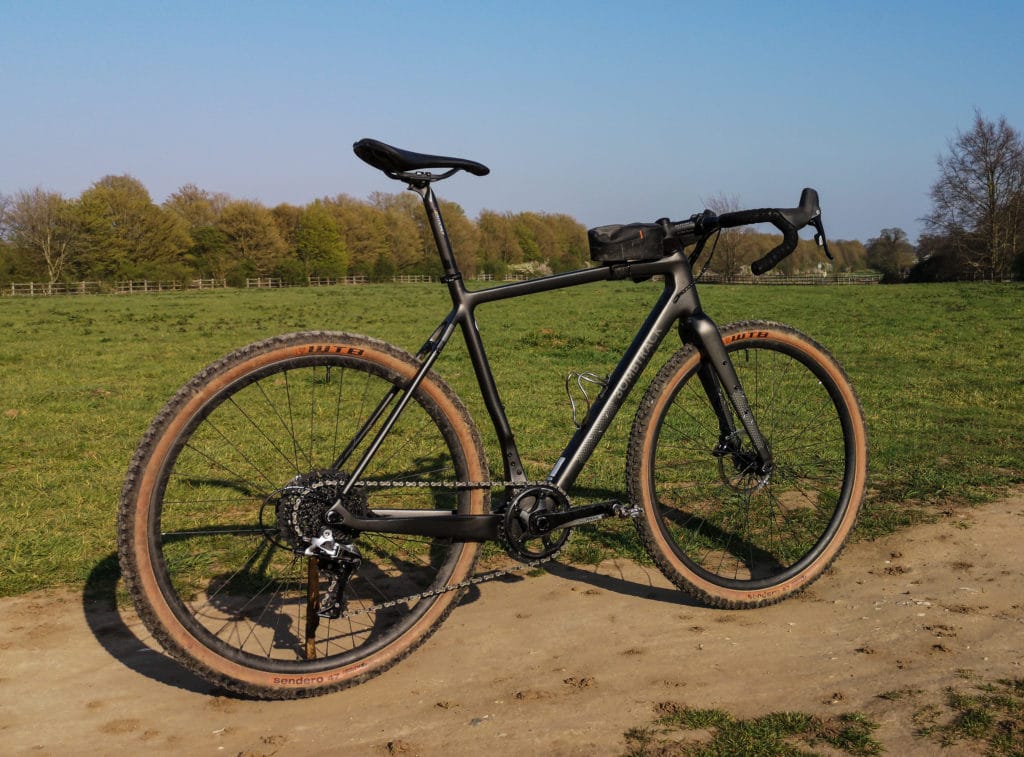 Features features, features
The frame is made from Toray T600/T800 high modulus carbon fibre. It has three bottle mounts and rack and mudguard mounts. The all carbon, extra wide, fork is equipped with triple cage mounts. For riders hoping for maximum (tyre) versatility, you can be reassured that the Hook EXT-C will fit up to 700 x 45c or 27.5" x 2.1" if you prefer the smaller wheel format.
Frame and fork are finished in a very subtle, bronzed black, satin finish. I like this understated look because it is as timeless as a bike frame can be. Forget having 'last years colour', this finish will never go out of fashion. It also seems pretty durable, displaying no damage from the gravel onslaught we have given this bike over the test period.
Hardware
Unlike the rest of the 2019 Bombtrack range, which now feature T47 BBs, the Hook EXT-C has kept the PF30 68mm bottom bracket. This may not be an overwhelmingly popular choice but the standard has been around long enough for all the bugs to have been ironed out. We have certainly had no problems at all with creaking or groaning during our time with the bike.
SRAM take care of stopping and starting duties with the worthy and reliable Rival x1 hydraulic groupset.
A real high point of the build is the Hunt Adventure Sport wheelset. At this price point, a decent set of wheels is a real bonus and you aren't going to get much better than the Hunts.
The tyres are a bit of a disappointment. Bombtrack have saved pennies by specifying WTB Nano Race 27.5" x 2.1". For the record, these are not tubeless ready. Do yourself a big favour and swap them out for a decent set of tubeless tyres immediately. Bombtrack would do well to revise their tyre choice, or at least give an upgrade option. For this test, I replaced the MTB tyres for alternatives which were more gravel specific.
Finishing off the build, a range of OEM Bombtrack branded alloy cockpit components are plain and understated. I particularly liked the handlebars which had a sensible amount of flare without compromising your position on the hoods. The razor blade of a saddle was quickly swapped out for something wider, it didn't suit me, but it might suit you.
Ritchey Magic
Not that anything on the Hook EXT-C cries out for any upgrades, we did so anyway. Well, when you have a box of goodies from Ritchey just sitting there, who wouldn't be tempted? You can read about my special Reiver Build here. The upgrades were made to improve comfort rather than make any amazing weight saving, 64g was shaved by replacing the bars and stem. Not huge savings, and proof that there's no rush to replace those OEM components with shiny new bits. Flash components can only make a great bike, even better. Right?
Shape shifter
The lighter, carbon frame of the Bombtrack Hook EXT-C offers more versatility than its steel sibling. Instead of being a one trick pony, the Hook EXT-C is an accomplished Jack of all trades with racier tendencies. Whether you want it to be a road cruiser, a gravel racer or a MTB Lite trail killer, this bike can do it all. Just change tyres and/or wheels.
I rode this bike along XC singletrack, for oodles of road miles and long distance gravel adventures including the Dirty Reiver. Not once did I feel I was on the wrong bike. This really is testament to the excellent frame design.
Wheel Versatility
While the bike worked well in both wheel sizes, I really preferred the 650b option.
Being critical, 700c wheels made the bike feel relatively unexciting and a little unwieldy. It had a tendency to wash out in corners unless you really concentrated. In tight turns I also experienced toe overlap. Having said that, the frame was a size smaller than I usually ride and is probably the main contributor to this shortcoming.
If you want to eat up the miles on the road, the 700c is probably the best option.
The bike really comes to life in 650b mode though. The Bombtrack is fun, nimble and ultimately a total joy to ride. Everywhere and anywhere. I have not generally favoured 650b wheels but I found myself riding faster, for longer and in more comfort on this bike than ever before. This has to be a good thing.
Pack & Go or Go Race
If you do not want to go fast and prefer to ride extreme distances loaded to the max, the Bombtrack delivers here too. Once loaded up, the handling is stable and predictable. The fantastic Hunt Adventure Sport 650b wheels will let you tour anywhere, on or off road, in comfort.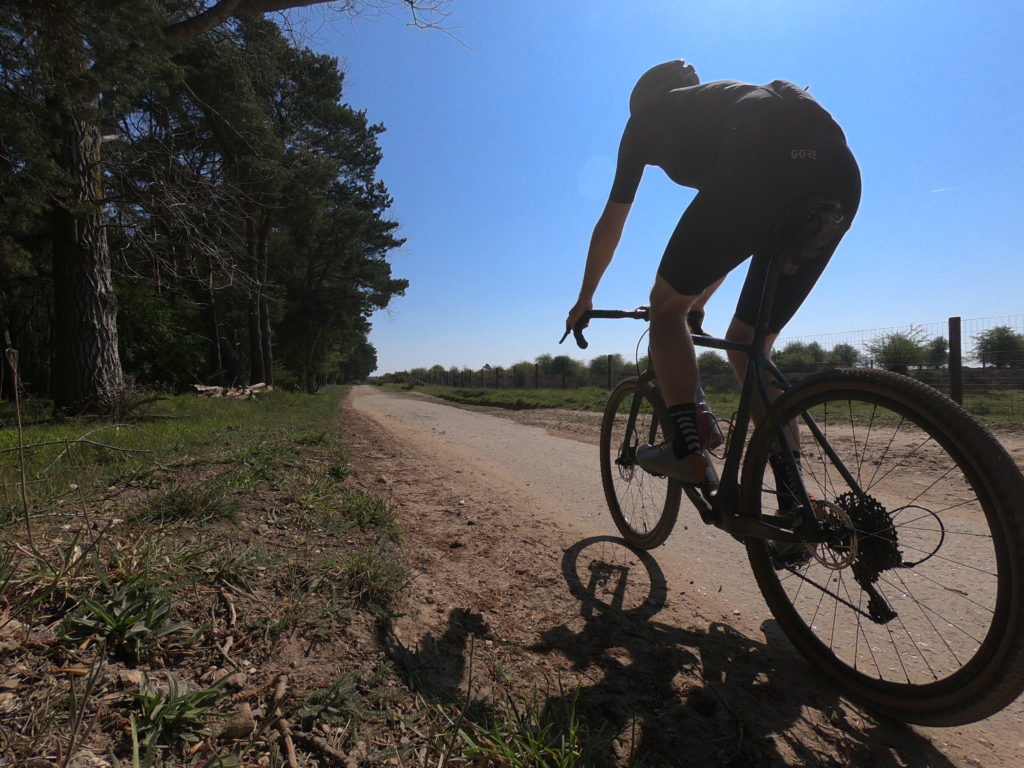 More than the sum of its parts
One could argue that at £3,000 you could get more for your money. You can also get a lot less. Some carbon gravel frames retail for more than the full build Hook EXT-C. But  the Bombtrack feels like the most 'complete' bike build I have yet ridden.
SRAM Rival might not be the most exotic groupset, but it is tough and durable. It suits the 'do everything' nature of this bike.
Hunt's Adventure Sport wheels are up for anything from loaded tours, to hammering down a rutted hillside path in the Dales without worry.
The OEM contact points are nothing exciting to look at. But again, the subtle flare of the bars, the extra chunky bar tape…everything about the Hook EXT-C makes it feel as if it is a rider's bike. It is only the tyres that blot the copybook of an otherwise perfect build. And let's face it, tyres are an easy upgrade to make.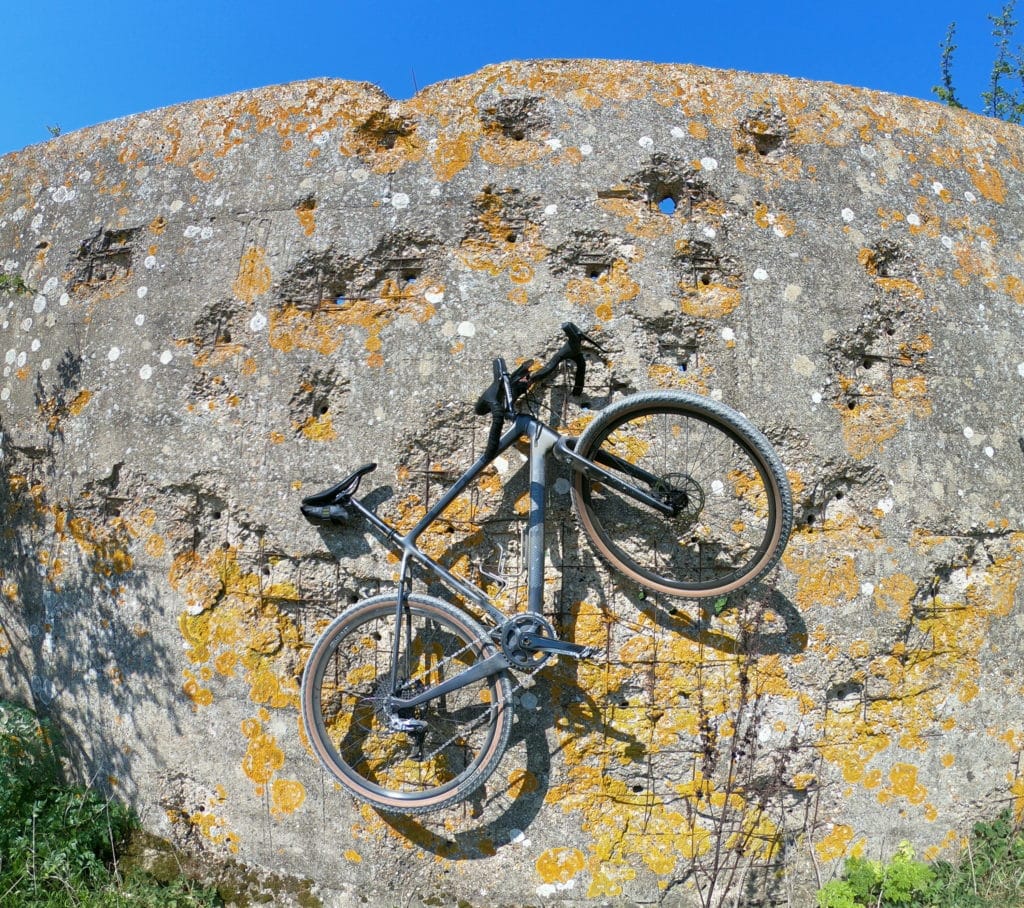 Conclusion
If someone stopped me today and said "I want a gravel bike for £3k that'll do everything, what should I buy?", The Bombtrack Hook-EXT-C would be the first bike to spring to mind. The only issue is there isn't that many Bombtrack dealers in the UK at present. As more people learn about this great brand, I'm confident this will soon change.
Unless you have an aversion to carbon fibre, or a dislike for SRAM Doubletap, there really is no reason why you should look any further for your do it all bike.
Last modified: 9th May 2019