Preparing for an early start…
A few years back if you wanted a quality kid's bike then Islabikes were the default answer. The industry has evolved over time and Islabike's monopoly has seen challenge from the likes of Early Rider, Frog, HOY, and Pinnacle. If you want a well built, lightweight, and durable MTB, Road bike or 'crosser you've plenty to choose from. But what about Adventure Bikes? Salsa have produced Junior versions of their Timberjack in 20″ and 24″ wheeled variants but that's it. Until now…
Following in your tyre tracks
The Beyond drop-bar adventure bike has been a Bombtrack favourite since its release. With 29 x 2.0″ tyres, wide & flared bars, a tough steel frame bristling with mounts, and wide-ranging gears, it's great choice for long distance off-road touring. Bombtrack have obviously realised that Mum & Dad shouldn't have all the fun to themselves and have set about translating the Beyond formula into a Junior model. While both the full-size and Junior Beyond models come in metallic green (different shades admittedly) the design team haven't just xerox'ed the blueprints at 50%.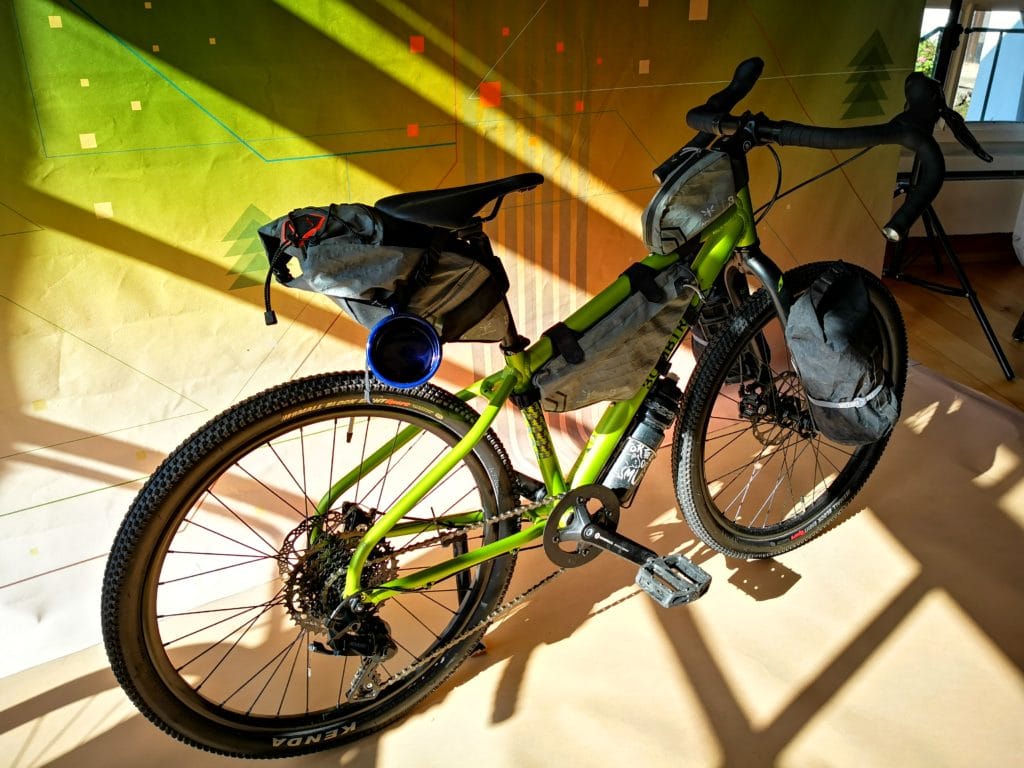 Rolling stock
Obviously the Bombtrack Beyond Junior wasn't going to retain the 29″ wheels of its big brother and Bombtrack have opted for 24×1.95″ fast-rolling Kenda Small Block Eight tyres. If you look closely at the images you'll see these have mud clearance in spades so in dryer conditions you could probably get away with something larger if necessary. Tektro Mira Disc Brakes with 160/140mm discs take care of braking duties, useful as a youngster's riding style can often lead to less than true wheels!
Bombtrack Beyond Junior Frame details
The biggest difference here between the Beyond and the Beyond Junior is the choice of frame material. For the smaller bike it made sense from a weight perspective to use alloy as opposed to 4130 Cr-Mo steel. For the lighter duties the Junior will face, the extra burliness afforded by steel isn't necessary. Material aside the design team have made sure the Bombtrack Beyond Junior is the match of the full size bike. The frame features bottle cage mounts both above and under the down tube, triple-pack anything-cage mounts on the forks and mounts for a toptube fuel-tank. Both the frame and fork feature rack & guard mounts so load carrying options are limitless. In the images you'll see that the display bike features optional luggage that Apidura have produced specially for the Beyond Junior.
Got all the gear
The other big difference between the Beyond and Junior is the drive train. Once again Bombtrack have gone the extra mile to improve the Junior rider's experience. For the Beyond Junior, Bombtrack have turned to Microshift and their new Advent drivetrain. Advent aims to marry the technology of the latest 1x gear systems into a more robust and easily tuned 9-speed arrangement. Without the need for precise adjustments and close tolerances the Advent drivetrain should be fuss-free for younger riders ploughing through harsh conditions. Like the latest kit from SRAM or Shimano, the Advent drivetrain on the Junior features an 11-42 cassette, a rear-mech clutch and custom 152mm cranks with a narrow-wide chainring. Additionally, Microshift have reworked the shifter mechanism to make the shifting action easier for smaller, less powerful hands. This attention to detail is amazing for a child's bike!
How does it ride?
I have to confess that I did actually ride the Bombtrack Beyond Junior, albeit only around the bike stands at Groundwork, it has a magnetic appeal that makes you want to take it for a ride, regardless of whether it fits. It's also uncanny that ADVNTR's youngest team member (My daughter!) was flicking through the 2020 range postcards and chose the Junior because it was a cool colour. I wonder how generous Santa is feeling this year? It's clear that Bombtrack have put a great deal of thought into the Beyond Junior. The frame design and components show little compromise on quality or function, and aesthetically it's a serious bike, to have serious fun on! Let's face it, kids love to do what Mum and Dad do, so I can see a lot of Beyond and Beyond Juniors hitting the trails together!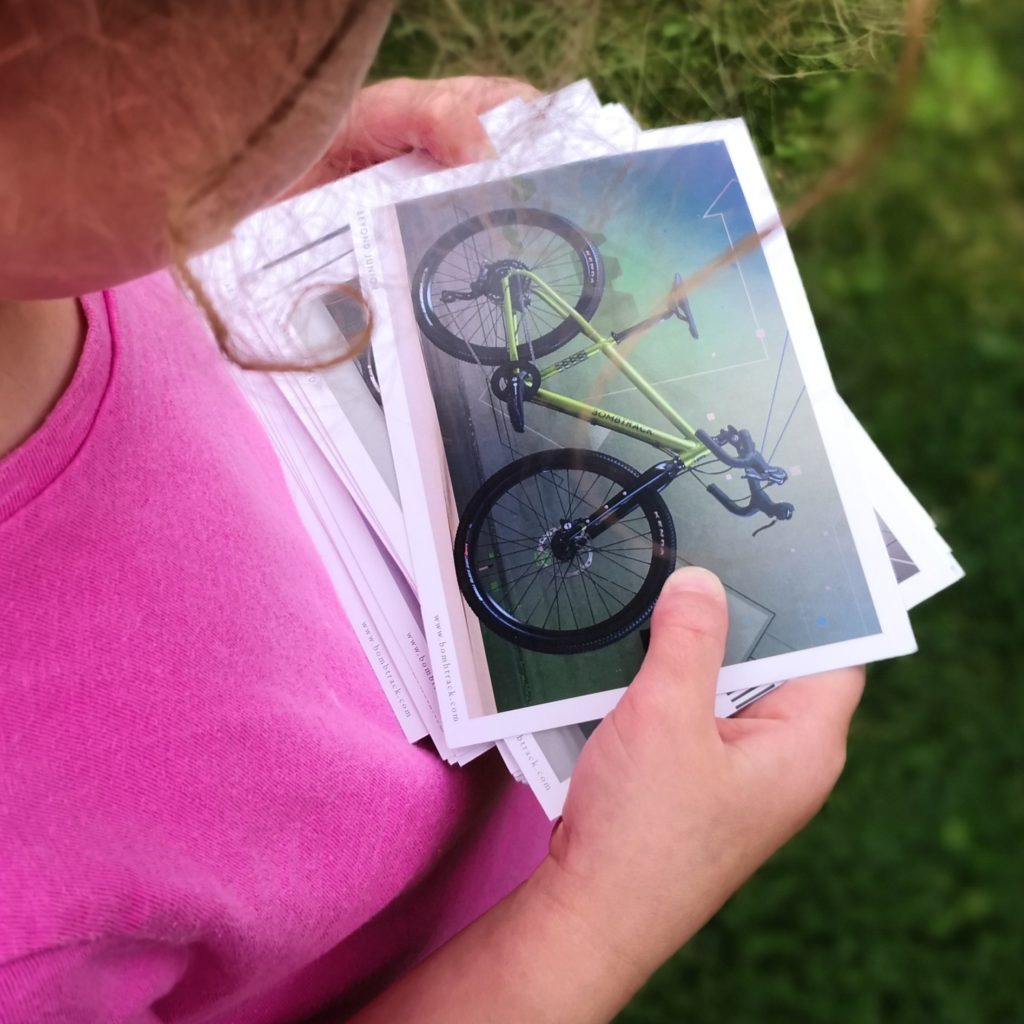 Bombtrack Beyond Junior Specifications
Frame: 6061 Alloy with triple-butted downtube, rack & fender mounts, double bottle mounts, threaded BB and replaceable hanger
Fork: 6061 Alloy with double-butted blades, rack, fender & anything cage mounts
Bars: Bombtrack Beyond travel bar, 38cm wide, 31.8mm diameter and 22° flare
Brake Levers/Gear Shifters: Microshift Advent SB-M090 dual controls with custom lighter strength mechanism
Rear derailleur: Microshift RD-M6195 clutch mech
Cassette: Microshift CS-H093 9 spd 11-42t
Chainset: Bombtrack Mach 152mm cranks with a forged-steel 32t Narrow-wide chainring
KMC X-9 Chain
Wheelset: 24″ Wheels, Bombtrack TX20 i19 32h Rims, Bombtrack Title-6 bolt QR disc hubs, 11-speed freehub & Kenda Small Block Eight 24″x1.95″ Tyres
Frame Geometry
Seat tube: 330mm
Top tube length (horizontal): 473mm
Seat angle: 74°
Head angle: 72°
Head tube length: 100mm
BB drop: 30mm
Chainstay length: 390mm
Fork offset: 45mm
Fork trail: 55mm
Wheelbase: 919mm
Standover: 672mm
Reach: 325mm
Stack: 501mm
Front centre: 531mm
Axle to crown: 400mm
Don't expect the Beyond Junior to be available in huge numbers, especially in the UK. We're waiting on details of pricing from Bombtrack Cycles UK distributor, Lyon Cycle and will update accordingly.
Last modified: 19th August 2019