SRAM's latest electronic drivetrains open up a wealth of opportunities for gravel bikers. The open platform allows users to mix and match road and MTB parts to create a huge gear range. Here's how.
Like many gravel fans, we've preferred the venerable SRAM Force 1x 11 speed groupset for a performance gravel build. It's simplicity, durability and gear range work perfectly for gravel riding. We watched with curious interest as SRAM released the new mountain bike specific 12 speed 'Eagle' groupset with its mighty 10-50t cassette. Imagining the possibilities this could offer once the new road groupsets rolled out.
When the announcement of new SRAM electronic road groupsets eventually hit the press, our initial excitement fizzled out. The press release started in the right direction with details of both 1x and 2x options. The double setup was quickly dismissed, but the prospect of an extra cog for our single ring setups was enticing. And then came the big blow…
The largest cassette for the new Red and Force groupsets is 10-33. But wait, SRAM's previous generation 1x road groupset can take a 10-42 cassette, what are they thinking?! Dumbfounded by this monumentous backwards step by SRAM, we emailed to check with their press office if there was a typo in the press release. It would appear not. With the competition from Shimano hotting up with their gravel specific GRX group set, you'd surely expect SRAM to have something smarter.
Confusingly, some manufacturers are forging ahead with SRAM Red and Force builds with this limiting 10-33 range despite the fact that it really isn't suitable for the application.
AXS to the rescue!
Luckily there is a solution. Of sorts. You may have noticed that all of the new electronic SRAM groupsets have a new moniker tagged to them: AXS. Pronounced 'Access' it simply means that all these components can talk to each other. Force AXS – Eagle AXS… Yes, they can make the electronic handshake and work together. In this new ecosystem a pair road shifters can communicate with a mountain bike rear derailleur. And a SRAM Eagle MTB rear mech can shift huge ranges, all the way up to 10-50.
How to grow a Mullet…

The gravel cyclists solution to overcoming the limitations of the new electronic SRAM road group sets is to build a mullet – business up front, party at the back. That's the term used to describe this hybrid build, rather than an unfashionable haircut of the same name. It's not quite as easy as SRAM will have you believe of course. Although all AXS parts can talk to each other, there are still some pitfalls you need to be aware of.
What you need for a SRAM Mullet...
Shifters: SRAM Red or Force AXS. Unless you want the ultimate in bling, the Force AXS shifters are perfect. Remember you'll also need the appropriate SRAM brake callipers too. Shimano and SRAM are not cross-compatible!
Rear derailleur: The SRAM Eagle AXS rear derailleur is available in two versions: XO1 and XX1. The latter is the top of the range, with a carbon cage, while the XO1 is the 'entry level' option with an alloy cage. Shifting performance and weight is negligible. Just 12g separates the two models.
Cranks: The new SRAM Red and Force road cranks come with chainrings optimised for Flattop chains, but they work fine with the Eagle chain. You could repurpose your existing cranks if you're not desperate for shiny new stuff.
Chain: Pay attention. The SRAM Flattop road chain is not compatible with the Eagle AXS rear derailleur. You have to use a 12 speed MTB chain. Options are available from KMC and of course, SRAM.
Cassette Options
As has been noted, the whole point of a SRAM Mullet is to overcome the limitations of the SRAM road 10-33t cassette and get some serious range. The obvious choice is the SRAM Eagle 10-50t cassette but, third-party alternatives are coming to market all the time.
We opted for the XG-1295 SRAM Eagle 10-50T cassette. The advantages are that it is light (around 355g), for such a large cassette and offers a huge range. To be honest, that range is too big for most gravel applications. Although the huge 50 tooth cog has proved a godsend when riding fully loaded in Wales! The real downside is the price, retailing at £349.99, the cassette costs almost as much as it weighs! Seek out options lower down the range and you'll find the 11-50t Eagle PG-1230 at £99.99 but it weighs in at a hefty 615g.
SunRace are a brand that have been making wide-range cassettes for a good for years now and their MZ90 11-50 is a viabvle option. The biggest attraction for those looking to upgrade to 12 speed is that the SunRace is designed to run on a Shimano HG driver body rather than the SRAM XD driver. At 586g and £119.99, it's a worthy contender if you're looking to save the pounds in your pocket.
Spanish firm Rotor Bike Components have been pushing the boundaries of drivetrain technology with their own 13 speed hydraulic groupset. But far from neglecting the 12 speed aftermarket, they perhaps offer some of the best suited cassettes for gravel. Their 11-46t cassette offers a 418% range with much smaller steps between the gears than SRAM and weighs a much lighter 282g. You can order the 12-speed cassette and other super light performance parts, direct from Rotor Components via their website.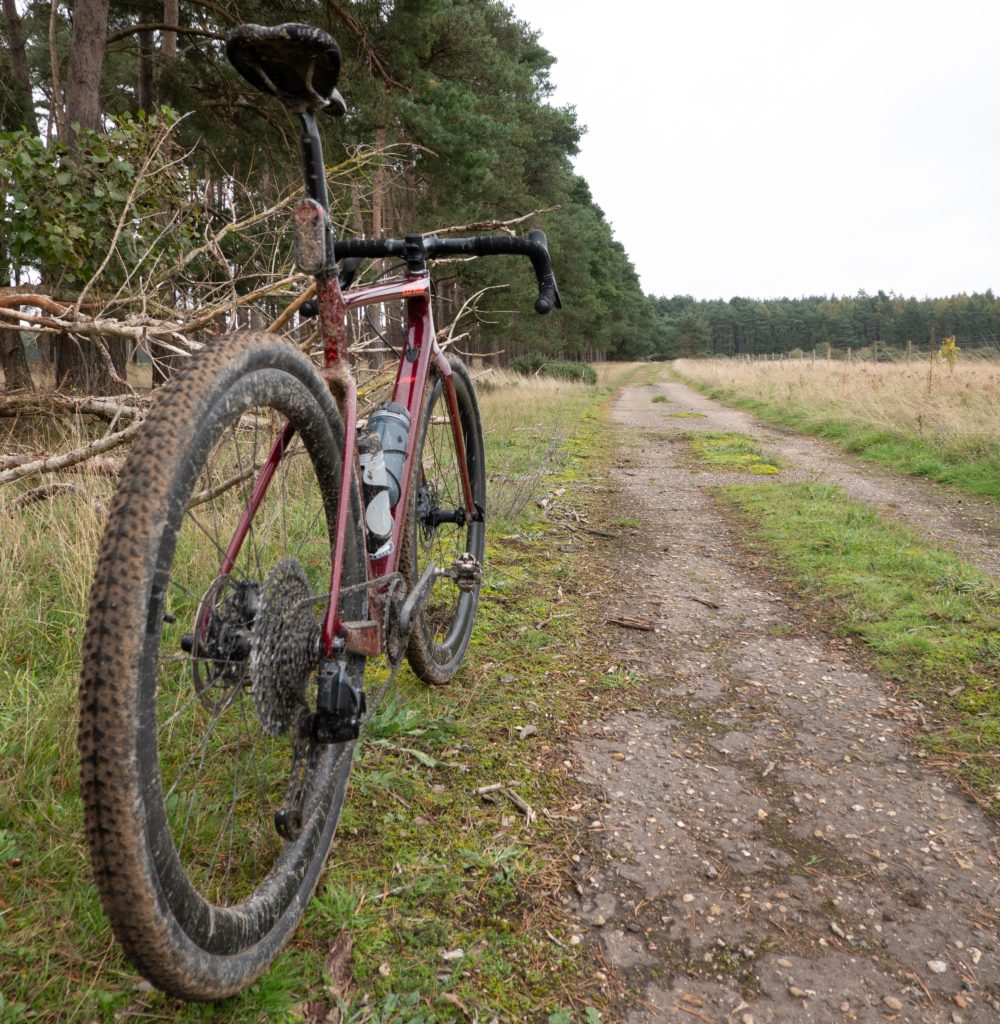 Life with a SRAM Mullet
To begin with, it is worth pointing out how beautifully clean a wireless groupset makes a bike build. With only a pair of brake hoses dangling from the bars, it is almost as tidy as a singlepeed! Also, it is incredibly easy to install – just bolt the various components on, pair them up by pressing a few buttons and you're good to go!
Using the SRAM Force shifters is a breeze. The left paddle takes you down the block, the right takes you up. The controls are operated by a microswitch which means there is very little throw needed to perform a gear change. This is both a blessing and an irritation, it's effortlessly easy to shift, but you can also change gear in error with just a light tap. Anyone who has used SRAM hydraulic road brakes before will find the same familiar responsiveness with the latest Force levers.
The real plus is just how quiet it is in operation and shifting is positive and accurate. Trimming gears is a doddle to do on the fly also, so no need to turn your bike upside down in a hedge and twiddle with barrel adjusters, until you inevitably make things worse! Just a subtle button press from the levers is all you need do.
Finally there's the gear range. It quite simply is huge and for a lot of my riding, total overkill. But I can now take this bike absolutely anywhere confident that I'm not going to be walking up a hill because I don't have the gears! On a recent bikepacking trip to Wales, riding the fully laden Cervelo Aspero on the original 10-33 cassette, would have seen me wearing out the soles of my shoes. With a 36t front chainring, paired to that monster cassette the hills were no problem!
Tough but sensitive
The SRAM Mullet build has proven to be incredibly reliable. It's been dragged, fully submerged through rivers, covered in mud and dropped outside cafes (clumsiness inevitably happens when you have a crowd) without any issue. Each time manufacturers add an additional cog, the chains and the cassette gaps get narrower and more sensitive. Although it presented no problems in setup, if any mud or foliage gets between the cogs, it will jump and skip. 12 speed is a hell of a lot more sensitive than 11 speed when it comes to operating in the filth.
Final Thoughts
The SRAM Mullet will give you access to a gear range like no other. If you really need that kind of range is down to you and the type of riding you do. Personally I still feel the 1×11 10-42 is the best setup for gravel, bar none. But the shifting performance compared to mechanical, plus the 'climb anything and everything' range of the mullet is hard to resist.
Find out more about AXS at SRAM.com
Last modified: 28th October 2019