The Bombtrack Hook EXT is a fusion of CX/Gravel bike and an MTB. Clearly designed to take you to the limits of a gravel bike's accepted range, and maybe beyond, it certainly looks the part.
There seemed to be little point in taking the Hook on a gentle poodle around Suffolk, so we packed it up for our recent trip to the Dyfi Forest in Wales.
If I said you had a beautiful body…
The Hook EXT features:
 A Columbus Cromor double butted frame with unique investment cast chainstay/BB yoke.
A replaceable hanger
Rack and mudguard mounts
650b wheels fitted with 2.1 WTB Nano Race tyres
Carbon forks with triple-pack cage mounts.
SRAM Rival 1×11 drivetrain
SRAM Rival Hydraulic brakes.
Despite its aggressive demeanour, the finish is nicely understated. A tough matte metallic grey with subtle khaki green flourishes distinguishes it from the shouty "me too" paint schemes displayed on some other bikes. We like it, although the whole understated theme is not for everyone.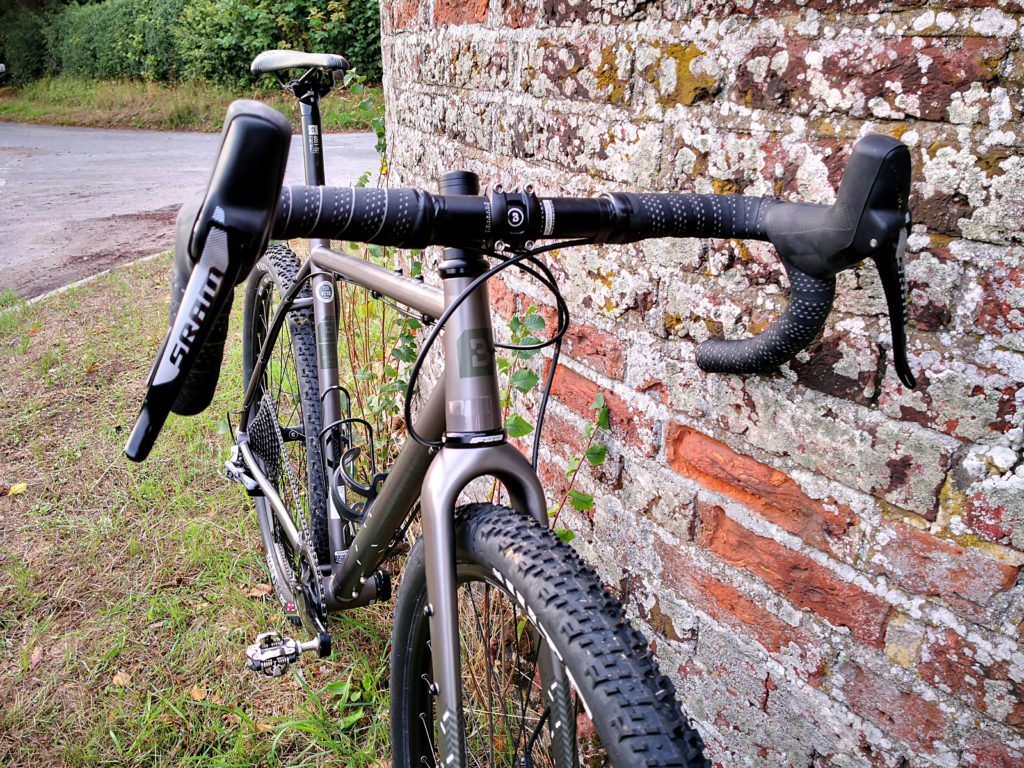 Up on the mountain
The WTB i19 rims are tubeless ready but the WTB Nanos supplied with the bike are the Race model, not the TCS (as yet, WTB do not offer a tubeless ready 650b version of the Nano…) . Nevertheless, they were easy to set up in tubeless mode.
We kept pressures low to maximise traction on gravel, in preference to easier rolling over tarmac. Even so, we buzzed along the black top quite merrily. There was significantly less resistance than anticipated  from what are essentially MTB tyres.
While we might not specify 1×11 on a pure road bike, for gravel/tarmac mashup rides it is rapidly becoming a favourite of ours.
As our Welsh odyssey unfolded, the Hook found grip where others were scrabbling around. The Rival drivetrain proved more than capable of coping with everything we could throw at it. Meanwhile, the brakes provided predictable and superbly modulated stopping power.
It is worth mentioning the handlebars, an often overlooked component because they are so frequently swapped out for something else. The Bombtrack CX-10 handlebar features an unsurprising 10 degree flare, and on the medium, measures 42cm across the hoods. Across the drops it broadens to 46cm. The tops are flattened for increased comfort. The hooks are a great shape to grip and, coupled with a 100mm stem, make the Hook a breeze to steer on rough terrain and switchbacks.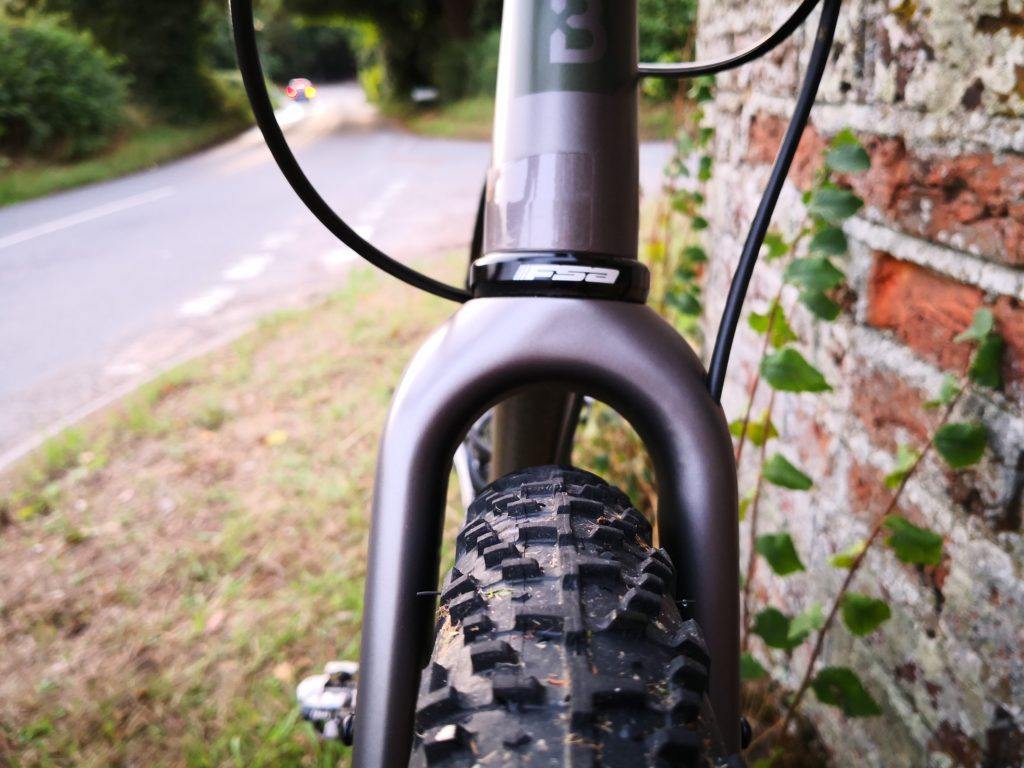 Frameset
Not only does the Hook EXT look pretty cool, but the paint is tough too. Despite numerous clonks from flying slate chunks it survived unscathed. It also resisted scuffing from the frame bag straps.
For a racy bike you still get five bottle cage mounts, three of which are triples 'for anything' cages. There are also mudguard or rack mounts and a direct mount for a top tube feed/battery bag.
Constructed from a mix of both oversize and slender Columbus tubing, the bike pulls off the clever trick of feeling compliant while transferring most of your effort into forward motion.
The tapered carbon fork is precision perfect but with enough 'give' to stop your wrists from exploding!
A Press-Fit bottom bracket on a steel frame is a bit novel and would hardly be our first choice. Bombtrack explained that it allows them to use  the cast BB yoke and provide clearance for both a road style transmission and fat tyres. The bottom bracket remained creak-free during our time with the Hook EXT. For 2019, Bombtrack have updated the Hook EXT design to run a T47 threaded bottom bracket, which should keep the press-fit haters happy.
All the cable runs are externally routed, which we applaud as eminently sensible. The dropper cable run is internal but we can live with that!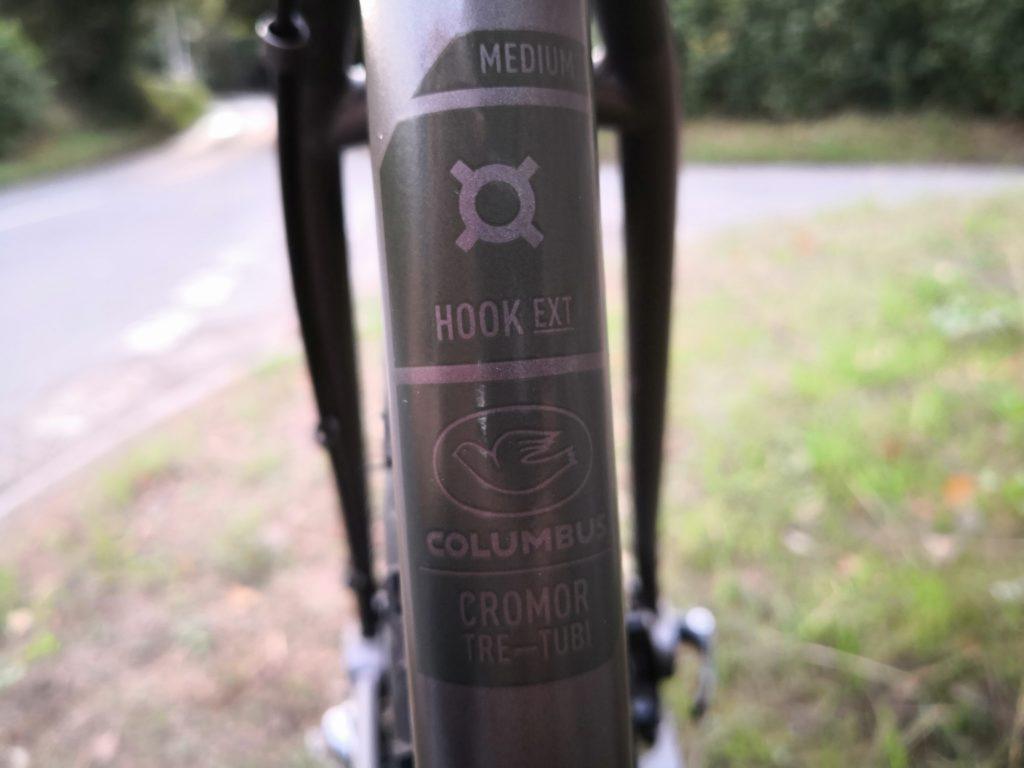 Components
The WTB tyre and rim combo makes for an easy tubeless conversion and the BT origin hubs feature sealed bearings. Despite a hammering on the rocky trails, the wheels remained true over the whole test period. ,
The seatpost, stem and bars are all BT branded and are a step above the usual OEM. The seatpost remained creak free, and the flat-top, flared, drop bars are wrapped in a fantastic grippy shockproof tape. As ever saddle choice is a personal one but the Selle San Marco Squadra is comfortable enough.
Drivetrain & Braking
The SRAM Rival 1×11 drivetrain is the perfect match for rough terrain while the hydraulic brakes give easily accessible, single-finger braking from the hoods, or the drops.
Once you get the feel for double-tap shifters they become second nature, even to a dyed-in-the-wool Shimano user. For the watt-obsessed the cranks are a Quarq/SRAM team-up and are ready to accept a power meter!
Conclusion
Bombtrack have another hit on their hands with the Hook EXT. It breezes through road sections, climbs and descends rough trails without breaking a sweat and well, just look at it! Having added pedals and cages (and converted to tubeless) we weighed the Hook EXT at 11.3kg, Bombtrack claim 11.1 without pedals and cages (but with tubes), so Kudos for being honest!  It is not the lightest bike for the money but weight is a crude metric as is clear from the quality of the ride. If you want a fast, smart looking bike that's ready for taking on the rough stuff, you could do an awful lot worse than the Hook EXT.
Last modified: 29th August 2018