If you have even a passing interest in endurance cycling, you will probably have heard of Axel Carion, founder of the BikingMan series,  with whom we caught up in February.
Preparation for his next big BikingMan event, Inca Divide #3 will not begin until mid-August, so he has a bit of time to kill. Never one to let a riding opportunity go to waste, he has decided to have a crack at The Peruvian Great Divide while he can.
He flew out to Peru, with his ride partner Jonas Deichman, on the 19th July. They plan to complete the 1,500km ride on gravel bikes. Oh yes, and as if that is not enough of a challenge, they want to do it in a record time too!.
The Greater Divide – Traveller's Tales
Ultra endurance riders will tell you that completing massive rides is as much a mental as a physical challenge. They will also wax lyrical about the scenery and wildlife, especially if they are riding somewhere really exotic. The trouble is, interesting and vibrant as they may seem to the narrator, their tales are often one dimensional to the listener. Well, fear not, Axel has everything in hand.
When he rode a segment of the Peru Divide in 2018, he was blown away by the spectacular landscapes, the flora, fauna and the Andean lifestyle. The experience inspired him not only to complete the whole ride this time, but also to compile a film and pictorial journal to complement his traveller's tales.
Axel's OPEN WI.DE Adventure Build
With 40 mountain passes of over 4,000 metres, a mountain bike would probably be better suited for this challenge. Indeed, Axel described using a gravel bike for the Peruvian Great Divide "as crazy as taking a Ferrari to the desert!"
There is method in his madness though. When he told us what he was going to ride, it all began to make sense.
Axel's bike sits at the very extremes of what you would normally associate with a 'gravel' bike. As it can comfortably accommodate a 650B x 2.4″ tyre, the OPEN WI.DE seems to be more of a drop bar mountain bike than a gravel bike.
Radical design
The now ubiquitous dropped chainstay was first seen on the UP. At the time the idea was radical but it allowed designers to work with wider tyres and shorter wheelbases.
The designers at OPEN have now taken the next logical step, and the WI.DE features two dropped chainstays! Apart from facilitating the use of even wider tyres, the double dropped chainstay precludes use of a front mech altogether. At the risk of stating the obvious, the WI.DE is 1x or nothing!
The bike is an absolute killer!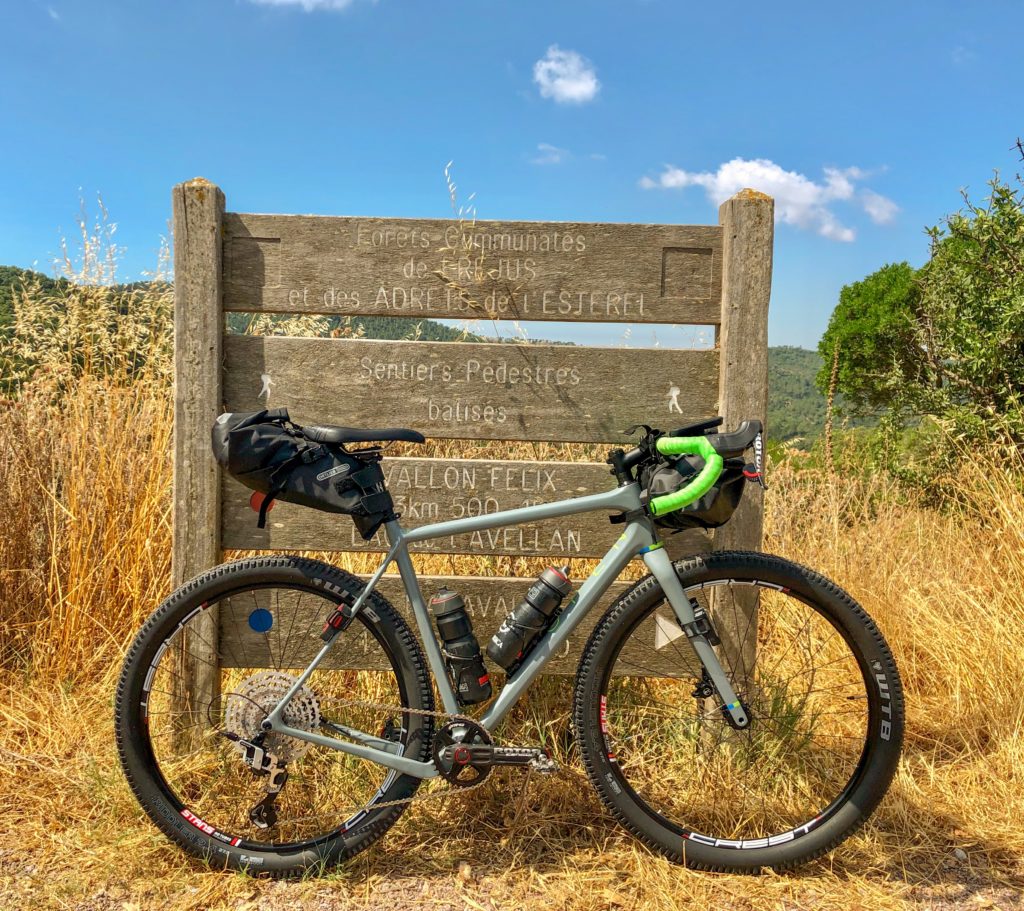 Shakedown and kit choice
Our photos were taken before Axel flew out to Peru when he was still undecided about the final setup. One thing we know for sure is that he will be using Ortlieb luggage. He cites the choice as a 'no brainer'.
Ortleib are hugely respected among ultra distance athletes not least because they are truly waterproof.
Specification
Frame: OPEN WI.DE extreme gravel
Groupset: Hydraulic ROTOR Uno 1×13 (with a custom 12 speed configuration) with Magura disc brakes
Gearing: Oval Rotor Q-Ring 36t / rear Rotor cassette: 11-52 (yes 52!)
Powermeter: Rotor 2inPower
Saddle: ISM PL 1.0
Wheels: Stan's NOTUBES Crest 27.5: 28 spokes in the front / 32 in the back
Tyres: WTB 2.4" Riddler
Critical Choices
Considering the remoteness of the Peruvian Great Divide, reliability is everything. You can not understate the importance of having components you are completely comfortable with.
For Axel, this means the hydraulic ROTOR Uno groupset.  Interestingly, he will be using a custom 12 speed cassette, rather than the normal 13 gears. With all these massive mountain passes to get through, the choice of a 36 tooth chainring and an 11-52 cassette seems eminently sensible.
Braking duties are entrusted to Magura MT-8 disc brake. More commonly found on mountain bikes, they should be powerful enough, to slow down the loaded OPEN WI.DE on those mountain descents.
Dot watching: Follow Axel and Jonas
Axel and Jonas are out on the route right now and you can follow them as they attack the Peruvian Great Divide via the BikingMan website.
Keep an eye on Axel's Instagram feed for some epic photos from their journey too!
Photo Credits: Axel Carion/BikingMan.
Last modified: 28th July 2019