If there is one brand synonymous with bikepacking, it's Apidura. Their range of bags has long been the choice for many endurance racers and adventurers alike. The brand have often been at the forefront when it comes to introducing innovative new features to the humble bike bag. Their new Racing Bolt-On top tube bag is no different.
Apidura describe the Racing Top Tube bag as "designed for ultra-distance competition, gravel racing and the needs of time-conscious riders". Which translates simply as a small bag for carrying the essentials close to hand. And it certainly does just that. 'Racing' is Apidura's range of products designed for the fast mover, rather than the long hauler. Check out the Apidura Racing Saddle Pack we reviewed last year which is also part of the Racing range.
Materials and features
The Apidura Racing top tube bag is constructed from Hexalon. An ultralight laminate material developed especially for the brand which they claim is both hard wearing and waterproof. Although it only weighs 100g the bag feels tough, well made and hard wearing. If it gets grubby, a damp cloth is all it takes to clean it up like new.
The interior of the bag has a 1 litre capacity and is lined with a plush, closed-cell material in light grey. The bottom panel padded to ensure phones and other valuables will not rattle to pieces on bumpy surfaces. A cable port at the front of pack can be used to feed your electrical devices.
The sides of the bag are printed with a snazzy yellow/silver reflective pattern to break up an otherwise plain, black design. With many bag manufacturers offering a plethora of colours and customisation options, some will be disappointed with Apidura's options. Any colour you like as long as it's black.
The model on test features is bolt-on specific to attach to the bento-box style mounts which are now a common sight on gravel bikes. Luckily, Apidura also offer the Racing model with 'old school' Velcro straps if your frame doesn't feature bolt-ons. Apidura have sensibly offered a choice of two mounting positions for the bolts so to accommodate different frame sizes.
An optional Velcro strap is included with the pack to secure it to the steerer tube and reduce wobble. In my testing I didn't find there was a need for it, so ditched it in preference for an extra clean look.
Where's the zip?
So just another plain old top tube bag then? Not quite… What makes the Apidura Racing Top Tube Bag different is down to what is missing. The zipper! Rather than featuring your traditional 'zip down the middle' opening to grab your stash, this bag has a flip-top opening.
The waterproof cover is a flap which flips over in one easy movement, revealing access to the contents within. Whereas zips can and usually always snag when you try open them one handed, Apidura's flip-top is pure simplicity. A powerful magnetic catch is used to secure the flap and prevent it opening unexpectedly on the trail.
I put it to the test with my compact camera and iPhone over a rocky fireroad descent. Although the contents was rattling around wildly, the cover remained securely shut. Surprising how something so simple to flip open can also be so secure.
Slimline – don't knock it, your knees love it
As top tube bags go, this Apidura Racing pack isn't the most capacious model on the market. Hence the 'Racing' moniker. The 23.5cm length and 10cm height is very similar to the Miss Grape Node we've tested. But with a width of just 4cm Vs the Node's 7cm, the internal capacity is much more limited.
The flipside to the slimmer profile is that you're far less likely to find your knees brushing the Apidura Racing bag when standing out of the saddle. A real pet hate I have with top tube bags in general and I'm quite thankful of the Apidura's skinnier dimensions in this case.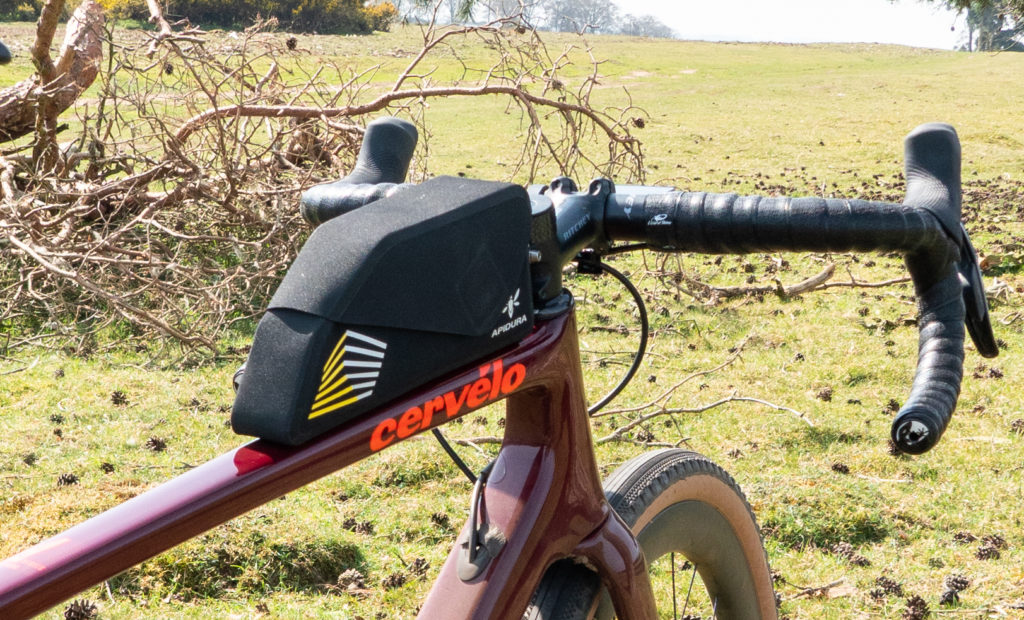 Conclusion
Apidura have really brought innovation to the humble top tube bag with their flip-top closure design. It means there's no fumbling or wobbling along the trail with both hands off the bars, fighting with an awkward zip.
The price isn't outrageous for the quality and the materials feel like they'll last a long time. Plus, there's no zipper to jam with dirt and fail. Should the worse happen, it is reassuring to know Apidura back their products with a 'reasonable lifetime' guarantee.
Apidura's Racing Top Tube Bag is a simple idea that just works, coupled with a durable and stable design, this is one neat little bag.
Last modified: 17th April 2020