Say hello, wave goodbye
We have had a Sonder Camino on test for over 600km. All too soon our time was up however, and we had to return it to Alpkit.  Instead of simply sending it by courier, we agreed that I would drop it off at HQ.
Nestled in a small industrial park in Nottingham, Alpkit HQ is a hive of activity. For a company that used to specialise in a few core products there is a lot going on…
I was met by Dan Thompson and Talyn Williams from the 'Marketing and Events team' for a quick tour. Obviously easygoing, they didn't bat an eyelid that the Camino had plenty of evidence of its last Welsh adventure stuck to it! Having parted company with the Camino my next stop was to see Neil Sutton, the brains behind the Sonder Bikes division.
Bikes first, natch!
Sonder first hit the scene in 2015 with 5 models. An ambitious start for a new brand! In its short life, the range has more than doubled and there are currently 12 distinct models on offer. Even the original models have been revised, improved and brought up to date. Taking a break from tweaking his own personal Titanium Camino, Neil told me that there were plans for further additions to the range.
Ever expanding range
As well as the Santiago steel touring bike, the Carbon Colibri road bike will also be available in both alloy and titanium.
The Camino Al and Frontier will be equipped with thru-axles.
The titanium Signal trail bike will be getting an equally hard-hitting steel stable mate. The decision to go with steel soon became apparent. In the workshop was an alloy prototype based on the signal geometry. Showing that you can have too much of a good thing, Neil reveals why the alloy Signal won't be making it into production "It's just too stiff, it's brutal to ride!" However fans of alloy trail bikes can console themselves with the new Transmitter, in stock and ready to go!
Factory custom
The eagle-eyed among you will have spotted the Hunt wheels box in the workshop photo above. This highlights one of the advantages Sonder has over its competitors. Every bike is built to order.
Neil tells me that "Customisation is no problem"
Special orders can be placed with suppliers like Hope, or customers can have components delivered to the workshop to be included in a build. Neil explained "We keep vast stocks of components and framesets on site, and customers are welcome to discuss their dream build with us. With the Ti models we can even customise the geometry."
Just out of shot were some new tyres straight from the manufacturer and still under embargo. I'm sworn to secrecy for now but I can see them becoming very popular…
From hardware to software
Having held up Neil for quite long enough, Dan and I continued our tour. We drop in on the staff café, not for a cuppa but to have a look at a bike just back from a test ride. The Camino propped up against the bench is fitted with the new range of fully-waterproof luggage. The specialist equipment required to weld the seams means these have to be made off-site. An additional trade-off are the limited colour and size options.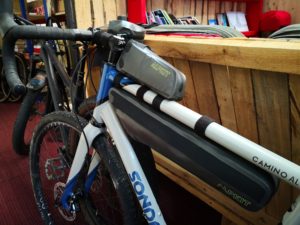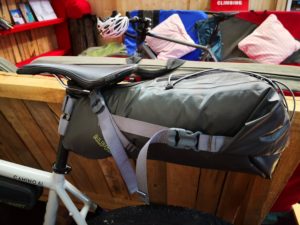 Made to measure
Off the shelf isn't for everyone and here Alpkit excel. Alongside their standard range of UK made bags, they can make custom  luggage to suit your bike and your needs perfectly. This home grown range proved so popular that they quickly outgrew their original workshop. Luckily the unit next door became available and they were able to expand. Suffice to say, whatever colour scheme or feature you want, Alpkit can probably do it!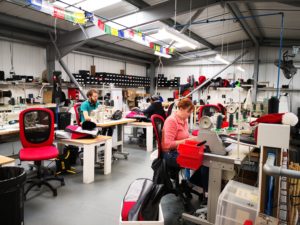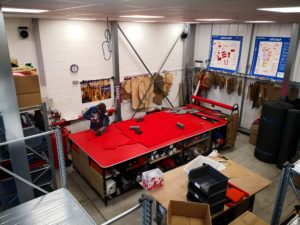 On leaving, I'm struck how Alpkit, an independent British company, occupies what is essentially a unique niche. By blending overseas and domestic manufacturing they bring the best of both worlds, a range that is affordable yet still bespoke. There are a number of big brands out there, that despite their resources, can't begin to offer the same service.
For more information, head on over to the Alpkit website.
Last modified: 13th March 2019