The Basics
The Alpkit Rhythm 3/4 Bibtights are medium weight, non thermal, bib knickers. Used on their own, I would anticipate wearing them up until the temperature drops to 5 degrees, but no more. You might extend this by employing them as liners for baggy or waterproof shorts. Otherwise, pack them away for spring.
The material is light and stretchy. Sweating isn't that much of a problem at the moment so I haven't been able to test the claims of breathability.
The shorts supplied were a size up from what I would normally wear. Having said that, there wasn't any loose material flapping about that I was aware of! As the garment was not as 'snug' as maybe it should have been, I can't really comment about the chamois straying in place…or not as the case may be.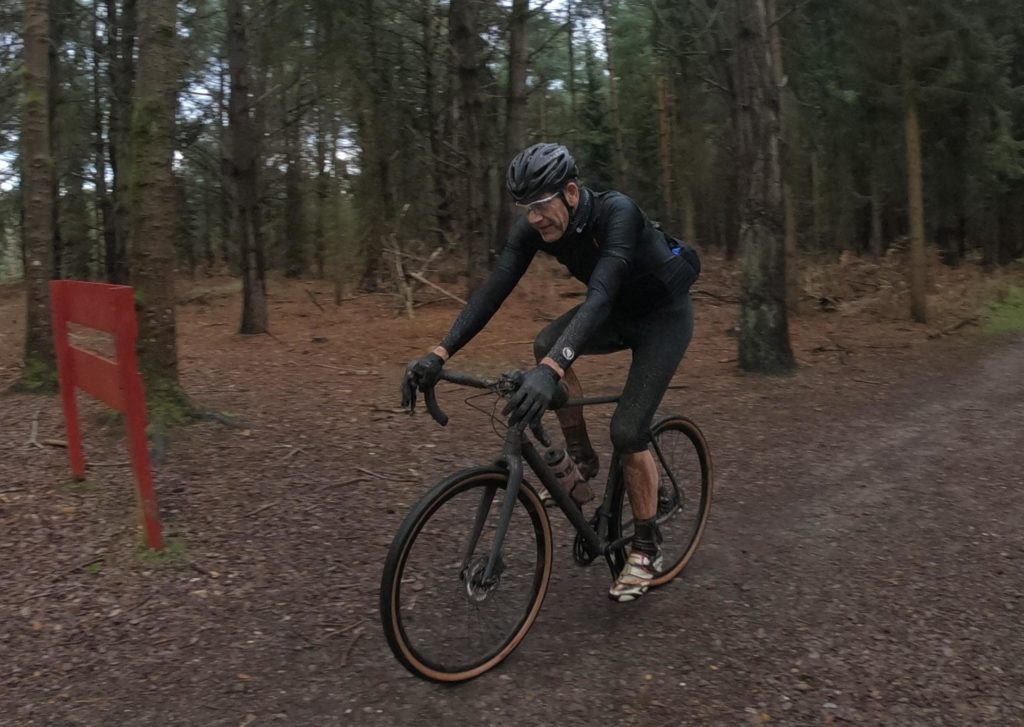 Features
There are three stand out features, namely:
The Rhythm Chamois
The Leg Grippers
Reflective Detailing
Chamois
Unlike many modern inserts, the Rhythm chamois is quite simple and noticeably bulky. In use it is comfortable enough and I really didn't notice it while riding. This is a good thing and Alpkit claim a lot of their budget went into the investment of quality pads for the new Rhythm range.
Alpkit have used a zigzag lockstitch on the chamois. They assure us that this is superior to a standard flatlock.  The garment is made in the same factory as some well known, premium, brands who specify the same pattern.  We have had no issues so far but find the standard flatlock pattern can be more durable. The best thing we can do is report back when the shorts have had a lot more use.
Leg Grippers
From my experience of riding in the Alpkit Rhythm bibshorts, I found that  the silicone strip is too thin. It took no more than five minutes for the legs to start slowly riding up. A larger band of silicone would have been more advantageous at combating leg creep.
Reflective Detailing
The Alpkit logo is picked out in bold  reflective lettering on one leg. It works well, but ideally it would be on both legs and an additional reflective feature on the rear. It's just reassuring to have some reflective elements on clothing when hitting the lanes after dark and from my own experience as a driver, it does catch your attention.
Conclusion
Let's be fair, you can't compare them with Castelli or Rapha, so my score will be based on what you might expect within the price range.
Given that caveat, they offer reasonable value for money. They aren't perfect, and they could be improved with a few, simple, upgrades. Better leg grippers being the key one.
I have reviewed the Galibier 3/4 Peloton Bib Knickers elsewhere. In my opinion, they are better finished and at the same price, are the better buy. A couple of simple improvements and there wouldn't be much between them.
Last modified: 26th January 2019