The Alpkit Akita is a mid-weight, technical fleece, plain and simple. It has a full length zip, two pockets and that is about it. The smooth outer surface makes it a little more wind resistant than 'normal' fleeces, making it perfect on it's own or layered up in cooler conditions.
Apparently the material is breathable. I say apparently because it has never occurred to me that it might not be. I have worn it under thicker jackets and have stayed quite dry, despite working hard. Equally, I have used it on its own, as a casual jacket and it has served me admirably. I get on with this fleece so well, I have bought two.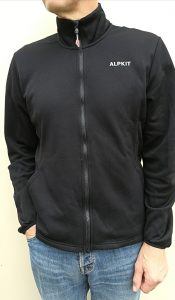 The Alpkit Akita comes in four colours. Grey, green, blue and black. The official names for the colours are: Steel, Rocket, Reef and Black.
The quality is pretty good. I tend to have problems with zips. I destroy them as soon as I look at them. No such problem with this fleece as it has a good chunky zip, which gets a big thumbs up from me.
Alpkit are a great company to deal with. Orders are fulfilled quickly, without fuss. There is always a little personal touch in their packages. Unnecessary, but it reinforces the fact that a real person has dealt with your order, which is a good thing.  Additionally, there is a three year guarantee – the Alpine Bond.
If you are in the market for a casual fleece jacket, give Alkpit a look. The only other (similar) garment I have, that approaches the same quality, cost me over twice as much.
I shouldn't need to say that this is not a fleece for using on a bike but in just in case – it would be far too warm.
Last modified: 26th January 2019