How do you improve the perfect recipe?
It is hard to believe that the All City Mr Pink is now over 10 years old. Although we look at its skinny profile, slender headtube and cantilever brakes with a sense of nostalgia, it dropped jaws at launch.
The Mr Pink can do everything, quipped All City. Not only was it the choice for many a crit racer, endurance road and sportive rider, it made an impact on the gravel too. The All City Mr Pink was the frame that won the 2013 Gravel World Championships. Back then, 32c tyres were considered huge!
In a world of alloy and carbon frames, Mr Pink bucked the trend and started a renewed following for steel frames. Over the years, subtle changes were made to keep the classic Mr Pink fresh. The current model features a lightweight Columbus Zona tubeset, to give a magic carpet ride. Teamed up with a Whisky No. 7 carbon fork, saving 1.45lbs over the old steel version. And then, there's that paint job…
Time doesn't stand still.
There's still a strong following for Mr Pink and retains a cult following. But with all things cycling, you cant just sit back and keep releasing the greatest hits. So how did All City overcome the sophomore slump of that difficult second album?
Zig Zag – Mr Pink, Evolved.
With Mr Pink frozen in time with cult-like status, All City's designers were free to take that Pink DNA and blend it liberally with the latest technology. Tapered headtube, through-axles, disc brakes… All those things that we take for granted but are completely missing from the timewarp that Mr Pink inhabits.
And then there are the classic details that every other large manufacturer has brushed off their respective design desks and into the bin marked 'The Past'. I'll start with the most obvious one, external cable routing. Oh the simplicity! External headset cups (is it me or do these last longer than the drop-in style?) and a threaded bottom bracket. Mud guard mounts and the most retro nod of them all: a pump peg!
Here is a bike designed with a purpose pure and simple: it refuses to let the fun stop when winter rolls round. Rather than tuck it up in the shed for hibernation until springtime, All City want you to keep the Zig Zag rolling all year long. Worried about salted roads? Don't be. A resilient ED (Electrophoretic Deposition) Coating ensures the tin worm isn't going to snack on your pride and joy.
Meet the new boss, same as the old boss
Should you have a penchant for steel and a desire to have that one road bike that can do it all from winter trainer to long summer rides, the Zig Zag should sit on your wish list. The design of Zig Zag is more essence of Mr Pink than Pink with Discs. It's only when you compare them side by side, you start to appreciate the 'Pinks slender Columbus tubes. Even the carbon fork looks positively malnourished beside the burlier profile of the Zig Zag.
The TIG welded, A.C.E tubeset may not be quite as exotic as Columbus, but the proprietary air-hardened, extruded steel tubing was custom designed for all-road riding and racing. It's still a light steel frame, even though beefed up to meet the requirements of disc braking forces. Giving it the age-old 'lift it and see what she weighs' test will result in a positive and slightly surprised "ooh!" Weight Weenies of a steely disposition won't be disappointed.
Where's the Gravel at, bro?
Make no doubts, neither of these two bikes are what you'd pick for the Dirty Reiver. Even with its pedigree in the early days of gravel racing, 200km on Mr Pink will leave you shaken and stirred.
All City have upped the tyre width for the Zig Zag, with a max of 700x35c (slim down to 32c if you want guards with that). Perfect proportions to fulfil its role as  a long distance cruise missile, yet still capable of brief bridleway excursions.
If the Cosmic Stallion is All City's answer to the Dirty Kanza, then Zig Zag is your Minnesotan entry to the Trans Continental. Zig Zag sits confidently in that happy medium between perma-tarmac road bike and full-on gravel grinder.
All City Zig Zag: UK Specification Build Details
Pictured here is the ultimate of the UK builds, featuring a full Shimano Ultegra R8000 x2 HRD groupset. Lighter than light, Halo Carbaura RCD wheels with a 35mm carbon rim depth not only look the part, but deliver the performance you'd expect from a premium build. 30c Schwalbe Pro One tyres round off the 'go far, go fast' ethos of the top level Halo wheelset.
Completing the build in style is a full range of components from Whisky Parts Co. The styling of which just suits the Zig Zag perfectly.
If the £3,550 price tag of the top level build is just a little too spendy, Ison Distribution have other options available. Shimano 105 2x HRD groupset substitutes the pricier Ultegra and brings the price in at a much more palatable £2,750. You'll miss out of the Whisky finishing kit, replaced with faithful Genetic Components and Halo's Devaura RD2 wheelset.
If you prefer to build your own bike, the frameset will retail at £1,300. With six frame sizes to choose from (between 46-61cm) most riders should be able to find a Zig Zag that fits.
Availability and more information
Framesets have just arrived in the UK at Ison Distribution and will be available at All City dealers in September. Both Ultegra and 105 builds are currently undergoing assembly and will be available later this week with details on the ISON website to follow soon.
The All City Zig Zag will be on display at the Cycle Show, NEC, through 13th – 15th September. Make sure you visit the Ison stand 2-C31 & 2-E30 to see it in person. You won't be disappointed!
All City Cycles website: www.allcitycycles.com
Ison-Distribution website: www.ison-distribution.com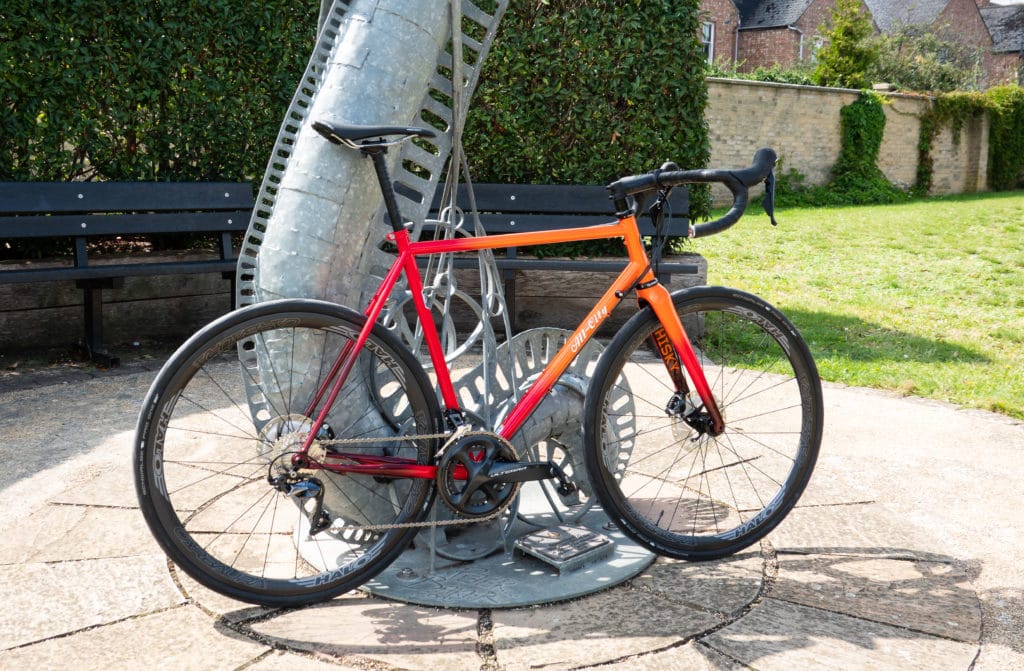 Last modified: 22nd August 2019