The All City Gorilla Monsoon  "A bike that blends the best of the categories of cross, touring, and MTB into one slam-bang package of goodness".
Translated from 'Marketing Speak" –  the Gorilla Monsoon in All City's take on a monster cross bike. I was keen to see how capable it would be in a wide range of riding conditions. Preferably, the gnarlier the better!
Before exploring the merits of this bike, it is worth reflecting on the development of the genre so you can appreciate where it came from, and what you can expect of a true monster crosser.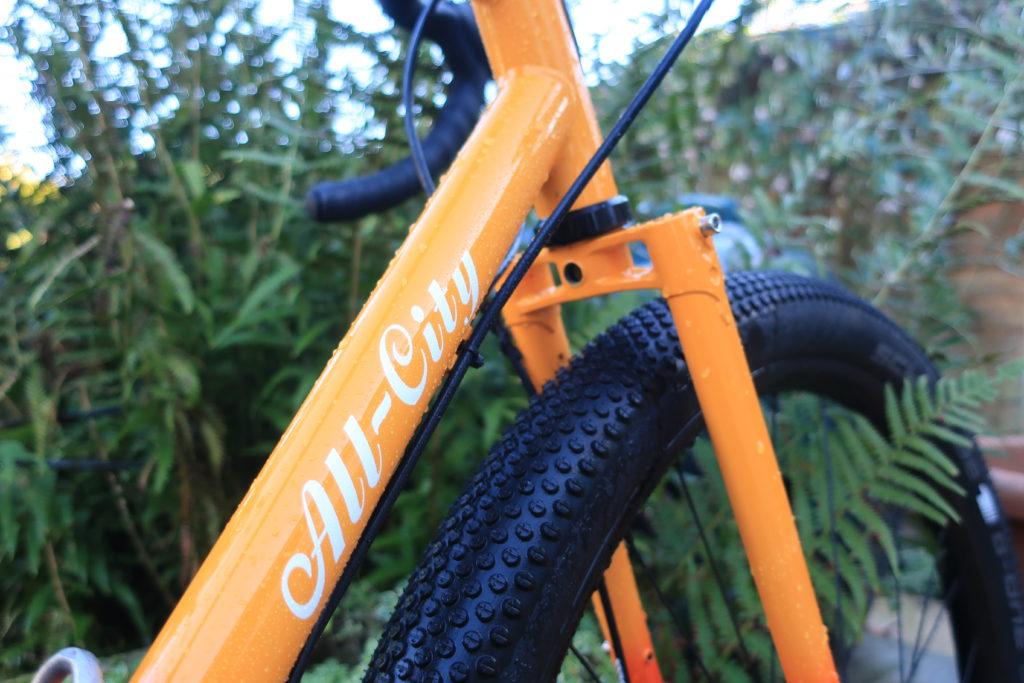 In the beginning…
Monster cross has had a strange genesis. It never burst onto the scene, it sort of insinuated itself into the collective cycling consciousness in an organic, evolutionary, way. The first proto monster crossers were ghetto conversions of old XC mountain bikes. They never really caught on because there were no decent brakes available and the geometry was a bit out too.  MTB shifters weren't really a viable option either so the earliest bikes tended to be single speeders. Talk about a micro niche!
For a while, if you wanted a "proper" monster crosser you had to look to micro firms like Singular with their Peregrine. Singular's steel frames were a delight to look at and ride but for one reason or another, the company never fulfilled its potential and along with monster crossers, entered a period of developmental torpor.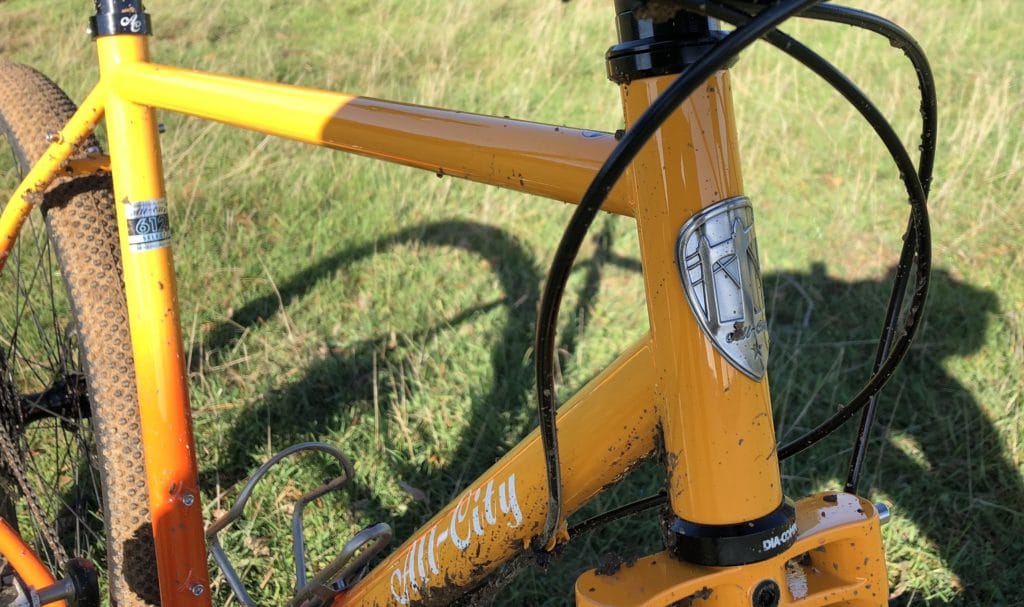 Pushing the performance envelope
As riders started to push the performance limits of their gravel bikes, manufacturers finally recognised that there really is demand for a fat tyred, drop bar, mountain bike. At one extreme you can find the carbon Salsa Cutthroat, then there's the steel Mason ISO. The Gorilla Monsoon not far behind. (Other brands are available!)
Is it a man, is it a plane?
You can call them monster cross if you like but in my opinion, they are drop bar mountain bikes. This isn't a pejorative statement, just an observation. Ultimately, I decided it didn't matter what you call the Monsoon, it looked like it was going to be a lot of fun.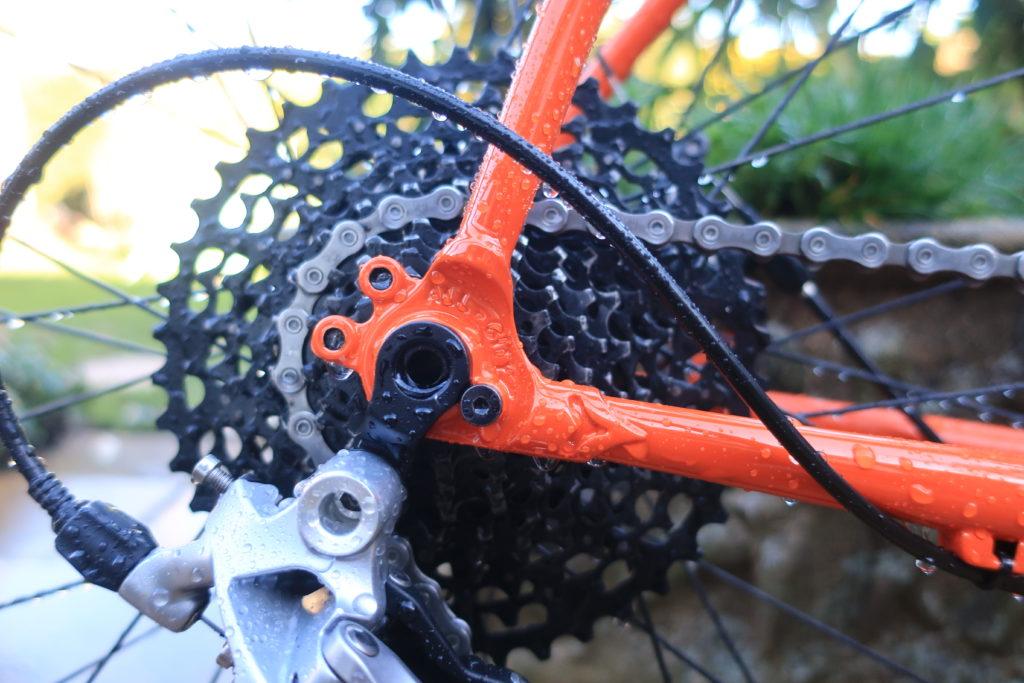 The Frame and fork
Think of an up to date, retro styled, skinny steel frame and you aren't going to be far out. You only have to look at a picture of the bike to see that it looks just "right". You can compare them to any carbon or hydroformed aluminium bike you like but, nothing beats the classic look of a steel frame.
The tubes are '612 Select', All City's proprietary blend of 4130 double-butted CroMoly tubing. The geometry is taken from their cyclocross bike, the Macho Man, but tweaked subtly to accommodate 650b wheels. The seatpost is 30.9 so you can use a dropper post if you like.
Unlike many 650b frames that tend to max out around 2.1" tyres, the Gorilla Monsoon can comfortably accommodate 2.4" – That's Enduro MTB territory!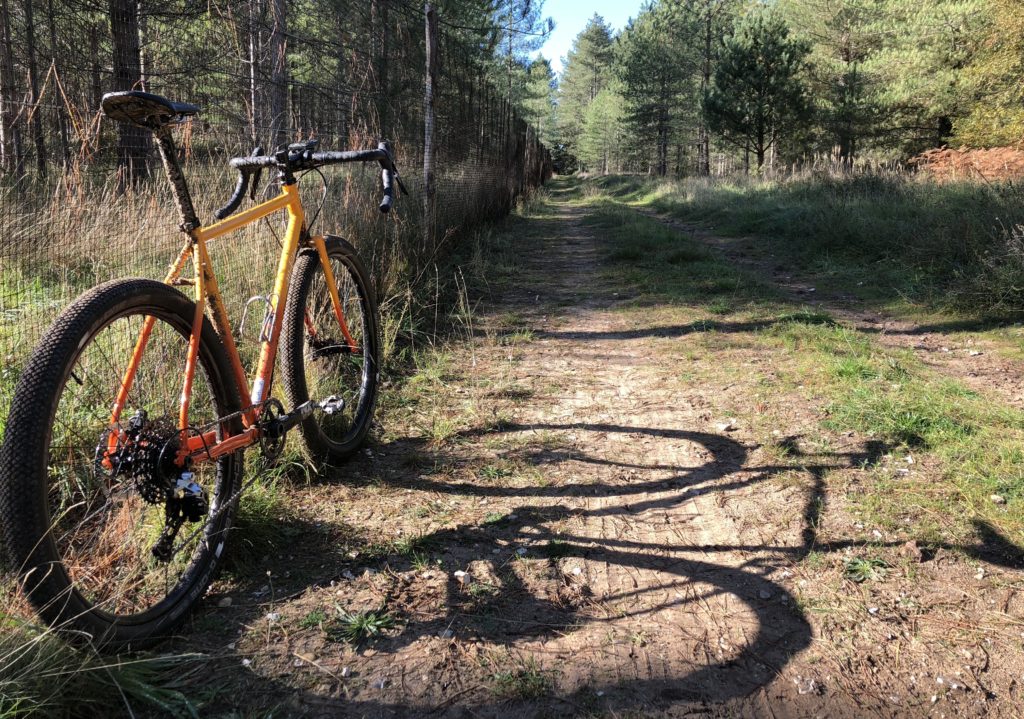 Should you need to bolt on some mudguards, clearance will be reduced. The max wheel/tyre combo will drop to 27.5 x 48c.
The biplane fork follows the general retro theme. It is a tad heavy but generally the feel is neutral. The head tube is skinny straight steerer only. If you don't like the fork, you'll struggle to find a carbon fork to fit it if you want to upgrade.
Frame Specifications
Frame
612 Select CroMoly steel. Double butted down, top, and seat tubes. Externally tapered, ovalized, and dimpled chain stays, tapered seat stays, replaceable derailleur hanger.
Fork 4130 CroMoly tapered fork blades, Mountain lugged crown and 15mm thru-axle dropouts, straight steertube, IS Disc Brake Tabs.
Rear Spacing 142 x 12
Brake Compatibility Disc Only, 160mm  Front & Rear Minimum Rotor Size
Seatpost Diameter 30.9mm, Seat Collar 33.1
Steerer Tube / Headset 1-1/8″ threadless, EC34 upper & lower, Crown race 30.0
Bottom Bracket 73mm English
Tyre Clearance 27.5 x 2.4″
Extras Rack & fender mounts, E.D. coated for durability and rust prevention
Bike Spec
Ison import the Gorilla Monsoon as frameset only kits and built up this press bike to UK spec. As you would expect, they made good use of their in-house brands – Genetic and Halo Wheels.
The 44cm Drove bars are superb and offer just enough flare to give you extra off-road hustling control. You won't end up with quirky angles for the shifters either.
To keep enough room for 2.4″ tyres, while keeping the wheelbase short, All City use a 73mm bottom bracket shell rather than the road standard 68mm. This means you have to use MTB cranks.
The test bike came with a SRAM NX crankset. The 36T MRP chainring was mated to a 11-42t cassette giving you enough gears to climb a wall! This concession to climbing meant that I ran out of gears on the flat.  All-City recommend that the max 1x chainring is 38t. So, if you dream of going flat out  and you don't have many hills to climb, you might need to work on your high speed, pedalling technique. Other options are switch to 2x for 28/42 or 3x with 26/36/48 max ring sizes.
SRAM's 1×11 Rival takes care of shifting and TRP Spyre C cable disc brakes will bring you to a halt. I'm not the biggest fan of cable brakes, but Spyre's are possibly the best of a mediocre bunch. There is enough power to bring the bike to a stop most of the time. I did experience a few heart stopping moments on steeper descents though.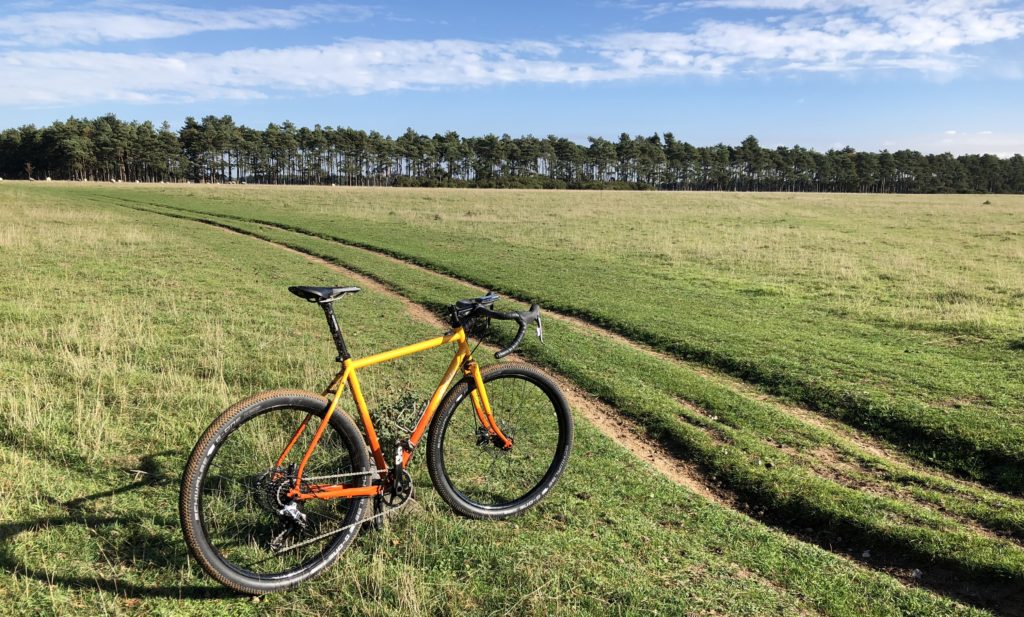 Flex Stem and fat tyres
Our test rig was was also equipped with a Redshift ShockStop Suspension Stem. Teamed up with 2.35″ tyres, there was a lot of cushioning. In fact, more than once, I wondered whether or not if I had a puncture. The combination of flexible stem and fat tyres took a while to get used to. It didn't help that I couldn't entirely block out John and Rich rambling on about the Girvin Flexstem from back in the day (again). But once they had stopped ribbing me, I actually enjoyed it. It may not seem to be your cup of tea but don't dismiss it without giving it a go. I am glad I persevered.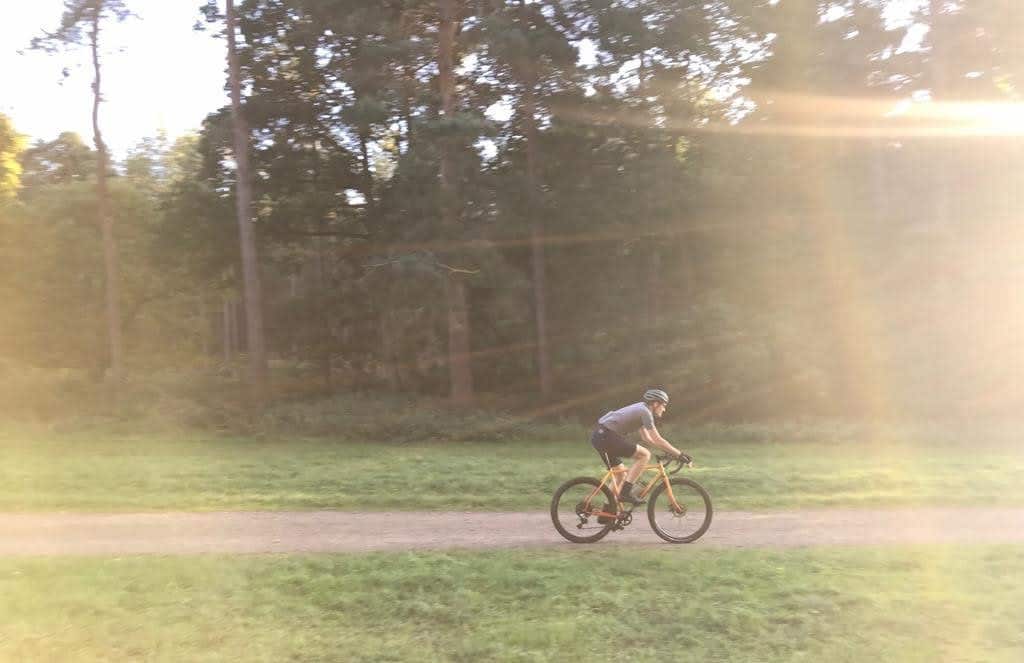 The nitty gritty
A basic steel frame and rugged MTB components are never going to be a featherlight combination. There is no getting away from it… the Gorilla Monsoon is a heavyweight. Our medium sized test bike tipped the scales at 28lbs. In its's defence it was deliberately rufty-tufty build. The 35mm wide Halo Vapour rims for example, are from Ison's Enduro MTB range, being designed to shrug off big hits and drops. Having said that, once you get the Gorilla rolling, weight is the last thing on your mind. You just don't notice it that much.
The test bike supplied was a 52cm (55.5cm top tube), All-City sizing usually comes up large and at 5′ 10″ this frame was just a tad too small. I also experienced a lot of toe overlap on slow, technical corners. With 6 frame sizes to choose from, ranging from 46cm to 61cm, you should be able to get your sizing dialled.
650b wheels spin up quicker than a 700c. The Schwalbe G-One All-Round 2.35" tyres on the test bike are seriously chubby, but they roll along well enough both on road and off. If fat tyres are really not your thing, the Gorilla will happily accept slimmer rubber. All City say the bike handles 'great' with the lower bottom bracket height achieved by running 650b x 47c. And it isn't just restricted to little wheels either, and will officially accommodate a maximum of 700c x42c.
Out of curiosity, I fitted a pair of carbon 700c rims with Panaracer 700x43c Gravel King SK tyres. I was impressed by just how much they changed the character of the bike. Removing the shackles of those hefty MTB rims revealed a hidden agility. It's no crit racer, but it can be a pretty decent endurance bike.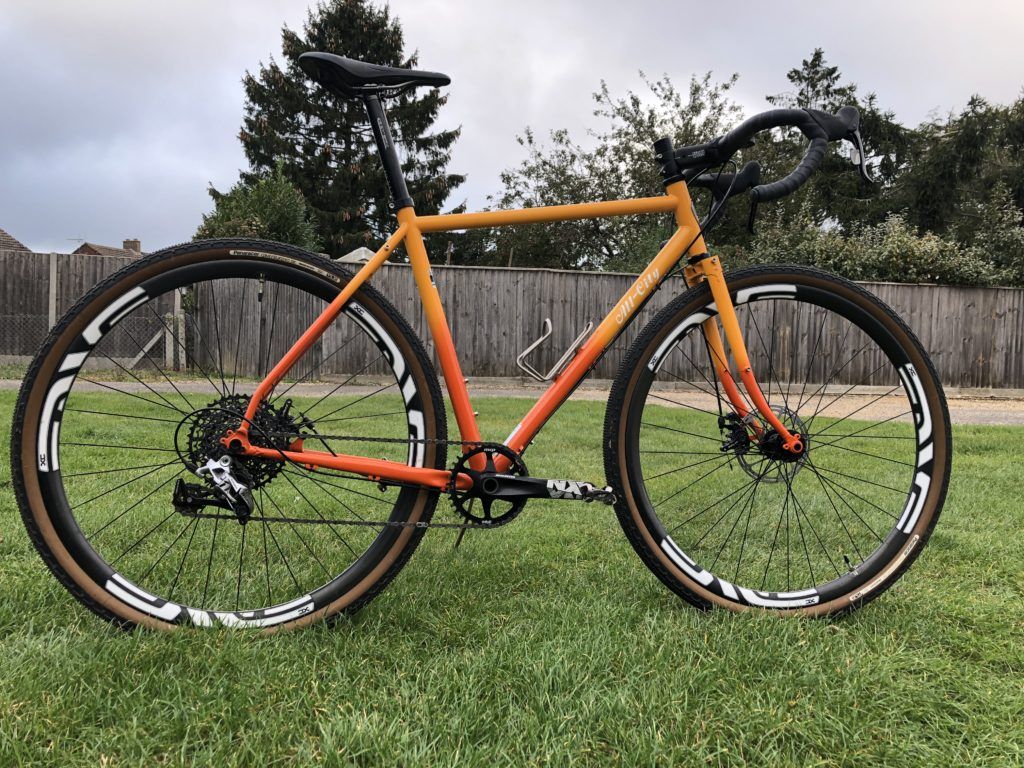 Versatility x Shredability
Perhaps the main appeal of the Gorilla Monsoon is its versatility. It's a super commuter with rack and mud guard mounts. It will serve as a comfortable tourer and, switch to 700c wheels, and it becomes a road cruiser.
But it is off-road, either as a back country bike packing rig, or just for ripping up your local singletrack where the Monsoon really shines. Grip, comfort and playful handling inspire you to lay off the brakes and rely on the endless grip from those wide 650b tyres while you carve through corners. Slingshotting through twisty trails and letting my mountain bike riding friends eat my dust is one of my favourite memories from riding the Monsoon. Whereas many a gravel bike can be nimble on smoother trails, roots and rutted singletrack often hold them back. It's here however, that the All-City comes into its own.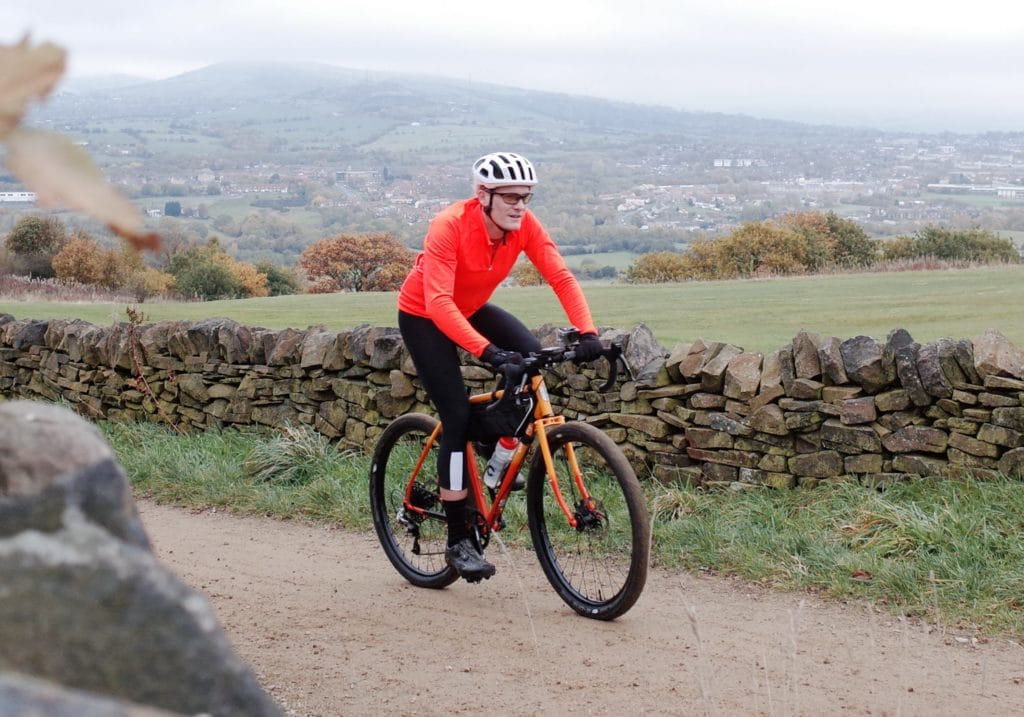 As tested, this bike was heavy. Although capable on technical ascents, you aren't going to be the first up any climbs. Spin your way up and admire the view because, once you start heading downhill, you will fly as the fat tyres become your best friends. Oh yes, your fun meter will probably max out too.
While we are talking about climbing. Despite the short chain stays, the front end stayed comparatively well planted on technical ascents.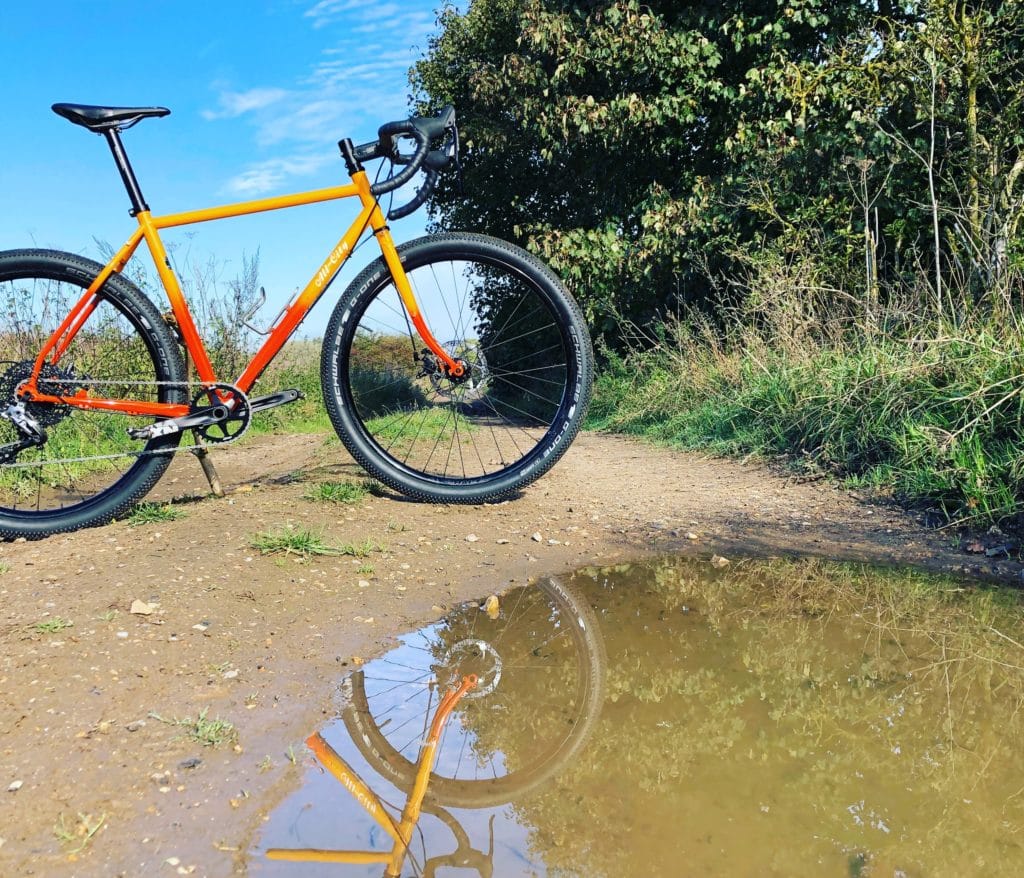 Conclusion
My first impression of the Gorilla Monsoon was that it looked pretty. Apart from that, I felt it was probably a style exercise illustrating how crazy fat tyres can look when hung off a drop bar frame. Once off-road, I started to realise that crazy, fat tyres hung off a drop bar frame can equal serious fun. The moral of this story is: leave your cynical hat at home. "The Owls are not what they seem"
Ultimately, I fell in love with the frame but wasn't bowled over by the build. I think it makes more sense to buy the frame and fork so you can  'up-cycle' your old MTB components and build it the way you want.
If a normal gravel bike is just too skinny for your riding terrain, the Gorilla Monsoon will make it child's play.
Last modified: 14th November 2018