Italian brand Alé has been around as long as I remember. In fact, they date back 37 years, and have made a name for themselves making incredibly bright – in fact fluorescent – road cycling kit.
Just like for most major clothing brands, the rise of gravel riding has been a new opportunity for Alé. We were asked to take a look at their off-road specific new shorts, the Alé Stones cargo bibs. Somewhat surprisingly, there's not a touch of fluoro in sight…
On test
We had two reviewers for this test; myself with the women's bibs, and Mark Downie with the men's. These are identical bar the sex-specific chamois and fit for different body shapes.
Fit and comfort
When I first tried on my pair of large bibs (a size bigger than I'd tend to opt for), the fit was noticeably snug, like a compression short. A number of black lycra panels give a contoured fit, with a wide 3 inch leg gripper backed with thousands of small silicone dots. For the bibs, a thick but very elastic mesh makes up the back panel and the straps. I can only assume that these bibs stretched a little over time, as after a few uses the fit is noticeably less constrictive than that first day.
Worn on short road rides to multi-day bikepacking tours, the comfort of these sleek shorts have really impressed. They simply don't move a millimetre – thanks to the close fit – and the wide leg grippers don't pinch or constrict at all. The series of silicone dots on the reverse of these grippers are minimal and don't leave your skin with any irritation or marking either.
The chamois is the 'Green 4H' for men and 'Green W4H' for women, which you'll also find in their Off Road Padded Liner shorts and their Green Road Bib Shorts. The green outer is constructed from recycled Polyamide, over a 12 mm thick open cell foam that's highly perforated with 3 mm holes to aid ventilation. It certainly did the job for me for a couple of rides measuring over nine hours in the saddle!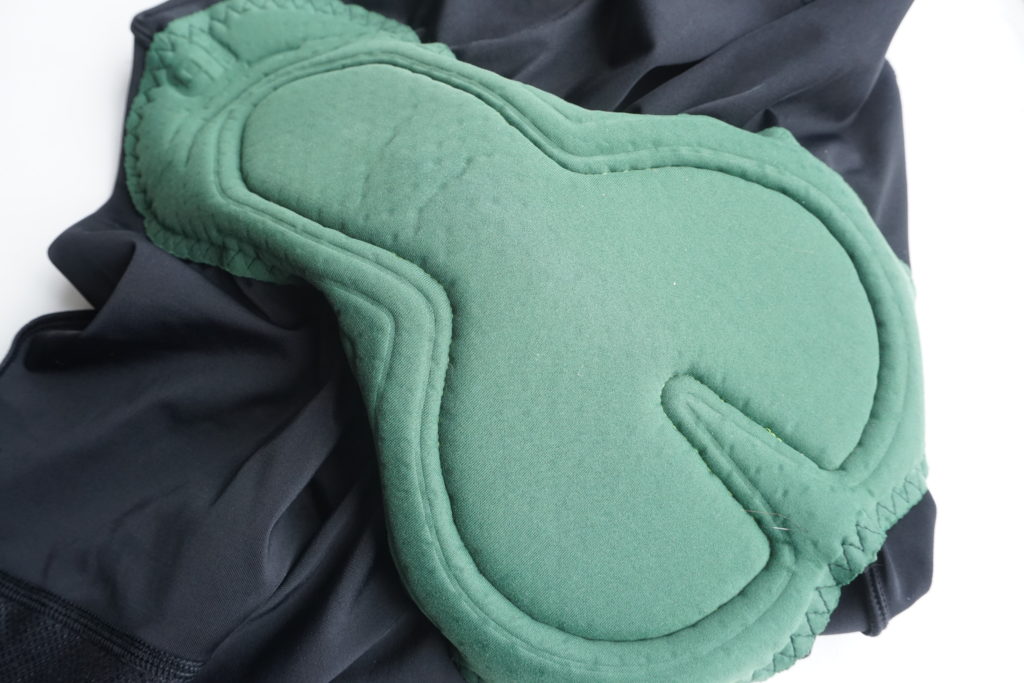 So what's this 'cargo' all about?
There are four pockets in total; two on the lower back and one on either thigh, made of a finer elastic mesh than the bib straps, giving the bibs their 'cargo' name. This really seems to be the only difference between these and their 'road' bib shorts; the ability to stash more kit. While I don't dispute that you often need to take more things with you when you ride off-road or in more remote areas, I'm a little cynical about calling these off-road specific shorts just by adding some on-trend pockets!
I used the thigh shorts for my phone, which would usually be in a baggy short pocket or in a stem bag, plus bars or any empty bar wrappers. Despite my paranoia of my smartphone bouncing out without me noticing over some rocky ground, I was pretty pleased that it stayed snugly in place on my thigh the whole time. I wouldn't want to put too much more in these though; certainly not tools or anything that could be dangerous with a spill.
These pockets were really put to the test when we battled our way through a really overgrown byway, brambles and nettles galore. Despite coming out the other end with pretty shredded knees, I was surprised to see that this thin, elastic mesh on the thighs was actually totally intact. It's light enough to not feel the extra layer in hot weather, yet not at all fragile. Impressed.
Aesthetics
By Alé standards, the branding and colourway is very muted. The only exception to the all-black appearance of the shorts is the Alé logo, half hidden under the mesh on each thigh pocket, plus the 'a' logo on the centre of the lower back, all in a reflective print.
Mark's Thoughts
This has been my first experience of trying Alé kit but I've been very familiar with the brand for the past few years. Recognised as a brand with a strong road presence it's great to see them offer something outside their normal sphere.
The Alé Stones are really well made and have what I would describe as an athletic fit; basically this means you may need to go up a size. Normally I wear a small or medium in bib shorts, for example I'd usually wear a small in PedalEd shorts or medium in POC or Rapha. In the case of Alé it would be a large. The medium pair sent to me is a shade on the tight side but most importantly, surprisingly comfortable in the riding position. If you were to try these on and not swing a leg over the bike you may think they don't fit well as they are very much cut to fit on the bike. It's also worth pointing out that I have achieved a firm 'Lockdown Look' over the past few months and it may not be Alé's fault that I need a large!
Regardless I enjoyed the chamois placement, as it was sewn in precisely the right place and was exceptionally comfy. The material is really breathable and not once did I feel there would be a problem with sweat build up. I often wear Rapha Randonee Shorts over the top and on hot days, even in Scotland, you can develop a fair old stream of sweat but this wasn't an issue with the Stone Cargo bibs.
The silicone on the leg grippers meant that they stayed in place and remained as un-noticeable at the end of rides as the start. The straps up top stay in position well and allowing for the fact I was wearing a size lower than I should have been, I'll assume that they would have been even more comfy in the right size.
I've been a fan of the PedalEd Odyssey and have used a pair to death by daily commuting and riding in events like the Grinduro on Arran in 2019 and the cargo feature is something I appreciate a lot. The pockets on the Alé Stones are great, plain and simple they allow you to store your phone and other ride bits like a wee tool or bar. I prefer to ride in a light tech tee these days so having the storage in the bibs is essential – my phone is always stored on my front either in the bib pocket or outer shorts pocket if I'm wearing those. In the past I've had two major MTB accidents and learned the hard way that a phone in the back pocket or rucksack is the worst possible place if you break an upper limb and are lying on your back…
Overall, if you want a pair of high performance shorts that are built well, allow for storage, wash well and look good then I'd advise considering Alé as an option.
Katherine's verdict
Once you get over the fact that these 'off-road' bibs are just road cycling shorts with some added pockets, I think the Alé Stones cargo shorts are actually pretty neat. They've been my first encounter with this new trend of thigh pockets on bib shorts and I'm relieved that they've been carefully thought through to be robust and secure.
I'm all for colour and patterns, but nothing really beats a pair of plain black shorts, so I think Alé have nailed it on the subtle branding. Most importantly of all though, they're super comfy for long days and you don't get the dreaded sausage leg! One thing I would suggest though, is that you check out the sizing guide like I did before you order, as you might find you'll have to size up from your normal like I did, and Mark found out the hard way!
Besides that, the only negative that I could think of would be that the traditional bib design doesn't do anything to aid the nature break situation for women. I've been spoiled by other bibs recently with some innovative designs in that department.
For an RRP £140, they're middle of the road in terms of cost; not sub-£100 budget and not too ridiculous either. I think considering the quality of the chamois and comfort that's a pretty fair price, although you can currently find the Alé Stones shorts online for a much reduced price of around £85-£110.
Photo credits: Tim Wilkey
Alé Stones cargo bib shorts
£140 $169.99 €132.90 (women's) €138.90 (men's)
Close fitting, lightweight and comfortable for long days in the saddle, the Stones bibs from Alé add extra storage capacity to decent road cycling shorts
8.0/10
Pros
Great fit
Wide leg grippers don't shift, and don't constrict either
Hard-wearing mesh cargo pockets
Cons
Traditional bib design doesn't make nature breaks any easier for women
Sizing is very 'Italian', so make sure you check your dimensions and size up
Last modified: 3rd August 2020