Who are 7Mesh?
7Mesh are a Canadian company who have been making cycle clothing since 2015. They are a fully committed group of friends collaborating "in the pursuit of better".
It's fair to say they don't have a significant brand awareness in the UK…yet. I would like to think that is about to change as I feel they have something special to offer.
7Mesh sit in the upper echelon of premium cycle clothing. When people see how much their garments cost, a common response is one of astonishment. Yes it is expensive but it isn't so much about cost as value. Take a few minutes to get your head around it, then apply the same rationale as you might when choosing a £4,000 bike over a £1,500 bike and you are more than half way there.
With one eye firmly fixed on "value" then, let's take a look at the Rebellion jacket.
What is it?
The 7Mesh Rebellion Jacket is a high visibility waterproof designed for those days when your ride starts wet and stays wet. While packable, this is less an emergency rain jacket than a full on waterproof for those hardcore days when everyone else is sitting at home drinking coffee.
Although primarily a road oriented design, the Rebellion has plenty of useful features for the gravel and adventure cyclist.
Features
The Rebellion is available in one colour – Sulphur. We'd describe it as neon yellow. Although some people think high visibility is uncool, I would prefer to be seen than end up as another casualty in A&E.
The jacket is made from Gore-Tex Active, a 3-layer membrane that will keep you dry even in a heavy downpour.
7Mesh have specified wonderfully chunky, extra strong and waterproof YKK Vislon zips on the front and the accessories pocket to ensure neither you or your phone become waterlogged.
You may have spotted my reference to a single accessories pocket. It seems the designers eschewed the traditional triple pocket standard and added a pair of very neat 'passthrough' vents instead. The vents provide great ventilation and also double up as access ports to your jersey pockets beneath. Smart!
The clever features don't stop there though, the cuffs are elasticated, so you don't get any wind or rain rushing up your sleeve. If you start to get a little too warm on your ride, just unzip the cuffs to reveal a mesh vent that opens up airflow without your sleeves flapping in the wind. They're a surprisingly effective way to moderate heat build up in combination with the main jacket zipper.
The hem is elasticated and features silicone grippers to ensure the dropped tail remains dropped rather than riding up.
And if you didn't feel the Rebellion was already visible enough, at the bottom of the hem is a reflective band.
Fit and Comfort
The fit is best described as slim, not quite race fit but close enough.
7Mesh design their clothing to fit best while you are in the cycling position. So although it may feel a little tight when you are just standing about at the cafe, once on your bike, the fit is perfect.
The rear panel has more stretch than you'd normally give Gore-Tex garments credit for. The material doesn't have a lot of mechanical stretch and so shells made from Gore-Tex either feel restrictive in a race cut, or they're more baggy to compensate. 7Mesh cut the rear panel of the Rebellion diagonally rather than vertically after they found the material stretches just enough in this direction to give you a more comfortable fit. Not surprisingly, cutting the material this way does ramp up the cost, but it's one of those small details that makes a significant difference to comfort.
The collar is sensibly high to keep the elements out and a zip garage prevents any irritation under your chin. I really like the soft brush material inside the collar. This feels great, preventing that horrible scratchy feeling of nylon against skin.
The Rebellion is available in a range from XS to XXL. The medium was a perfect fit for my average 5'10" frame and 38″ chest.
In use
When it comes to staying warm and dry, this jacket is peerless. Riding through bitter winds and driving rain, it kept me warmer than such a light garment had any right to. This has to be where the Canadian heritage comes in. If you live somewhere where precipitation is a persistent meteorological feature, a 'waterproof jacket' is going to be tested to the max. Second best just will not make the grade.
I'm not one to purposely ride in a downpour, there is no enjoyment in that. But I just had to test the claims that this jacket was so good.
During some depressingly wet January rides, I stayed comfortably warm wearing just a merino long sleeve jersey under the Rebellion. On some harder efforts up hills, heat built up enough for me to unzip those wrist zippers and test the ventilation. They work fine!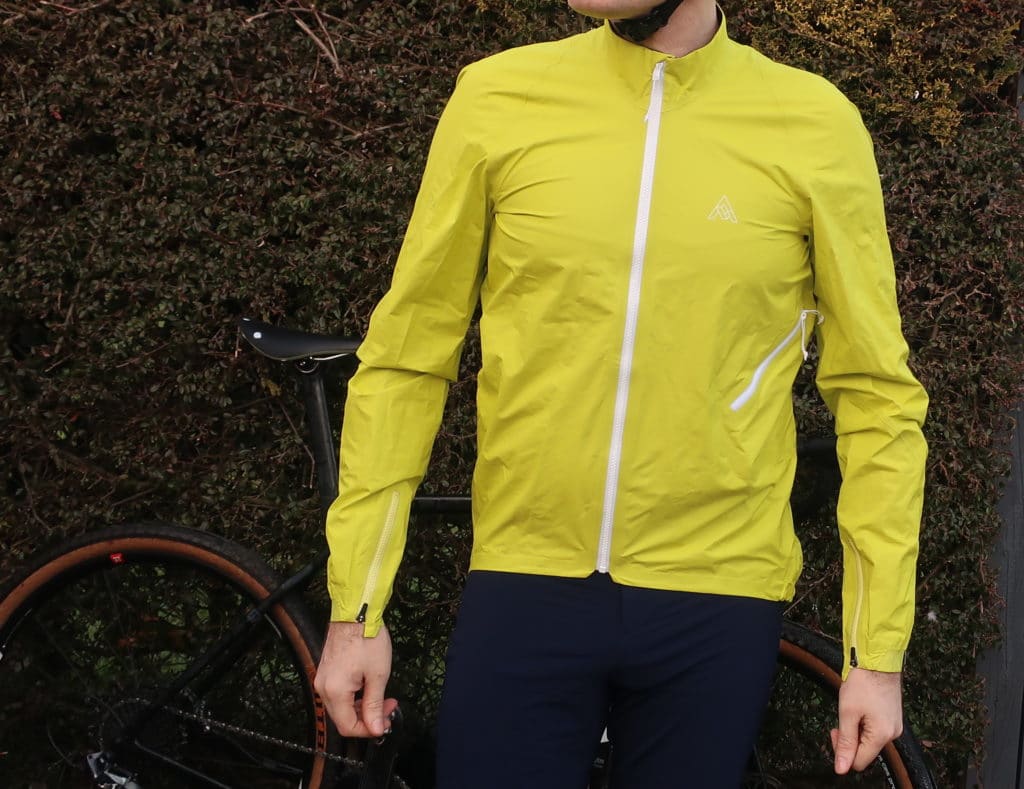 My only significant criticism is that 7Mesh like to tie string to their zip tags. Yes it works, but string has a habit of coming undone. And when that happens, trying to pull down a zip while wearing winter gloves becomes impossible. In my opinion, string knotted to a zip has no place on any premium product. I've since done the Zippo lighter trick of melting the ends of the other ties to stop the knots coming undone.
Packability
As if being so thoroughly waterproof and warm is not enough, the Rebellion packs up into its own pocket. In this way it is similar to a shower or windproof jacket. The little bundle can be compressed small enough for it to fit into a jersey pocket or a saddle pack.
Conclusion
If you value something that will keep you warm and dry, is well designed and packs away in your pocket this could be the jacket for you. However, if you live somewhere that is dry more often than it is wet, you may have cause to think hard before buying.
In short, a cracking jacket for those who live in wetter climes. The only real let down for me was that string on the zip. There really is no excuse for this on an otherwise top notch garment.
7Mesh Rebellion Jacket
£280
Last modified: 20th February 2019