Flared bars have come in and out of fashion over the decades. Whether you feel they are some sort of retro fashion statement or not, they make perfect sense for gravel bikes. The wider profile in the drops gives you more leverage and better control in the twisty stuff. Meanwhile, the more traditional profile up on the hoods ensures a degree of comfort on long, flat stretches of road.
Width means control
If you have kept half an eye on mountain bike trends, you will have noticed that bars are getting wider and wider. The rationale is that wider bars give you greater control in singletrack. The same logic applies to the flared, curly bar.
Flared bars are not for everyone. The main issue seems to be the awkwardly angled hoods, which can cause considerable discomfort. Arguably, this can be put down to poor ergonomic design but, the fact remains, you either like them or you don't. There is seldom any middle ground.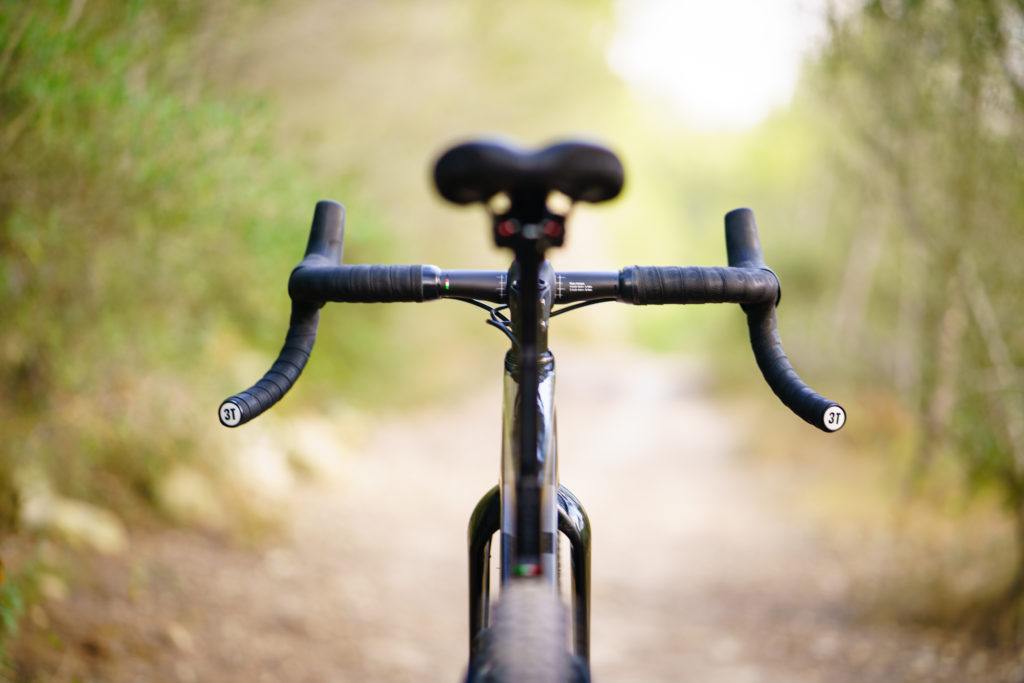 Road with flare?
3T have addressed this problem by designing a traditionally designed road bar with flared 'hooks'. It is such a simple and logical concept, you wonder why no one thought of it before. As you can see from the illustration above, the flare starts underneath the clamping area for the brake/shifters.
Available in two sizes, we tested the 44cm 'wide' model (44cm measured from hood to hood) which at it's widest point in the drops, measures an amazing 560mm. If that sounds too much for you, the 40cm model has a slightly more refined 480mm at the widest point.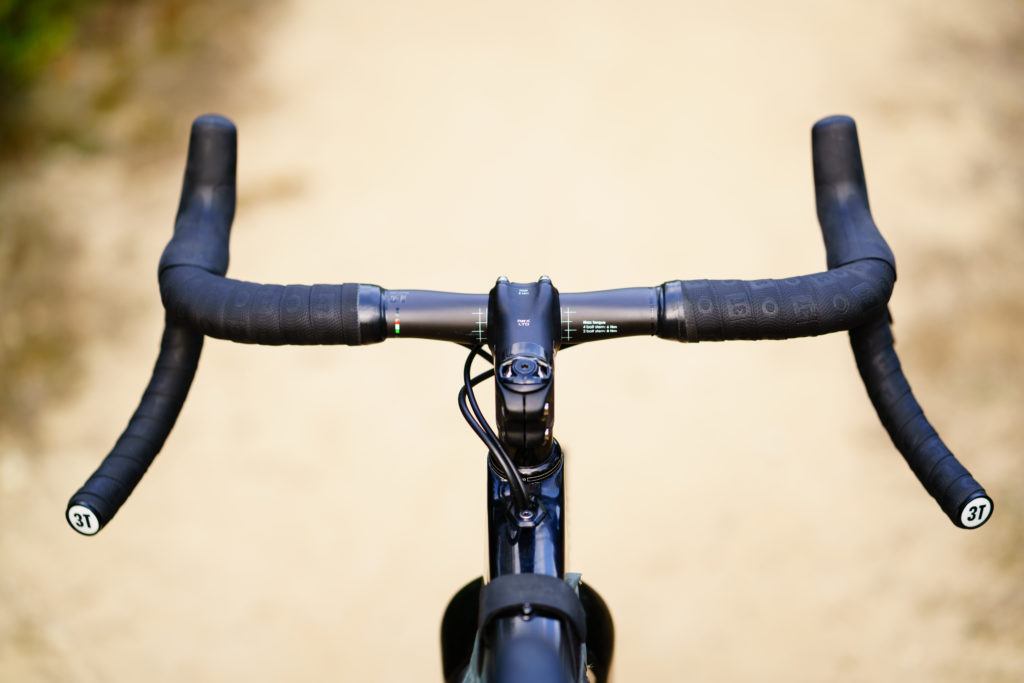 Features
The bars inherit design elements from 3T aero road bars. In fact the top part of the design is almost identical to the 3T Superergo. Cables are routed through internal cable channels and the 44cm unidirectional carbon bars weigh in at 204g.
| | 40cm | 44cm |
| --- | --- | --- |
| Hood-to-hood (mm) | 400 | 440 |
| Drop-to-drop (mm) | 480 | 560 |
| Reach (mm) | 89 | 89 |
| Drop (mm) | 110 | 110 |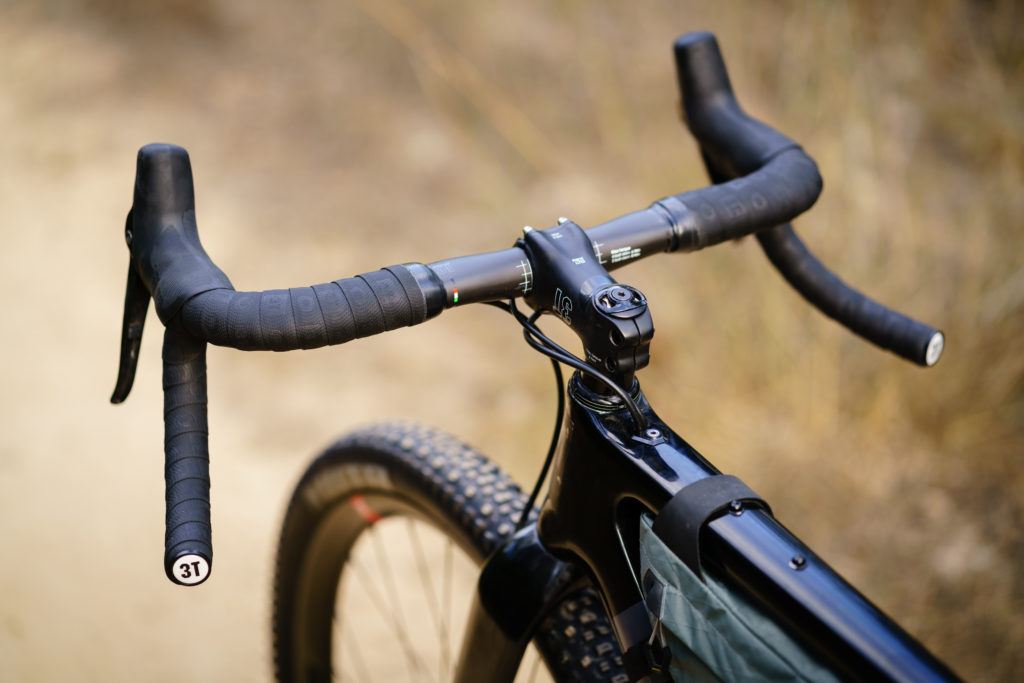 Performance
Unsurprisingly, tapping out road miles on the tops or on the hoods feels just like riding a road bike.
The Superghiaia features a flat 'aero' top to the bars which is more comfortable than the more common rounded profile, especially when you are riding long distances. Unlike say the Bontrager RL aero bar, the flattened profile continues right up to the stem clamp. This means you will find it impossible to fit your light mount or out front GPS clamp.
Swing off the road and down some more technical terrain and you instinctively fall into the drops. The position is perfect for transitions from the hoods. That 560mm width really did give me better control of the bike. Braking control is noticeably better than on other flared bars.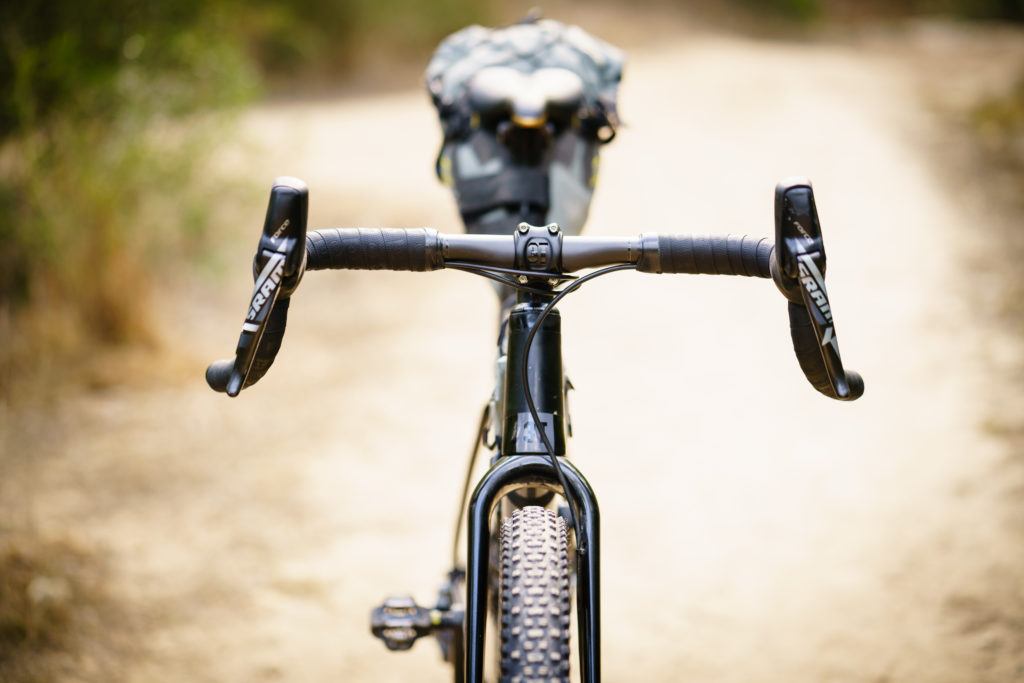 Elephant in the room
A superbly designed and executed piece of kit, the 3T Superghiaia is a joy to use. It comes at a price though, with RRP £300.00.  Whether you value the thing for what it is, or what it costs, will determine whether you feel it is expensive or not. It has become a firm favourite of mine for long distance, multi terrain riding so I guess I value function and form over price!
Photo credit: Marc Gash / 3T Cycling S.R.L.
Last modified: 5th October 2018