If you took a blank sheet of paper and set about creating the ultimate gravel superbike, what would yours look like? Gerard Vroomen designed his tour de force, the 3T Exploro, along stark, geometric lines. However you look at it, the result was an innovative and distinctive design.
The result was not a case of form over function either. Since launch in 2016, the Exploro has been one of the few truly aero, gravel designs. Whether a gravel bike will necessarily benefit from aero styling is debatable, but it has certainly resulted in a unique look.
The original quiver killer?
While the Exploro is primarily designed as a gravel bike, we think its main strength lies in its adaptability. You can sensibly run tyres from 700×25 to 700×40 or fit a pair of 650b wheels and any tyre up to 2.1 inches. On the face of it then, you suddenly have a bike that could make everything else in your shed obsolete.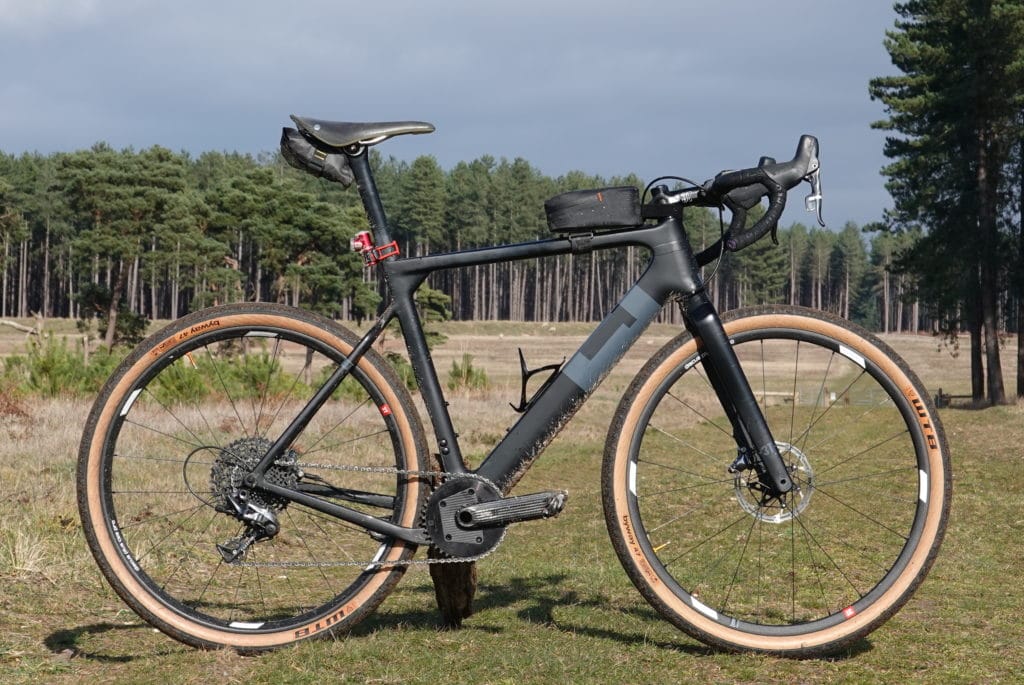 The test bike
The model on test is the top tier LTD 'Flat Mount' which features an ultralight carbon layup. The medium sized frame and fork weighs in at 1,390g, 190g lighter than the equivalent frame in standard configuration.
The ultralight features don't stop there. This bike also boasts 3T Torno cranks which weigh a paltry 300g for the crank arms, axle and spider, plus an extra 89g for the 40t chainring. If you are in search of the lightest possible bike though, you should be prepared to dig deep. The cranks alone retail at over £1,000.
At 'only' £300 the excellent 3T Superghiaia bars continue the 'light but very expensive' theme.
The SRAM Force 1x groupset is the final bit of bling for this build.
Maybe to try and stop the Exploro floating away, it comes with a set of aluminium 3T Discus wheels and a Brooks Cambium saddle. Nice but not that light.
The seat post and clamp on the Exploro are 'interesting' featuring an expanding wedge. Given that our test bike has done the rounds already and is a high mileage example, the clamp creaked disconcertingly, every time I rode it. This may have been down to its age, or previous riders being less than careful with it, but it raises a very real question of longevity. Anecdotal evidence suggests you should invest in a torque wrench before playing about with your seat post settings.
Another novel feature is the rear mech hanger which attaches to the frame via the thru-axle. Pull out the axle to remove the rear wheel, and the rear mech will fall off. This is supposed to facilitate fast wheel removal and fitting, but all it did was irritate me. Perhaps you get used to it, but I was glad to see the back of it.
As with so many carbon bikes, the Exploro uses a BB30 bottom bracket, a unit synonymous with creaking and maintenance issues but we had no problems over the 3 month test period.
The ride
Unsurprisingly, the 3T Exploro can be built up into a very light bike. The frame weight verges on being anorexic and that lightness translates into a lively and direct handling bike. Personally I've never felt that gravel bikes benefit from a super light build It exaggerates the skittishness over rough surfaces rather than keeping you planted and in control. It is undoubtedly one of the quickest and most responsive adventure bikes you can buy. But at what price? The frame is so stiff you will fly down the trails but as with many dedicated performance machines (not just bikes) you can forget about comfort.
The only way to mitigate the harsh ride is via tyre pressure. It is for this reason, that I found the 650b option the obvious, no…the only choice off road. In my favoured configuration (650b + WTB Byway) the Exploro carried me along at warp speed, particularly when trails got lumpy. Back on the road though, I had to pump the tyres up firm or be content to watch everyone else ride away from me. Until someone invents auto inflating tyres, this is going to be the Exploro's Achilles Heel. There really isn't much room for compromise here, either you have the tyres set up for off-road comfort, or road speed.
The frame has very short chainstays. The stays on our 'Large' bike were 415cm, (by comparison a 56cm Mason Bokeh is 435cm). The overall wheelbase is therefore incredibly compact, which has a direct impact on handling. On fast corners, especially sweeping bends on the road, I felt the back end was keen to overtake me. To be honest,  it was a real handful. This characteristic is great when weaving through tight and twisty singletrack, but otherwise it is more of a liability. The compact wheelbase, the feathery weight and inherent stiffness within the frame, make the Exploro a bit of a handful over rough surfaces. As long as you keep your weight planted over the front wheel, you will hold your line. Ease your weight back and the 3T will buck and bolt like a mustang leading you off course.
And what of those aero benefits? 3T claim they tested the Exploro in the wind tunnel at 'realistic speeds' This means 20mph rather than the 30mph that is the more usual benchmark. Did I notice any difference? In a word 'No', but perhaps they are there. Off road I did not feel as if I was going faster, nor did it feel any easier than on the Bokeh for example. I expected to gain most benefit on the road, but the 40t chainring meant I span out way before any aero benefits could kick in.
Load up the 3T with luggage and any aero benefits will disappear in a puff of smoke anyway.  So what does it matter? At the risk of making myself unpopular, I think the aero claims are marketing guff. But that's only my opinion!
Talking about luggage, don't expect to find any mounting points on the Exploro beyond the 'bento box' feed bag mount on the top tube. This bike is strictly for soft luggage only. And before you ask what the maximum tyre size is with mudguards attached… There are no mounting points for mudguards either.
The good the bad and the ugly
Ride singletrack (in 650bx2.1 mode) and you will get the best out of the full, drop bar, mini MTB experience. There is no way however, that it will ever replace a mountain bike as a singletrack whip. It is sharp, it is direct, but you will be a quivering heap of jelly long before you would be on an MTB. But that is what the Exploro does best. It encourages you to tear yourself inside out, squeezing every last ounce of energy from your body before spitting you out at the end.
To summarise. the Exploro is lively and stiff and I enjoyed myself most when I took it to the limit. Great for a performance bike, less good for long distance adventures. On longer distance rides I inevitably felt more beaten up and fatigued than on other long term test bikes. On a recent ride I even complained of a sore back to ADVNTR oppo John (never a good idea). He simply shrugged and cleared off in relative comfort upon his Orbea Terra. (Just making hay while the sun shines! Ed.)
It's not you, it's me…
I was excited to finally get my hands on an Exploro, but the longer I spent in its company, the more the Rockstar idolisation faded and I saw it for what it was. Some bikes are a slow burner and take time to become accustomed to, and eventually 'love'. The 3T has been the opposite. The longer we spent together, the more we disliked each other. They say you should never meet your heroes.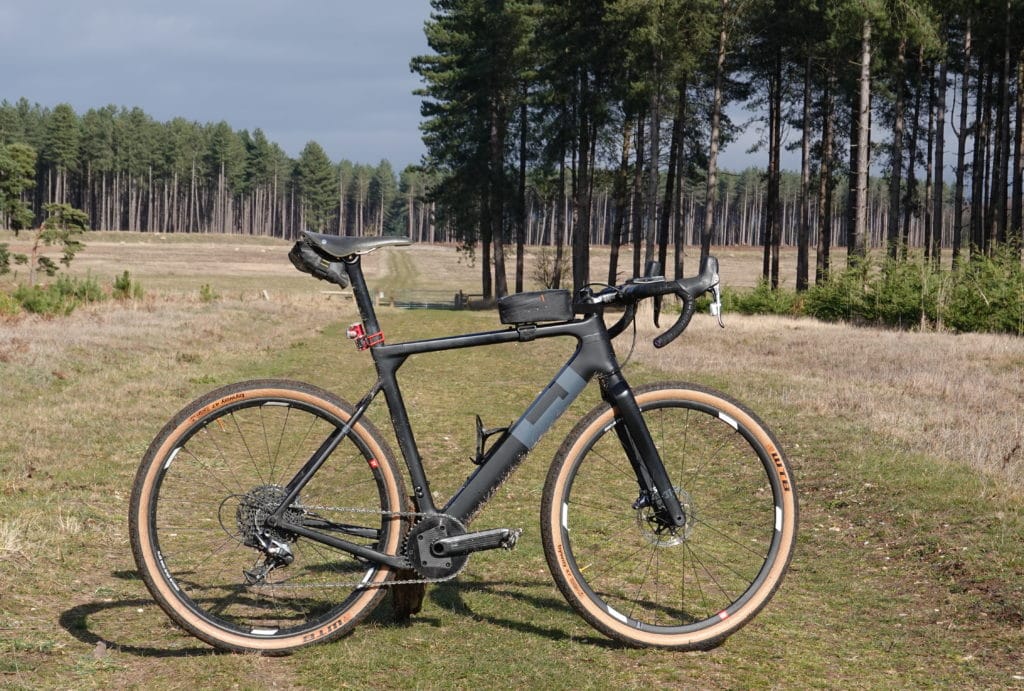 The cost
You can't escape the fact that the 3T Exploro LTD is expensive. The frameset alone retails at  €4,400 on the 3T Cycling website. The build on our test bike would set you back the thick end of €7,000.
The equally fast, and more comfortable, long distance mile muncher, Lauf True Grit, starts at £2,700 for frame and fork. The fleet of foot  Orbea Terra is 'only' £3,199 complete, including a full SRAM Force 1x groupset. Both of these alternatives have either matched or surpassed the 3T Exploro experience for significantly less money.
The Exploro was well ahead of its time when it first appeared, but it is a bit long in the tooth now. Although this, revised version, features flat-mount brakes and an 'improved' seatpost wedge, it isn't really enough, to differentiate it from the competition.
Claims that this bike can be everything to everyone: rapid road, fast gravel and pseudo XC mountain bike, no longer cut it for me. The competition has caught up with the 3T Exploro and arguably overtaken it too.
Last modified: 23rd March 2021