Riding the TransAtlanticWay Race on a Brompton folding bicycle is probably not how someone should dip their toes into the crazy world of ultra-endurance cycling, but for Jack Shuttleworth and Mark Donnelly-Orr, it seemed like the logical starting point. Mark tells the tale of two folding bikes and a 2,250km race around Ireland.
Introduction
After doing a few bike packing trips around the UK, and enjoying ourselves thoroughly, Jack and I decided to ride the TransAtlanticWay (TAW). A 2,350km self-supported ultra endurance event consisting of cycling from Dublin up to Derry and then down the entire west coast of Ireland to Kinsale. Being Irish, I had always been intrigued by the TAW, and thought someday it would be some adventure to attempt, and after our bike packing trips, I speculatively ask Jack if he was interested in doing the TAW. He most certainly was!
Our bike packing trips had been completed on regular road bikes, but if we were going to undertake a race like the TAW, we would have to do it on Brompton folding bicycles, as Jack and I both work for Brompton Bicycles in our West-London factory. Our colleagues would never let us forget it if we rode the event on "big-wheel" bikes and didn't use Bromptons. After a bit of discussion about the possibility of realistically doing the TAW on Bromptons, and some consulting with our girlfriends, we signed up in September 2018 to ride the event in June 2019 and started planning how on earth we were going to do this…
Brompton Prep
We planned a number of training rides and adventures between signing up and the TAW to help us get all our equipment and gear ready. And to physically prepare our bodies for the rigours of riding such a long distance on these small-wheeled folding bikes. For ultra-endurance events, you can get quite a variety of bikes and setups depending on the demands of the course, but most people wouldn't generally think of folding bikes as a suitable choice. Heavy, unwieldy, and inefficient are all terms that come to mind when you think of folding bikes, but Jack and I took inspiration from some riders who had already taken on some ultra-endurance races on Bromptons.
In total, we did eight preparation rides/adventures to help get everything dialled in for the TAW. They included a few multi-day tours, a 432km non-stop overnight ride, a day of riding in snow drifts, a drunken weekend in Flanders, and some criterium racing. Each one served a purpose in some way to help us test equipment or gear, strengthen our bodies for the battering they'd receive in the TAW, and, probably most importantly, toughen our mental resolve for what was to come.
One of the most critical aspects in an ultra-endurance event is being comfortable on the bike and making sure your position is physically sustainable. With normal bikes, you can shift each component and touch point to make sure that your setup is suited to your body and allow you to pedal all day with minimal discomfort. Unfortunately, on a Brompton, this isn't completely possible.
The saddle position and height are the only elements that can be adjusted to suit the rider. The crank length is set at 170mm and the front end is locked with no adjustability possible. Although we did install aero bars to give us some additional positions and to keep us aerodynamic when possible.
It comes up in Day 3 of this account, but Jack and I both had severe knee issues during the race. But the training rides allowed us to understand these knee issues and make the best changes we could to ensure they were as supported as possible. It helped that we had some very knowledgeable Brompton technicians at our workplace to pester with requests for help.
Bike and Gear Setup
Finalising our bag setup was an interesting challenge, again because of the unique shape of a Brompton. We had to think about how and where we mounted our bags, how it might affect the ride characteristics of the bike and how easily we could access the equipment we'd need throughout each day riding.
Each training ride allowed us to refine our equipment to the point where we were comfortable and satisfied with the setup. Alpkit were kind enough to support us with some great bags and sleeping equipment. Check the end of the article for a full spec list of what we took for the TAW, but here's the Brompton in race setup.
If you'd like to read more about our preparation rides, you can find them on my personal blog here. There's also a highlights gallery to show the craic we had while doing them.
With our training completed, we made our final kit choices, packed everything up and press ganged my mum into driving us and all our gear over to Dublin ready for our grand adventure of riding the TransAtlanticWay.
The TransAtlanticWay Race
DAY 0 – RIDER BRIEFING
The day before the TransAtlanticWay began, the rider briefing took place in Trinity College Dublin (where I had studied Mechanical Engineering no less) where we me event organiser, Adrian O'Sullivan. He recapped the rules, route and safety elements of the race, and gave us goodie bags with our unique GPS spot trackers.
With nothing else to do or prepare, Jack and I went for a pre-race pint of Guinness to settle the nerves and we promised ourselves we'd have a post-race Guinness once we had finished the race. After a gargantuan dinner of lasagne prepared by my Aunt (our last sit-down meal for over a week), we retired to our beds knowing we likely wouldn't be sleeping in one for many nights…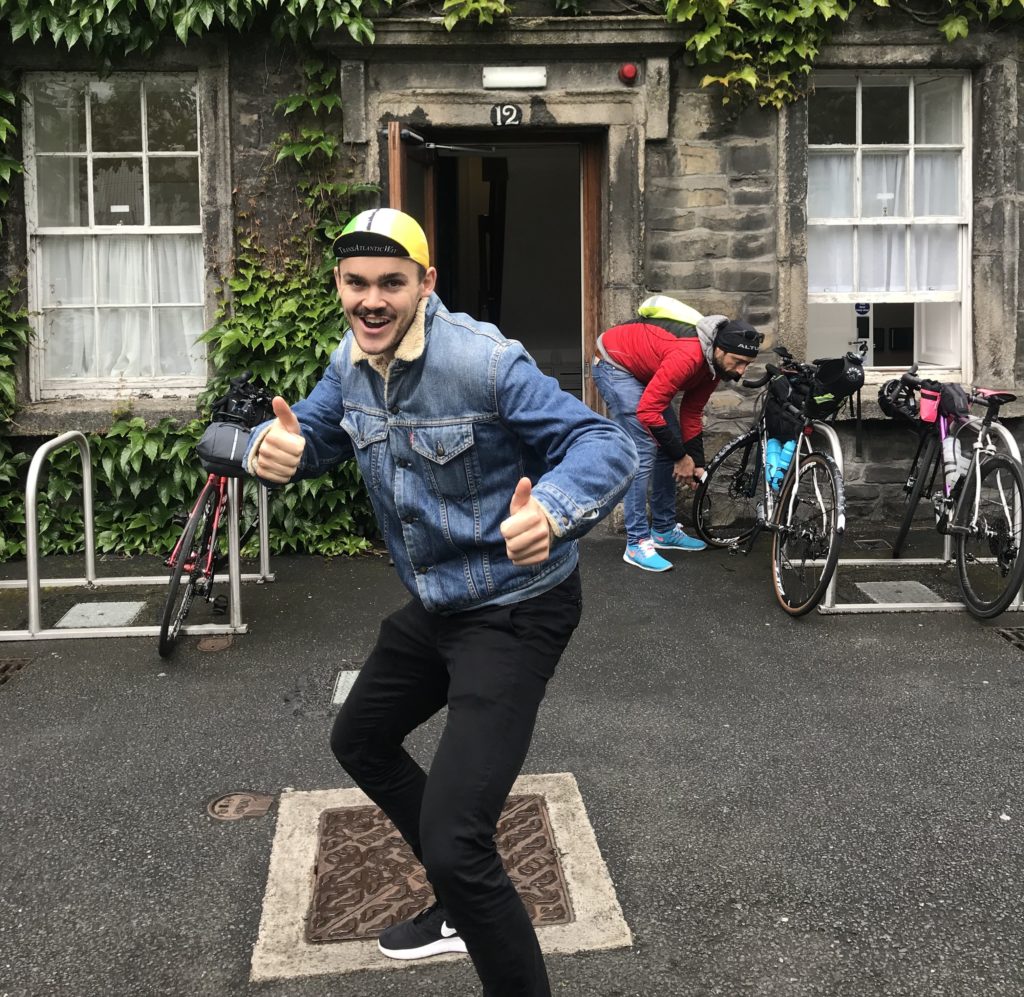 DAY 1 – DUBLIN TO MALIN HEAD
307km – 3,206m – 7,176 calories
The race started at 11am from the outskirts of Dublin. After a hearty breakfast, my Mum brought Jack and me to the start and after getting our brevet cards stamped, we set off (with cheers from some of my family who came to see us off) in the final wave of riders consisting of all the other pairs in the race, with nine pairs in total. Jack and I fancied our chances against the competition, despite the disadvantage of competing on Bromptons.
We were aiming to cycle 300km per day in the race and on the first day we achieved this, mainly thanks to fresh legs and a tailwind we had most of the day. The first checkpoint of the race was on the Peace Bridge in Derry which riders had to navigate their own way to (after which the route became a fixed and had to be followed). We reached it by 20:30, and after getting our brevet cards stamped, we set off into Donegal, excited to experience the famous Wild Atlantic Way coastline after the rolling fields of the day's riding so far.
We had been warned that the toughest part of the race, and the part that caused the most scratches, was Donegal and it became immediately obvious why as we hit steep climb after steep climb. Our knees taking a battering as we didn't have the gear range that is normally a given on most modern bikes. This resulted in us grinding our way up the climbs at low cadences. We eventually made it to Malin Head, Ireland's most northerly point, and called it a day, conveniently finding a concrete hut we could bivy in for the night.
DAY 2 – MALIN HEAD TO MAGHERY
295km – 3,911m – 6,892 calories
Jack and I awoke at 5am (after 4hrs sleep…) to a spectacular sunrise over the Atlantic Ocean. We packed up our sleeping gear, something we'd become supremely efficient at as the race went on, and set off into glorious weather, particularly for the West Coast of Ireland.
After walking up (we decided to walk up steep climbs as we were already feeling it in our knees after just one evening of grinding up climbs) the Mamore Gap, we cruised around Lough Swilly up to Fanad Lighthouse taking in the majestic Donegal coastline. At one point in the morning, my front light mount snapped, which was annoying, but I had a spare light and still had the USB charging element from my front light, so it wasn't a complete disaster, more an annoyance for the rest of the race.
We soon arrived at the much spoken about 5km gravel descent into Glenveagh National Park. The prospect of rough gravel descents had us somewhat nervous given our little Bromptons. But once we were on it, we flew down and had a real blast, with no mechanicals or punctures. We were quite chuffed when we heard that quite a few other riders had picked up punctures on that same downhill.
The Brompton is a tough little bike! After coming out of Glenveagh National Park, we came back onto the coast and pushed on until midnight before finding a nice patch of grass beside what felt like a cliff, but we couldn't tell due to the darkness.
DAY 3 – MAGHERY TO SLIGO
233km – 3,232m – 5,401 calories
We woke up to confirm that we were beside a cliff face, and that it overlooked the impressive Gweebarra Bay. After skirting around the bay, we were soon faced with the Glengash Pass, where a TAW photographer, Rich Marshall, was camped out, so we put on brave faces to hide our grimaces from the knee pains and he snapped some great photos of us.
As the day progressed, we were being hit with more and more steep little climbs that required walking or grinding to get up and as we approached the town of Donegal, my left knee became so painful to the point that I had to stop to try and gather myself. This was mentally the toughest part of the entire race for me. How could I complete this race if we were only a quarter of the way through and my knee was in agony?
After some soul searching and reflection, and with Jack helping me through it, we tenderly pushed on to the base of the iconic Ben Bulben and, after a loop of the awe-inspiring Gleniff Horseshoe, we rounded it into the town of Sligo. We dined in a fast-food joint which was morale raising and pushed on until it was Jack's turn to have a knee issue, where it would essentially "lock up" and needed to be placated to bring it back to function. We pushed on as long as we could and called it a day after 235km, way below our daily goal, and found a spot alongside the sea and setup our bivvy bags for the night.
DAY 4 – SLIGO TO ACHILL ISLAND
229km – 2,020m – 4,935 calories
Waking up shivering left us in a gloomy mood as we rode into a constant headwind for what seemed like to whole day, despite changing direction constantly following the coastline. We knew we'd likely have headwinds for the majority of the race given the direction we were cycling and the prevailing winds, but it was still a demoralising day of not seeming to be making much progress despite the effort being put in.
After making it onto Achill Island, Ireland's largest island, Jack's knee "locked up" again. After pushing on a little further, we checked the weather with rain sweeping in fast, so decided to call it a day. We were again well below our daily distance target, but at this point, we were only focused on completing the race. We came across a campsite, and after a bit of haggling, the owner let us pitch our bivy bags for free in a little corner with manicured grass, oh the luxury.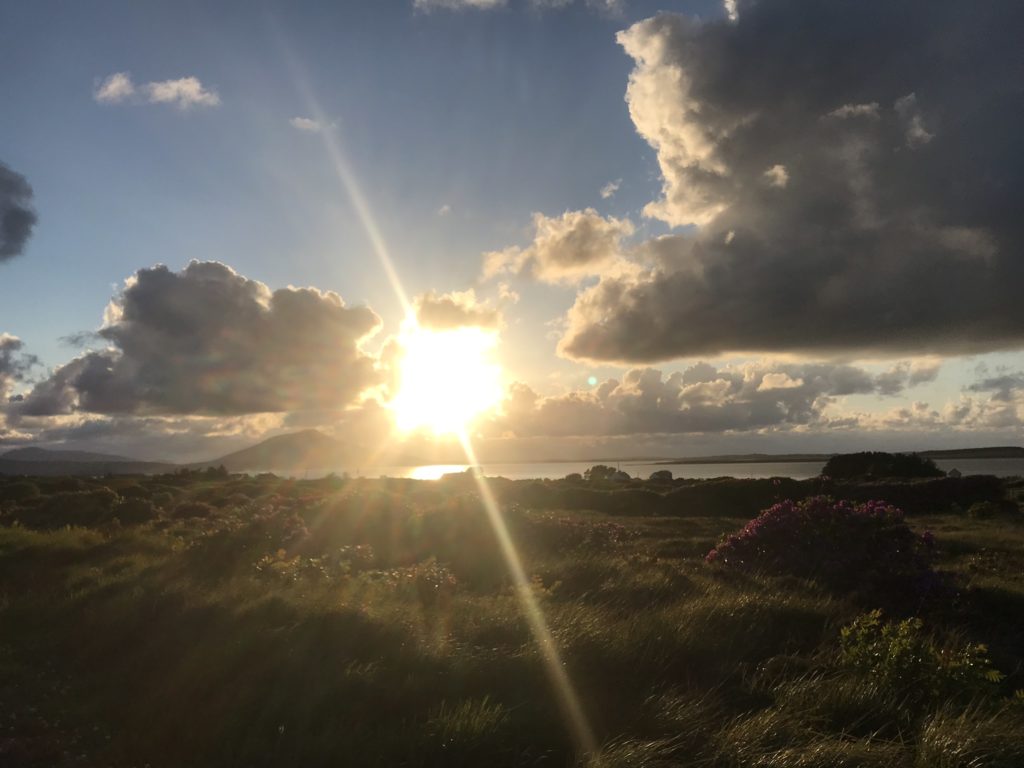 DAY 5 – ACHILL ISLAND TO CLIFDEN
242km – 2,571m – 5,331 calories
Upon waking up and having a mad dash to pack up our gear before an expected rain shower, we huddled in the campsite kitchen area and, much to our shame, pilfered a couple of teabags to make some tea to try and warm us up before heading out into the rain. It was a wet start to the day, but we had been incredibly fortunate with the weather so far, even getting badly sunburnt. I had spent all my childhood summers on the West Coast, so I knew first-hand just how wet it normally was!
After a quick out and back to the serene Keem Bay, we completed our circumnavigation of Achill Island and came around onto Clew Bay with its many islands (365, one for every day of the year according to locals). The weather had cleared to warm sunshine and we cycled around the bay on the Great Western Greenway, a cycling and walking pathway, before coming past Doo Lough and onto Killary Fjord where we soon reached the second checkpoint of the race.
Here we critically laid out all our sleeping gear (which had become quite damp between the rain and condensation build-up in our bivy bags) in the sun to dry out while we ate as much of the food provided at the checkpoint as we could. We could have slept in an actual bed if we'd stayed at the checkpoint, but as it was only 17:30 and there was still a lot of daylight to cycle with, we pushed on.
As we came around the Connemara coastline, I had a pang of nostalgia as this was the area I had spent all my summers as a child, and we even passed the campsite where I had caravanned. It was also at this point I realised I had mislaid my chamois cream, much to the detriment of my nether regions as the race went on.
Taking in the sunset from Sky Road, we pushed on through Clifden onto a desolate and eerie bog road before setting up our bivvy bags. Read my full account to find out about the mysterious "ghost man" we encountered on the road.
DAY 6 – CLIFDEN TO BALLYBUNION
284km – 2,348m – 5,099 calories
We awoke with the Twelve Bens mountain range glowering in the distance and continued on the bleak bog road for what felt like hours, both of our stomachs growling with hunger. After finally coming across a petrol stop with a hot food counter (hot breakfast rolls all round please), we pushed on, consciously making an effort to be swift today, which is hard after five days of all-day cycling and minimal sleep. We were pushing because we need to make it for the last ferry crossing across the Shannon Estuary at 21:00, if you missed it you'd be waiting till 07:00 the next morning, which is far from ideal in an ultra-endurance race.
Coming off the bog road, it was a stressful ride into the town of Galway as it was rush-hour on a Tuesday morning, with narrow roads and no designated bike lanes, we had almost forgotten that life was carrying on as normal for most people, it wasn't all about us! After passing through the town, we were blown across Clare passing the Cliffs of Moher and Doonbeg (of Trump infamy) all the way to our ferry, even catching the 20:00 crossing, such was our speedy progress. The loss of my chamois cream was really letting itself be known. By now when I tried to stand up on my pedals it would hurt my knees but sitting for too long would  cause me significant saddle pain. Quite the dilemma…
After the ferry crossing, Jack and I pushed on for another 40km, witnessing yet another sensational sunset  over the Atlantic Ocean, before finding a nice field to bivvy in after passing through Ballybunion, another town linked to a US President (Clinton, who once played a game of golf there, resulting in a statue of him being erected). This race wasn't just a physical feat of endurance, there was a historical element too!
DAY 7 – BALLYBUNION TO SNEEM
252km – 2,780m – 5,033 calories
In terms of enthusiasm levels, the seventh day was definitely our nadir of the race. It was grey and overcast, and we were desperate for a hot meal to get us going, which took an age to reach in Tralee. Our moods improved considerably after a hot breakfast roll and we rode out to conquer the Dingle Peninsula. This consisted of first climbing the Conor Pass – the highest paved road in Ireland at 456m – into the town of Dingle, then riding a loop around the tip of the peninsula, taking in the breathtaking views of the Blasket Islands from the cliff side roads.
We stopped in Dingle for some lunch and I thought this would be a good time to reapply the kinesio tape I had on my knees, in order to support them and ease the pain levels, when we saw first-hand just how much sun we had received in the race so far. I have never seen such sharp tan lines.
Having conquered the Dingle Peninsula, Jack and I set our sights on the next one (this part of the race in Kerry contained many peninsulas), the Iveragh Peninsula, containing Ireland's largest mountain range, the Macgillycuddy's Reeks. We climbed up over the alluring Gap of Dunloe into the Black Valley in the heart of the Reeks, pushing on until late when we set up camp just outside of Sneem.
DAY 8 – SNEEM TO TRACASHEL
233km – 2,987m – 4,940 calories
Jack and I roused knowing there were roughly 500km to the end of the race in Kinsale. We knew it was likely too much for us to cover in one go, but certainly doable in two days so we'd be finished by the end of the next day, a nice boost to morale. Although I soon discovered that slugs had gotten into my food stash and eaten most of my fruit, dropping morale once more. We packed camp and headed to Waterville and filled up on… you guessed it, hot breakfast rolls! I am also of the opinion that Jack fell asleep on the toilet at the deli. He denies this accusation.
After getting the better of the final climb of the Iveragh Peninsula, the broody, misty, quiet, and barren Ballaghbeama Gap, we rolled to the Beara Peninsula. To get onto it, we had to get over the final substantial climb of the whole race, the Healy Pass. It had a hairpin filled decent which we hurtled down, pushing our Bromptons to their limits, which probably isn't advisable given what they (and we) had been through so far, but we threw caution to the wind and flew down.
At this point, the gearing on my Brompton started acting up. Jack and I were riding prototype gearing (which for obvious reasons I can't say too much about) giving us additional gear range that ordinarily isn't possible on a Brompton. We expected at some point in the race, it might act up. The fact that it had taken nearly 2,000km to experience our first mechanical, of any nature, is a testament to the bikes and just how robust they are. Even then, my gearing issue resolved itself after laying the bike on the ground while we had a snack break. My mechanics skills know no boundaries!
After completing (yet another) out and back loop of the Beara Peninsula, which can be demoralising as it feels you haven't travelled that far, we pushed on to bring us within shooting distance of Kinsale and the finish.
DAY 9 – TRACASHEL TO KINSALE
272km – 3,218m – 5,385 calories
It was with a pleasant thought waking up that we would likely be in warm beds that night, as opposed to soggy and smelly sleeping bags. All thoughts of the finish were obliterated though as we were maddeningly eaten alive by midges as we decamped. Needless to say, it was our fastest decamp of the entire race.
It would be the wettest start to any day in the race, but we pushed on, via Sheep's Head Peninsula, to Mizen Head, Ireland's most South-Westerly point. We knew from there that we'd have a tailwind to blow us along the West Cork Coastline to Kinsale and would ideally make good time to the finish.
What we didn't account for was the seemingly infinite amount of steep little climbs between us and the finish. By increasing our dosage of painkillers, we were able to cycle up these climbs as opposed to walking, knowing we didn't need to preserve our knees for the next day (if we made it…). At one point we made the mistake of thinking that, with 100km still to go, we had finished the race essentially and that it was a done deal. Nope!
After one final brute of a steep climb up to the finish line, knees screaming the whole way up, Jack and I had done it. We rolled across the finish line to huge cheers from the riders and staff who came out to see us arrive; I presume it must have been down to our charisma and charm, and nothing to do with the quirkiness of doing the race on Bromptons. My Mum had come to meet us at the finish, alongside Jack's girlfriend who flew over to Ireland to surprise him.
Adrian, the race organiser, greeted Jack and me with a big hug followed by handing us a can of Guinness each (remember we said we'd have a post-race Guinness during our pre-race Guinness?), which we cracked open and toasted to our success. We then dismantled our Bromptons and packed them into the car (the joys of a folding bike!) and drove back to Dublin. Nine months since signing up and nine days since starting in Dublin, Jack and I had completed the TransAtlanticWay Race on our little Brompton folding bicycles!
Conclusion and Reflections
In the days, weeks, and months after completing the TAW, numerous reflections, thoughts, and conclusions came to mind. In the immediate weeks after the race I said never again. I was physically wrecked, not just my muscles, but my joints, nether regions, fingers and toes were all battered. Jack and I only regained feelings in both our left hand pinky and ring fingers about 6 months after the event!
But as all these ailments faded, I've found a renewed sense of adventure, at first saying I'd maybe do another ultra-endurance race at some point in my life, to now being keen on doing another race as soon as possible. I'm under no illusions it wouldn't just be as tough as before, but since the race, I've forgotten how bad the bad moments were, and instead remember just how good the good moments were.
Jack and I got to see so much of Ireland which I had never seen before (and Jack had certainly never seen before, being from England) and the friendliness of the Irish people was also fantastic to experience. I know we have a friendly reputation, but it really is a legitimate reputation. This appreciation of Ireland was significantly boosted thanks to the weather. We had uncharacteristically good weather, borderline unheard of, for the race. The fact we had swollen hands from sunburns and the sharpest tan lines ever seen is a testament to the weather. I only put on my rain jacket seven times for short periods in the whole race, which is farcical, and I only woke up shivering three times over the eight nights. If it had been raining, or if we had less favourable winds, perhaps our appreciation of the country might have been dimmed somewhat.
Our equipment choices had been spot on for the race. The Bromptons performed admirably, with no mechanicals at all, apart from my front light mount snapping and the minor gear issues, and not a single puncture to be dealt with.
Everyone was in disbelief about it, they'd all presumed something would go wrong on the bikes and it's a testament to the quality of the bikes that they made it through in one piece, which can't be said for the riders. It made it rather satisfying to have completed it on our somewhat inefficient Bromptons, not only just making it, but doing well against the other riders. Our clothing choice had been just right, with neither too little nor too much clothing being brought. The sleeping setup we went for allowed us to sleep out every night of the race, which we were both chuffed about. Granted, the weather allowed us to setup in the dry every night, and the mid-race dry out of all our sleeping gear was crucial, but to never have to rely on accommodation was particularly brag-worthy.
Race Data
| | | | | | | | | | | |
| --- | --- | --- | --- | --- | --- | --- | --- | --- | --- | --- |
| Day | Destination | Distance (km) | Elevation (m) | Moving Time | Elapsed Time | % Moving Time | Average Speed (km/h) | Calories | Average Heart Rate (bpm) | Strava Link |
| 1 | Dublin to Malin Head | 307.49 | 3,206 | 11:46:59 | 1:33:06 PM | 95.29% | 26.1 | 7,176 | 135 | Day 1 |
| 2 | Malin Head to Maghery | 295.71 | 3,911 | 14:56:35 | 18:49:44 | 90.93% | 19.8 | 6,892 | 115 | Day 2 |
| 3 | Maghery to Sligo | 233.82 | 3,232 | 12:46:16 | 17:36:33 | 88.37% | 18.3 | 5,401 | 109 | Day 3 |
| 4 | Sligo to Achil Island | 229.16 | 2,020 | 12:14:36 | 16:11:17 | 90.18% | 18.7 | 4,935 | 107 | Day 4 |
| 5 | Achil Island to Clifden | 242.1 | 2,571 | 12:20:31 | 17:36:09 | 87.36% | 19.6 | 5,331 | 112 | Day 5 |
| 6 | Clifden to Ballybunnion | 284.24 | 2,348 | 13:11:53 | 16:48:25 | 91.16% | 21.5 | 5,099 | 106 | Day 6 |
| 7 | Ballybunnion to Sneem | 252.56 | 2,780 | 13:39:00 | 18:25:57 | 88.73% | 18.5 | 5,033 | 103 | Day 7 |
| 8 | Sneem to Tracashel | 233 | 2,987 | 13:40:37 | 18:27:16 | 88.75% | 17 | 4,940 | 102 | Day 8 |
| 9 | Tracashel to Kinsale | 271.96 | 3,218 | 14:50:14 | 18:39:09 | 91.05% | 18.3 | 5,385 | 102 | Day 9 |
|   | | | | | | | | | | |
|   | Average | 261.12 | 2919 | 13:16:18 | 5:20:51 PM | 90.14% | 19.76 | 5577 | 110 |   |
|   | Total | 2350.04 | 26,273 | 13.98 | 15.51 |   |   | 50,192 |   |   |
Looking over data from the race shown in the table above, there are some interesting points. Evidently, we were flying on the first day and, pushing too hard too early. Which is clear by the substantial drop in average speed and moving time. Our moving time percentage was fairly consistent across the race at roughly 75%. For every three hours we rode, we were stopped for one hour.
We weren't really sure if this was typical for ultra-endurance racers, but with some research afterwards, the racers who are winning the TCR are at a moving time percentage of 85-90%, are riding for longer and faster too generally. While some days during the race it felt like we were getting nowhere near our pre-race goal of 300km per day, at the end we had an average distance of 261km, which isn't far off. But over several days, all those 40kms will add an extra day's riding overall.
With an average daily ride time of 17 hours and 20 minutes, we estimated we got an average of 5 hours sleep per night throughout the whole race. Finally, the calories. 5,500 calories per day is no mean feat, there was no way we were eating enough food throughout the day to meet that demand, which showed with 4kgs lost off my pre-race weight by the end.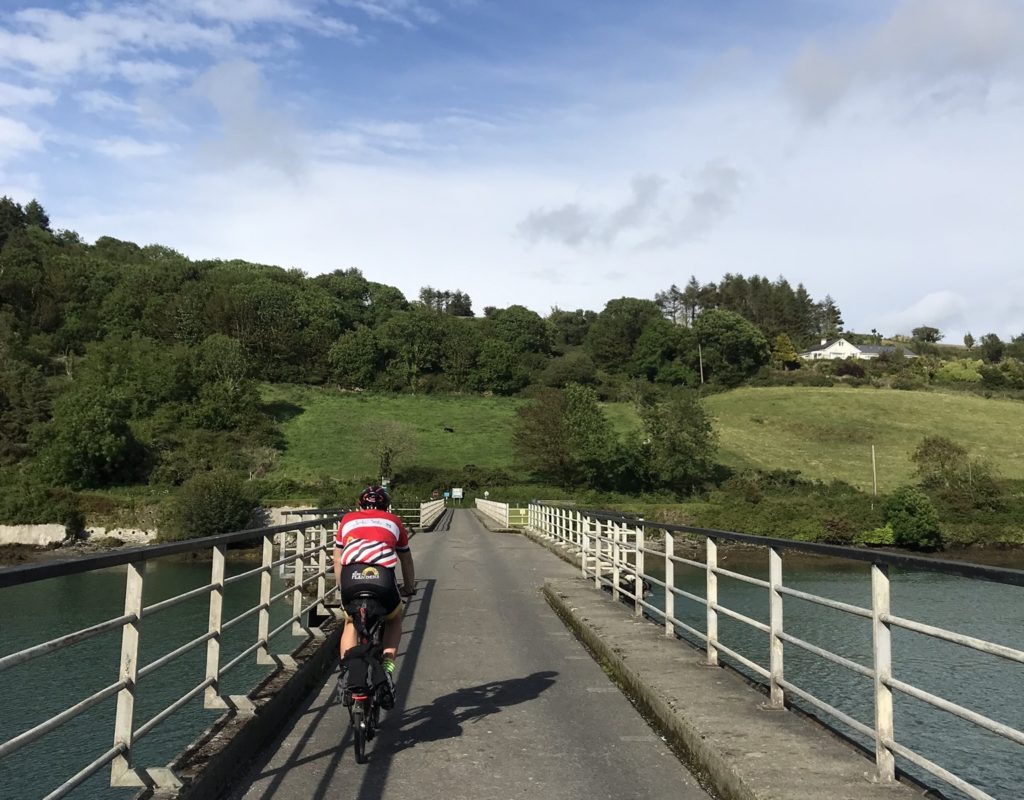 Gear List
Cycling Gear - Worn Every Day
Giro Empire VR90 Off Road Shoe
Defeet Aireator Socks
Assos T.mille_S7 Bib Shorts
dhb Merino Short Sleeve Base Layer (M_200)
Brompton Endura Jersey
Castelli Perfetto Vest
Garmin Heart Rate Strap
Kask Protane helmet
Oakley Jawbreakers (with Prizm and clear lenses)
Reflective Ankle Straps (had to be worn at all times for safety)
Rocktape Knee Tape

Brompton Bicycle
Brompton Explore Edition
Clip-On Aerobars
Busch & Müller Luxos IQ2 (with USB charging) dynamo powered front light and rear light
Moon Meteor Storm Lite Front Light
Lezyne Strip Drive Rear Light
Garmin 520 Computer
Prototype Brompton Rear Rack
Prototype Brompton Gearing
Ergon GS2 Grips
Schwalbe Marathon Racer 32mm tyres
Spare Schwalbe Marathon Racer Tyre (cable tied to rear frame)
Selle SMP TRK Medium Saddle
Bag Setup
Rack Bag
Alpkit Tivaro 20
Bivvy Bag – Snugpak Stratosphere
Sleeping Bag – Alpkit PipeDream 200 Hydrophobic
Air Mat – Alpkit Numo
Inflatable Pillow – Amazon
Saddle Bag
Rack Bag - Alpkit Koala
Leg Warmers
Emergency Survival Blanket
Spare Rocktape Knee Tape
USB 3-Prong Plug
Thermal Socks (for sleeping)
Spare Pair of Rapha Reflective Brevet Socks
Casual Clothes (T-Shirt and Togs)
Spare Parts

Chain Tensioner Arm
Derailleur
Gear Shifter
Front Light Mount
MTB Cleats
Suspension Block
Chain Lube and Rag
Rim Brake Pads
Top Tube Bag
Alpkit Fuel Pod
Gore Wear C5 Gore-Tex Shakedry 1985 Jacket
DeFeet E-Touch Dura GlovesCastelli Buff (doubled as hat when sleeping)
Castelli NanoFlex Arm Warmers
dhb Toe Warmers
TAW Cycling Cap
Ortlieb Mini O-Bag
Anker 26800mAh Battery Pack
Decathlon Head Light Torch
Pallares Flip Knife
SIS Electrolyte Tablets
USB Cables for iPhone and Spare Lights
Recovery Protein Powder Sachets (only four)
Tablets (paracetomal, ibuprofen, codeine, caffeine)
Toothbrush (cut in half) and Tooth paste
Ear Plugs
Eye Mask
Assos Chamois Cream
I hope you enjoyed this account of the TransAtlanticWay Race that Jack and I completed on Bromptons. If you'd like to read the full in-depth account of the race and the preparation rides for it, you can find it on my blog.
Last modified: 29th June 2020