Back when I started ADVNTR in late 2017, this whole gravel thing was just starting to take off in the UK. Gravel bikers were the 'new weird' in the cycling hierarchy. Road and MTB forums were bubbling with discussion on the new niche with conversations ranging from curiosity, confusion and occasionally, downright hatred.
For the Gravel Curious, options were limited. The big brands seemed intent on rolling out super-bling builds with eye watering price tags. Frame only options also required a committed wallet or a leap of faith on a spurious open mould carbon offering from eBay. And with road standards ever evolving with the introduction of flat mount brakes and bolt-through axles, you also have the expense of new components to think about.
What we needed was an affordable frame which didn't go chasing new standards. Something which could make use of those old spares you've been holding onto. Something you could easily be upgrade if Gravel actually turned out to be Your Thing.
In a successful moment of right bike, right time, the Fearless Vulture ticked all those boxes. And then some.
Help, my garage is full of Vultures!
Fearless founder, Tim Cokayne dropped me an email out of the blue in early 2018. With a garage full of Vultures and no one taking him seriously, he was getting quite anxious. As a newcomer to the bike industry and without deep pockets for ad spend, the cycling press were not showing interest.
"I suppose we don't have an ingrained culture of entrepreneurism in the UK and people are initially skeptical; it takes a while to win them over." Remarked Tim, looking back on those early days.
After a few more emails, Tim agreed to send over a Fearless Vulture for review. Or rather, he agreed to come up on the train from Brighton to our office in Cambridgeshire. "I thought I'd check out Ely Cathedral before I drop in" was his excuse. I think he just wanted to make sure his one and only press bike was going to be in safe hands.
He had a harder time prising the bike back out of my hands. I was sorry to see it go, but interest was picking up and other members of the press had finally started to listen. Vultures were starting to fly out of Tim's garage.
Fast forward to the present day and apart from a few small frames, the Vultures have all gone on to find new homes. So what next for Fearless? With Lockdown in full swing and Tim spending most days replying to "when will 56cm framesets be back in stock?" emails,  now seemed as good a time as any to catch up with the Vulture Man.
Fearless HQ, Brighton, UK
With just a few framesets left, has it surprised you how well the Fearless Vulture has been received?
I didn't have any expectations, also not sure if I had a vision however I did have a garage full of Vultures and no one taking me seriously. I was quite anxious about everything at first so now I'm probably more relieved than surprised.
How did the Vulture come about, what was the trigger for plunging into the risky world of launching a bike company?
A mixture of boredom, personal directionless and not being able to get the bike I wanted at the time. I hadn't been paying much attention to gravel biking which was slowly gaining momentum in the US and it wasn't an influence on the the design of the Vulture.
I have always preferred framesets over complete bikes. The options for a steel bike that'd take big tyres and didn't cost a fortune were limited. At the time I was really into the 'one bike does it all' thing, so it had to work well off-road, on-road and be good at hauling stuff.
I worked on the presumption that others might want the same thing. If I recall correctly 'gravel bike' became a buzzword this side of the Atlantic whilst I was waiting for the framesets to be shipped.
As the Vulture is only available as a frame n' fork option, every build we've seen has been unique to the owner. We've encountered a few on our travels ranging from a rag tag collection of MTB and road parts, to glitzy builds with Ultegra groupsets and carbon forks. Is there one that really stands out for you?
Any that re-purpose older, pre-DYNA-SYS MTB kit are always a winner. I'm not a retro-crouch, I just like the tenacity of it. Customers fitting new high-end components is obviously a compliment; It's nice to see a Vulture being someone's primary gravel rig.
The off-road orientated or bike packing/touring builds are more my thing. It's how I had my own Vulture built up before I stripped some of the parts off to test the new bike.
I bet you get asked this all the time and have a rehearsed response… will there be another run of Vultures, perhaps a Mk2?
Hopefully the Vulture will be back in the not too distant future. It will most likely be as an updated thru-axle bike frameset. There's a thru-axle version of the 404 fork on the new bike which will likely end up on the updated Vulture as well.
There, you mentioned it again, this new bike! I'm sure it is all hush hush, but have you anything you can tease us with here?
I can't say too much at this point other than it's slightly more specialist than the Vulture. If the Vulture is considered as an allrounder, then the new bike is more focused. It's a gravel bike, so super-versatile but excels in a couple of key areas.
Has gravel biking taken off the way you thought it would?
I had zero expectations about gravel when I started, monstercross was the buzzword of the time I designed the Vulture. It's only more recently, since working on the next bikes that I'm starting to make bets on where things are heading.
I suppose the only reference we have is MTB which has splintered off into lots of different things; XC, Enduro, Trail, Downhill. But with gravel bikes there's only single day events and long distance adventure riding presently driving the competitive side of it. Even then, there's a lot of overlap between the two areas, also with XC riding merging with adventure riding.
With gravel cycling there are people coming at it from road and MTB; the whole thing feels a lot more fluid, less segmented than MTB. I know a lot of Vulture owners come from road cycling and they ride quite a few road miles to get to the 'gravel' part of the ride; downland or fire roads, rail trails etc. I ride a lot of the same XC routes on my Vulture as do my MTB and barely cycle on the road at all, so maybe gravel means something different to me.
From a design perspective there's lots of questions about how much the riders are willing to give up in order to ride drop bar bikes with huge tyres; the geometry and handling compromises, drive chain compatibility, the tyre clearances limits of standard A/C length gravel forks. There's also the dropper-post and suspension fork debates…
Coming from an MTB riding background I'm well aware of the marketing appeal of maximalism but as a conscientious designer of useable bikes, I recognise that you have to strike a balance.
Where next for Fearless? – Full build options, larger range or just ticking along?
Capital is limited so there will be no full build options for a while. Though select components and build kits are hopefully going to be an option in the not too distant future.
I have prototypes, CAD drawings and sketches for 5 different bikes on the go, though build kits should really take priority for now .
I'll leave you with the teaser that there will hopefully be three Fearless framesets available in 2021.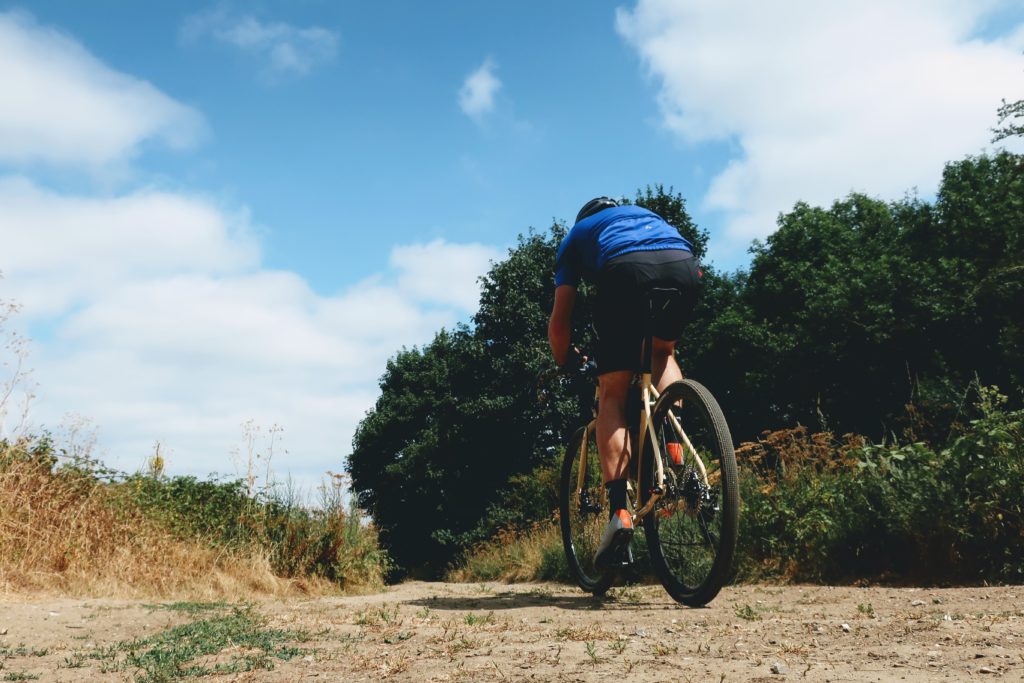 Find out more
For all things Fearless, head on over to www.fearlessbikes.com
The @fearless_bikes Instagram is great for a bit Vulture ogling too.
Last modified: 10th June 2020