Living in East Anglia you have to accept the trails you've got, there are no Alpine-style passes to revel in so you'd better like forests and farmland bridleways! This isn't necessarily a bad thing, you can cover a lot of miles in a day and get to see a lot. The counties of Suffolk and Norfolk have a lot of rights of way that run along farm access roads. If you wanted to glamorise these trails, you'd say they're the UK's answer to America's gravel roads. Perfect for a little gravel grinding!
James and I hatched a plan to take in the Icknield way, Peddars Way and Harling drove. This would give us a 100+ mile ride and opportunities to cut short if necessary.
After a week of unending rain, the weather on the day was perfect, I was going to be riding my Surly Krampus for the first ever time so I was praying for dry conditions as everyone says Knards are hopeless in the gloop.
James would be on pretty much the polar opposite bike; a Pinnacle Arkose Gravel bike/Adventure Road/Gnarmac/Insert cliche here. It would be interesting to see how the bikes compared along the way.
Our ride started near Newmarket and took us along the Icknield way through the Kings Forest to the start of the Peddars way near Knettishall.
The Icknield way is said to be one of the oldest established routes in England, pre-dating the arrival of the Romans, it's name is thought to be derived from The Iceni, the dominant East Anglian tribe led by Boadicea.
The settling in period for the Krampus was over in a flash. With 13/12psi Rear and Front respectively in the Knard/Hugo combo and 710 bars in 90mm stem everything fell perfectly into place. The Krampus was a leap of faith, would 29+ wheels be a happy medium between full-fat and regular wheels or would it just be too lardy?
Our first stop was at Castle Acre for a cuppa at the Church Gate Cafe (sadly this cafe has now closed, but there is still the Ostrich Inn a few doors down) and a chance to discuss how 29×3 had faired compared to 700×40.
The chat was short-lived as we were plagued by wasps, but the consensus was that there was no surprise who was faster on tarmac but that the Krampus excelled on stuttery trails and sandy tracks. When pulling away the plus wheels do initially feel reluctant but as long as you can keep momentum its barely noticeable on the move.
Rolling into Holme-next-the-sea after 70 miles of riding is a bit of anti-climax, the Peddars Way fizzles out along a residential road, a quick dog leg, through a golf course before you finally see the vast expanse of beach and the sea. No time to take in the view, this was just the half way point and Summer's long evenings were a thing of the past.
70 miles back can feel a bit daunting but the Krampus still had that "new-bike" aurora that gives you more energy than you'd normally have. Having only ever ridden this route once before, it too still had novelty value and I vowed to make sure we stopped to have a look at what we were riding past on the return.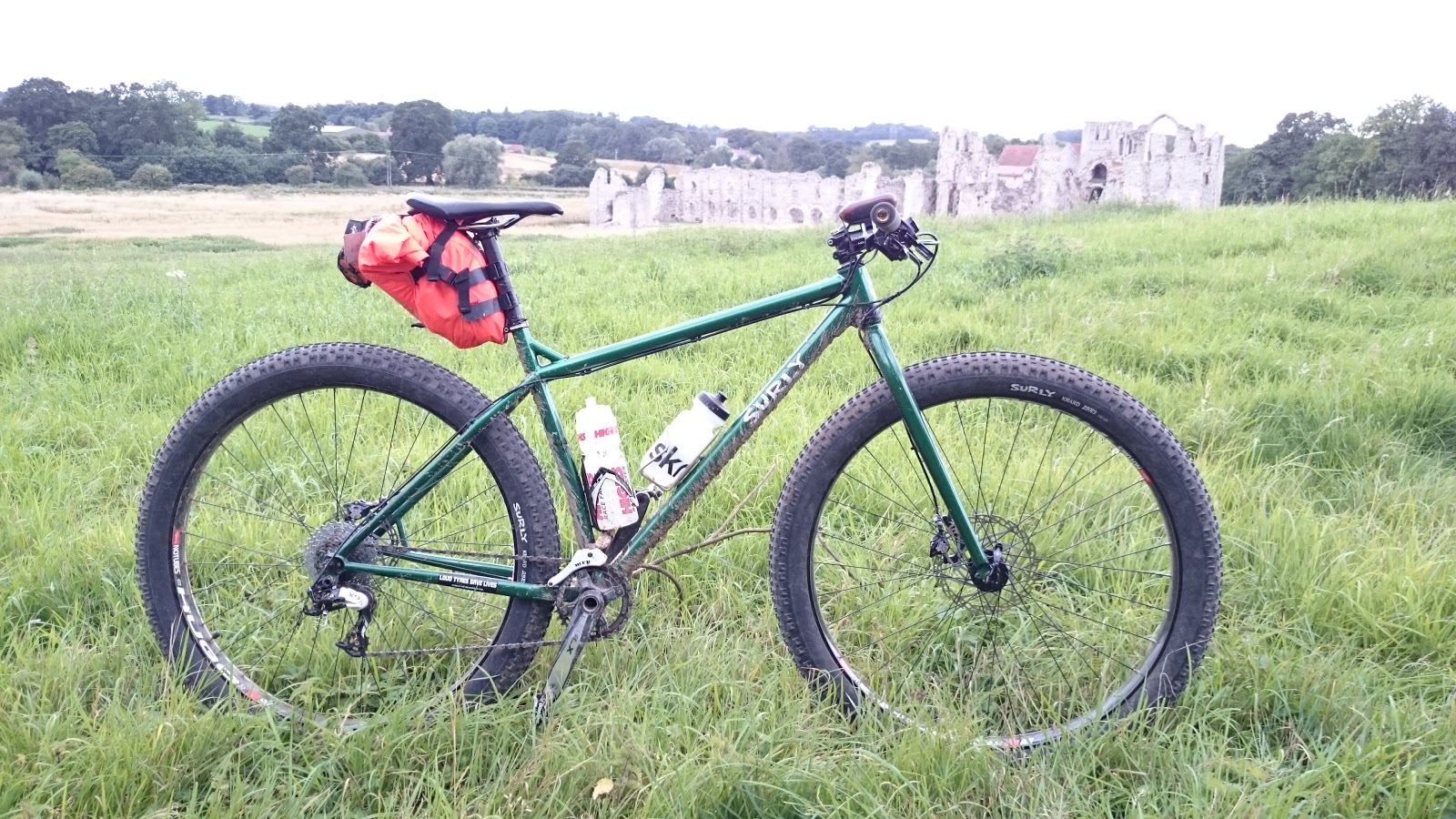 Cluniac Priory, Castle Acre
Despite being called Castle Acre the priory is probably the most obvious of the village's ruins. Both were the work of William de Warenne and his son who were granted the land by William the Conquerer (two weeks ago I was riding in Falaise, his birthplace!). The castle itself was built on the remains of a Roman encampment.
We made good progress to Swaffham were the past meets the present with a bump. Giant wind turbines have taken the place of windmills in taking advantage of the area's natural draughts! It's also home to a conveniently sited McDonalds!
On leaving the Golden Arches it became necessary to light up so that's it for photos. We planned to deviate from our original route at Shadwell crossing and leave the Peddars Way for the Harling Drove and return via Santon Downham and Cavenham Heath.
Harling drove, as the name implies was once a major route for cattle being taken to pasture or market. It makes for a easily navigable gravel route. The downside is that it can be popular with fly-tippers and others who wish to carry out their activities away from prying eyes. As it was we only came across one illicit barbecue and there had been no fresh deposits of old plaster, ceiling tiles or half empty paint pots. There was the beginning of some light rain and the Knards started becoming just a bit squirmy…
Crossing Cavenham Heath this squirminess, along with general fatigue got the better of me and I managed to dump myself into a muddy puddle. While I wasn't far off a sense of humour failure the surroundings made up for it. The heath is an oasis of natural habitat in which plantations of commercial forest and arable farming, so common in the Brecks, are absent. Apart from some suitably rustic sheep and the trail we followed you can be hard pressed to find evidence of humans for as far as you can see.
Arriving at the road that passes under the A14 I knew that it was just a quick tarmac burst before reaching the van and heading home. James and I had both planned for an easier option than the events we had planned but had still challenged ourselves and learnt that there is no single "right bike" for the route. I felt a little regret in not going to Wales but similarly I rode relatively close to home and took in plenty of sights, sounds and smells that were new to me. Already plans are afoot to see if the "out and back" nature of the ride can be modified into more of a loop to increase the amount of fresh ground covered.
Check out the Peddars Way on komoot
Last modified: 17th December 2020