When James Heaton was looking for a new winter trainer, the logical choice was a cyclocross bike. Described by many as the Swiss Army Knife of bikes. It's what every old school roadie will tell you to buy for training and commuting.  And if the urge should cross your mind, you can run around a playing field with it over your shoulder and claim you're racing.
Not long ago, James bagged the dream job working for Wilderness Trail Bikes. And with the brand's huge range of gravel tyres, it wouldn't be long until he found himself hitting the gravel. Suddenly that Swiss Army knife revealed it had another purpose…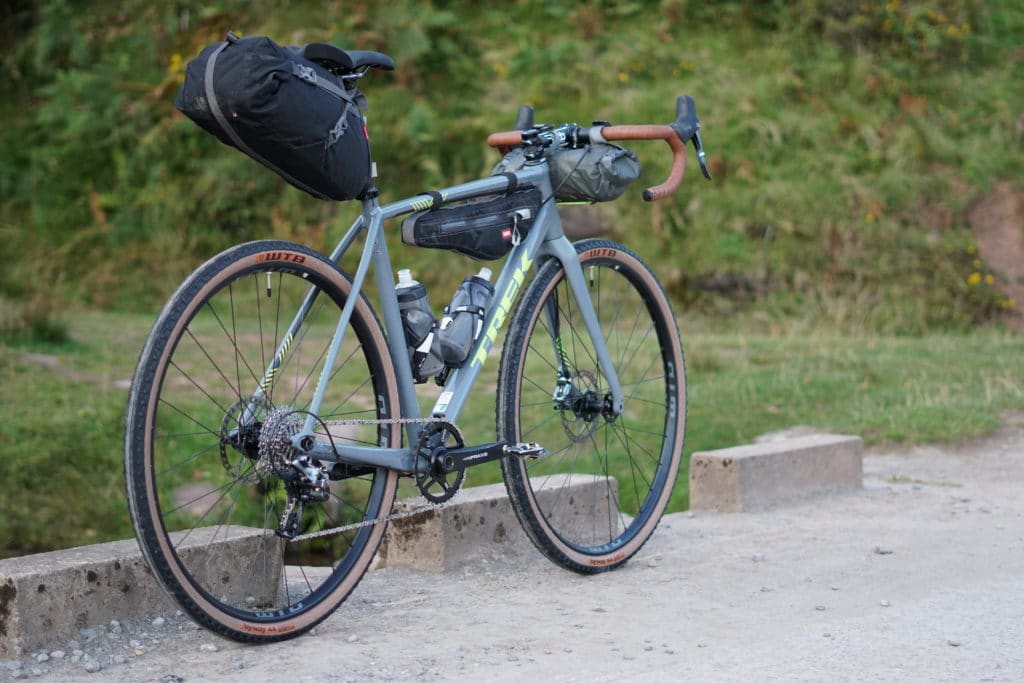 Rider and Bike Profile:
Rider Name: James Heaton, @iwasjustridingalong
Location: Merthyr Tydfil! The Valleys, South Wales
Bike: 2019 Trek Crockett 7 Disc
Size: 56cm
Drivetrain: Sram Force 1x, with Praxis Alba Chainset
Brakes: Sram Force
Wheels: WTB hubs, with WTB KOM light i25 rims
Tyres: WTB Byway 700 x 44
Saddle: WTB Volt

What is the your favourite part of the build?
I love the new Byway 44 tyres actually. I was after a 'do it all' tyre and they feel like an awesome middle ground between the Nano and the Exposure I have been using this year.
And what is next for your Trek Crockett?
The bike is perfect the way I have it set up right now, but I do want a Shimano GRX groupset! That will be the next thing I upgrade.
Give us the full rundown of the build:
I've been a huge fan of Trek bikes for years now. I'd just sold my hardtail MTB and I was after something to replace it, but also act as a winter road bike, commuter, cx bike, and gravel machine, and bikepacking mule! That's a lot of bases to cover, but these cyclocross bikes really are versatile tools.
I have freakishly long legs for my height (6ft), but I still decided to opt for a 56cm frame. I guess it's maybe a tiny bit too small for me, but I like to run a 140mm stem and show a lot of seatpost for some flex. So a smaller frame allows me to do that. I basically wanted my position on this bike to match my pure road bike, and it's pretty darn close.
The big priority was to get a spare wheelset which I could fit some slick road tyres, and then fit some bigger off-road tyres to the originals. This worked perfectly; I now have a bike that I can head out and ride a century on the road, and then explore off-road and light singletrack. Just with a quick wheel change! I currently use WTB Exposure 30 tyres for the road, and Nano 40's for the bumpy stuff. You can also fit Road Plus (650b x 47) tyres too, all tanwall and tubeless of course!
The Crockett gives me the freedom to do a century on the road, and then explore off-road and light singletrack. Just with a quick wheel change!
I didn't want this to feel 'precious' like my carbon road bike, and the aluminium frame gives you that peace of mind when strapping everything including the kitchen sink to it. It's simple, durable, nice looking and really fun to ride. As a mountain biker I like to throw the bike around a lot, and I find the Crockett handles really well. I've heard that today's gravel bikes are very similar to the original mountain bikes of the 80's, and if that's the case then I can see why the original MTB scene was so exciting. It's just great fun!
Using a 140mm stem has benefits too. Handlebar bags can roll back to fit perfectly under the stem so they don't get in the way of the cables. And the WTB Volt saddle was another nice upgrade too. The one I'm using is wallet friendly, with chromoly rails and gel padding. It's nice looking and comfortable. I've gone for some Deda brown bar tape to compliment those tanwall tyres, and a gunmetal BikePark Wales stem cap. I bet there aren't many drop bar bikes out there with one of those!
To say I'm happy with my Crockett would be a huge understatement. The bike has made exploring the local hills more fun, getting to work a little easier, and it's opened up the world of adventure a lot more. It's a bike I've taken on so many trips and one that I ride almost every day of the week. It's versatility continues to impress me on every ride.
Trek Crockett 7 Gallery
Last modified: 20th September 2019