When we saw London-based off-road enthusiast Natt Williams preparing for Iceland and the trip of a lifetime, bikepacking his way across the volcanic trails, we were so intrigued. With little support in the vast central plains and extremely challenging terrain to face – not to mention the glaciers and raging ice-cold river crossings – we held our breath as Natt slipped off the radar for a few days.
Natt's account of his Iceland Divide attempt is a real insight into the struggles that comes with solo touring in such an inhospitable place, and stark contrast to the kindness of strangers that you meet along the way.
Iceland Divide - North to South
Days: 7
Kilometres pedalled: 570
Metres climbed: 4,680
Time: 39 hours 31 minutes
Punctures: 0
Technical issues: 0
Bike Spec:
Groupset: SRAM eTap Eagle AXS "Mullet" x SRAM eTap Force AXS DUB. Chainring: 38 tooth. Wheels: Halo Vapor GXC 650B with Panaracer Gravel King SK tyres.
Luggage:
Apidura 'Expedition' Series. Handlebar pack 9L. Full frame pack 14L. Saddle bag 17L. Down tube pack and Apidura Backcountry Food Pouch.
Navigation:
Komoot for planning and guidance. GPS Computer: Wahoo ELEMENT ROAM.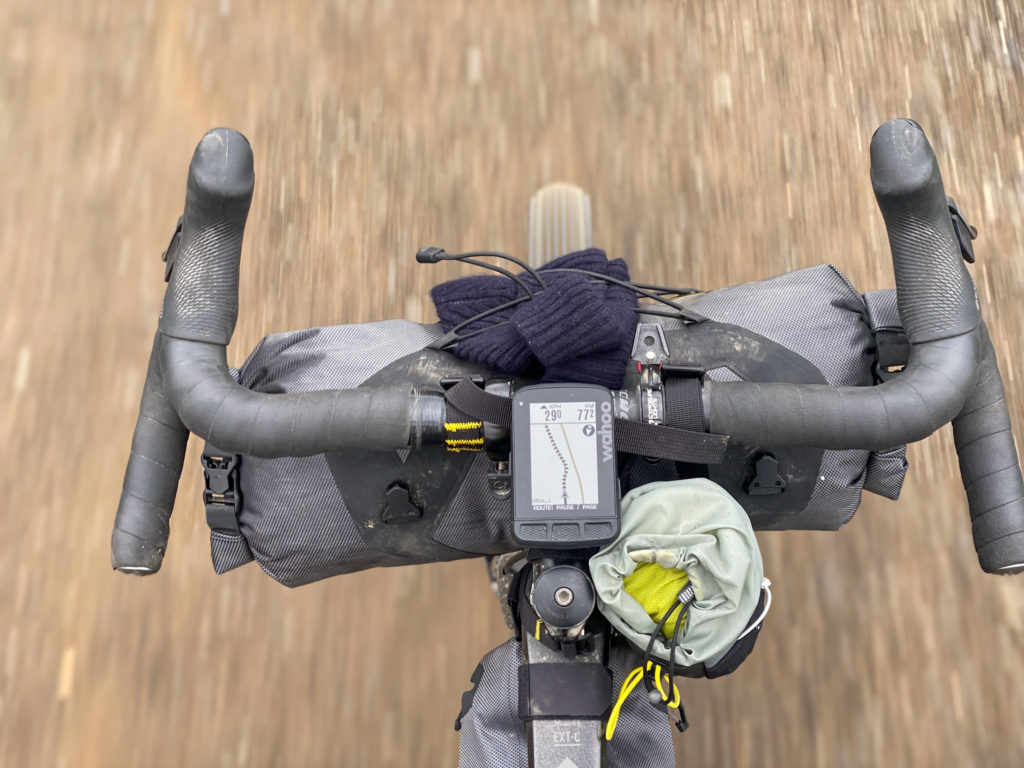 We come from the land of the ice and snow


From the midnight sun, where the hot springs flow…
Iceland, the land of fire and ice, was one of my main focuses leading up to the (now postponed) 3rd edition of the Silk Road Mountain Race. Besides training, I also wanted to visit the island for another reason – to explore. When I first saw the documented words of my friends Montanus in 2018, I knew that one day I'd do this route solo, and a year later started planning the trip. The country has magnificent glaciers, thundering waterfalls and epic ever-changing landscapes. For a small island, Iceland has it all!
Being a natural outdoorsy person, exploring by bike is an expression of who I am. I like cycling in new places, meeting people and bringing my experiences back home to where I live, in London. I planned my trip to Iceland in 2019, I saw it as a great challenge and training, to get me ready for the Silk Road Mountain Race… until you know what!
Just below the Arctic Circle, situated between the North American and Eurasian tectonic plates, a remote land emerges from the depths of the Atlantic Ocean, dominated by huge glaciers, ashen deserts, and mighty lava structures. Here, along the fault line that crosses the island from north to south, the incessant work of fire and ice traced a route that runs through a world of immeasurable desolation and enthralling beauty, the Icelandic Highlands.
Montanus
Day 1 – Akureyri to Botni Mountain Hut
My grand adventure began at the coastal town at the base of Eyjafjörður Fjord in Northern Iceland. Full of excitement, anticipation and a little bit of anxiety, this was my first bikepacking trip abroad this year. Three kilometres in, I made my first stop at the last gas station as I left Akureyri to pick up a second gas canister. Off I cycled, straight up a 23km climb with a savage head wind! Past the first mountain climb, I could see the icy mountain tops and the temperature had dropped. I headed further north for roughly 20km before the route swung around to the south and in another 40km I finally started riding in the right direction on the ring roads.
The first planned stop on my list was the Godafoss Waterfall, one of the most impressive in Iceland. The road turned to lava ashen gravel and my excitement began to boil from within. I recall singing Elton John Rocketman out loud to myself. Why not, no one was around?
Sixty kilometres into the ride the scenery reminded me of the 'Desert of Wales' trip I did the previous year, as the greenery, rolling mountains, wild sheep and lakes were plentiful.
There were a few river stops so before I arrived at my destination for the evening, so I refilled my bladder packs mainly for cooking water. After pedalling 113km I reached Botni Mountain Hut, hands down the best hut of the route. I thought I had the place all to myself, but was soon greeted by a very friendly couple, who chanced driving up to the hut to take their MTBs for a spin as the weather forecast for the weekend was "meant to be bad".
I took my Firepot dehydrated orzo pasta bolognese pack out to eat and they immediately insisted on offering me a traditional Icelandic dinner instead. We chatted for hours, mainly exploration by bike as they were both bike nuts just like me!
Day 2 – Botni Mountain Hut to Kistufell Mountain Hut
It's always daylight through the summer months in Iceland. So you can't really tell between midday or midnight. I woke at 5am and knew I was in for a good day, with a blue sky and mild weather. My new friends and hutmates offered me breakfast, and a lot of it, as they had a weekend's worth of food that needed to be eaten that day. Of course I had no problem helping out, I was being spoiled rotten!
I remember clearly a conversation I had with Day, the husband, out on the porch over coffee talking about his back injury and how he found his previous job in a big firm restricting. He'd broken away from the 50+ hour working week lifestyle to choose a more sustainable one for his family. He felt enriched and much happier now. That really resonated with me… Do what makes you happy.
With a full stomach I set off for the second day, with 82 kilometres set on my Wahoo ROAM. The first 10km were slow, walking and some cycling through the rocky volcanic lava fields. The route was finally rideable when it changed from pure lava rocks to dark lava soil and moon landscape. It was sparse and desolate but strangely beautiful.
I stopped to check out Dyngjufell FFA mountain hut about 20 kilometres in. This hut was equipped with a gas heater, stove and everything you'd need. With time to spare I brewed a coffee and took in the quietness before setting off on the remaining 66 kilometres.
As I started to climb again, the lava soil terrain started to turn into an icy, snow-covered landscape, heading for my first glacier of the day. Even though it was about 9°c and the sun was shining, the tracks had turned to ice. I walked with my bike for about 25 kilometres which seemed to take forever. It felt much like suffering, pure Type 2 fun, but I'm laughing about it now!
One highlight from this day was pedalling with Askja volcano to my left and a huge glacier to my right. As I descended, the landscape changed to what I can only describe as a desert; it was hot, like a dry waste land. I was all by myself yet I never for one minute felt lonely.
When I came to the first river crossing of the trip, I wished I'd packed waterproof shoes or socks as the water was freezing. Oh, and I would not advise crossing with cycling shoes on your feet, as it hurt a lot afterwards!
The last 20 kilometres was tough, I smashed through my days ration of Rawvelo snacks and Haribo. And it took every fibre in my body to resist drinking my can of coke which I'd saved all the way from Reykjavik. Instead I saved it to drink with my meal that night; the classic dangling of the carrot!
I made it to Kistufell Mountain Hut at 21:30, where I found two French hikers in their sleeping bags turned in for the night. After clumsily barging in and waking them, they greeted me with smiles. We spent the next hour or so chatting as I prepared my 'Spicy Pork Noodles' dinner on my MSR Pocket Rocket stove, and of course that long-awaited can of Coke…
Day 3 – Kistufell Mountain Hut to Nyidalur FI Mountain Hut and Campsite
Jean-Marc and his friend set off on their hike across the glacier early, so I enjoyed a few hours of solitude in the hut after waving them off. First I made a coffee using my Moka pot – an essential item for me – and took in the view from outside the hut. At over 1,000 metres the clouds pass right through you.
After lubing my bike chain, and packing up my bags, I was ready to hit the 'road' again. The weather continued to bless me; not much wind, no rain, just a lot of sunshine. But there was that thought in my head, 'you still have to get across that huge glacier, Natt…
Seven kilometres in and I was already off of my bike, pushing, slipping and sliding around. Welcome now to Type 3 fun. Need I say more?
On reflection I learned a lot about myself that day, and the glacier crossing was the first of many tough obstacles ahead of me. Nevertheless, I didn't dwell on what was coming up, but soaked up the natural beauty right in front of me that I had all to myself. It was truly a mega experience and I had only done twenty-something kilometres at this point.
Once I came through the pass, the snow began to pass and I was able to mount my bike to descend the sandy lava tracks down to the deserted and uninhabitable plain below. Think Mad Max (the one with Mel Gibson), yeah that's it, you got it, It was just like that!
I met a ranger who asked me how it was up there, as the ice had yet to melt after a seriously bad winter. She had arrived to close the entrance to cars as the tracks were not safe to drive across. I confirmed to her that it had been very tough-going. When I mentioned I'd ridden from Kistufell Mountain Hut, she revealed that she'd just passed two French guys about 15 kilometres back. My hutmates from the night before. 'I'm sure I'll catch them up soon', I replied.
The ranger was really helpful, telling me what river passes I had coming up and their depths, which was certainly valuable information out in the wild. She suggested heading to Nyidalur FI Mountain Hut and Campsite and I gladly obliged on her recommendation.
The road ahead opened up and I was cycling across some premium sandy lava track. I wanted to make up time for all the walking and the route just kept on giving, undulating, twisting and fast. Now we were back on for Type 1 fun!
About 15 kilometres later I saw my two French mates in the distance. I must have been rolling in and out of sight but eventually Jean-Mark turned and saw me. All three of us beginning to cheer and shout like we had just won the lottery or something! I had only met these guys about ten hours ago, yet it felt like I had known them forever. Moments like that are priceless. We stopped in the middle of nowhere to take pictures with each other, and the ranger joined too! We all exchanged contacts and will be arranging drinks when they come to London next!
Three river crossings later I began to wonder why the hell I didn't bring more adequate footwear. Definitely a learning for next time. I took my shoes and socks off yet again and hoisted my bike over my head to save my electric gearing, the water up to my knees! I bumped into my first fellow bikepacker of the trip, Plaay from Germany, who was heading in the opposite direction up to Kistufell Mountain Hut. Apparently, the weather had been really bad in the valleys, where he'd had to wait it out for three days.
Plaay said I had 25 kilometres to go, and boy oh boy it was the best 25k ever. All rolling sandy lava gravel tracks, smashing through my Rawvelo energy gels and bars and flying through, everything was just perfect. I could see a man on his e-bike in the distance, so of course my competitive side came out. After I'd caught and passed him, I hit what felt like a wall on the final climb. As I thought he was going to whiz right back past me, I dug deep and attacked the hill. Somehow I managed to hold him off, but ended up flying through an ankle-deep river!
I soon arrived at my destination for the night, and this place looked lit! After getting settled in, I got speaking to Adam, a traveller from Hungary, and Sebene the manager of the Nyidalur FI Mountain Hut and Campsite. They'd made a German stew dish and invited me over for dinner – I could get used to this! The rescue team and rangers were all there too, and the atmosphere was great. I gratefully used the shower facilities and checked my bike before heading to bed. I was so surprised I hadn't had a single puncture or mechanical considering the terrain I'd been pedalling across. There is a takeaway here – love over your bike and it will love you right back!
Day 4 – Nyidalur FI Mountain Hut and Campsite to Versalir Mountain Hut and Campsite
It was an awful night's sleep. My toes aching throughout the night because I'd worn my socks and shoes while crossing the last couple of rivers. Glacier water is freaking cold man! I had a short ride again today of 57 kilometres, but as I was in the highlands now there would be a lot more river crossings from the melting glacier ice. I asked Sebene if I could keep the small towel she let me use from the night before, and thankfully she obliged.
The most peculiar thing happened on this day. Sebene received a call on my behalf from the British Embassy, and we were both baffled as to why they were calling. Turns out they were just checking to see if I was ok. My girlfriend hadn't been able to contact me for 36 hours, and I'd forgotten to manually activate 60 minute tracking on my Spot X (my bad). Good for them to follow up though, to which I replied that I was 'alive and very well, having the time of my life out here'.
After three and a half days of crossing glaciers, mountains, lava fields, and desolate deserts I was well on my way to the highlands. This would be the first night I would get to use my MSR Elixir 3 tent, as Versailir Mountain Hut was fully booked with horse riders that night.
Despite being short, the route was still tough, pedalling into the nothingness which is never easy. Doing this type of adventure solo really puts your capabilities – and mind – to the test. Cycling in such a harsh and remote environment with no one to depend on but yourself heightens the senses, the challenge becomes mental as well as a physical battle. Me being me, I kept nattering to myself, taking in the beauty around me and smiling. I felt very fortunate to be here doing this in the first place.
The river crossings were tough, some knee-high, some even thigh-high! With my new towel in hand, I removed my shoes and socks and pulled my leg warmers and bib shorts right up. With my bike high above my head, I crossed seven more rivers that day!
Arriving at Versalir Mountain Hut around 18:30 I was full of excitement. I could finally get to use my tent! Setting up camp for the night, I immediately got out my cooking kit, brewed a cup of jo and prepared dinner. Chilli Con Carne was on the menu tonight, and for seconds, the organisers of the horse tour company in the hut insisted I join them for BBQ lamb! HELL YEAH! Great way to end an awesome day, but would I ever get through my own Firepot food packs?!
Day 5 – Versalir to Alftvant Mountain Hut
With a long fifth day looming, I was lucky to have had a double dinner last night! I'd wanted to get the highlands done in one day, to reach the Hut at Alftavent nestled in between two huge mountain passes. This would be 145 kilometres of pure Type 2 fun on the day that I nearly cracked.
I started out on an amazing lava sand and gravel road, and the first 80 kilometres were mega. My legs still felt great, so I powered on to the Gate to Valhalla. A cruel mistress, you can't miss this climb. The sun was shining down on me though, so I switched to my climbing gear, sat forward on my saddle and up I went, managing to get up and over without getting off.
It started heading south right after that point. I looked at my stored offline route map on komoot to see no less than eight river crossings ahead. They turned out to be perilously fast, deep and full of slippery, jagged rocks. For the first time on this trip I was truly frightened for my life. It was a nightmare and I broke down in tears. Shouting everything under the sun, before I got my head back in the game and came up with a plan to cross.
There were ten more kilometres and some 12% gradient climbs to go before I rode through a crack between the parted rocks. There, the hut was, at the base of the valley next to the lake. I just pinged across a hiking trail as fast as I could before this mirage-like setting disappeared. I was so relieved to have arrived and meet other people, including two fellow bikepackers, Johannes and his partner. We traded cycling stories before turning in, after what had been quite the day in the saddle!
Day 6 – Alftavant Mountain Hut to Öldufellsleiõ Mountain Hut
Waking up on the penultimate day of the Iceland Divide was strange; I was pretty moody about it and the realisation that it was all soon coming to an end. I put that to the back of my mind and set off with the two amazing riders I'd met from the previous night. My mind was positively distracted as we pedalled into the rain!
Now, Johannes and his partner were awesome – bar the extra river crossing they made me cross when I didn't need to. I soon found another section of the river to cross further upstream and got back on track, where inevitably the weather took a turn and started lashing it down. I could barely see five feet in front of me for the next 45 kilometres. The melting ice caused rivers to burst their banks, and with water across the sandy lava tracks it became a very interesting few hours. I made up my mind to keep pushing on to my destination, as quickly – and safely – as possible.
Having survived the rainstorm to get to Öldufellsleiõ Hut, everything was soaked. I immediately changed out of my wet clothes, got the gas stove fired up, prepared dinner and got my Rab sleep gear out. This was a great little hut. The rain continued throughout the night, but I was cozy inside with the warmth of the fire and my Mythic 180 sleeping bag. I ate all remaining three food pouches that night – with one day left I thought why the hell not?!
Day 7 – Öldufellsleiõ to Vik
The final day demanded 70 kilometres, so I enjoyed a lazy morning in one of the best huts of the route, with a waterfall just 100 feet away. I gave the bike a once-over for the last time and everything was still ok. This bike did me proud, seven days across the hard stuff, and not missed a beat.
The highlight today was seeing the Yoda cave from the Star Wars movies. To the naked eye it looks like a huge crack in the side of the mountain, but when you get inside it's super cool. Just around the corner is Hjörleifshöfði Cape, formed by a volcanic eruption under a glacier. It's named after Hjörleifur, one of the earliest Viking settlers to Iceland from Norway.
The weather was kind to me once again, which felt like a fitting end to an amazing adventure, I felt so grateful. With the last 35 kilometres to go, I had the biggest smile on my face as I saw Vik in the distance, the end was getting ever closer. I approximated arriving at 14:00, just in time for lunch. Two victory beers and a burger later I headed to Hi Vik Hostel to book myself a room for the night. I rang my family and friends back home to let them know I was safe and well.
I'd completed the challenge that I'd set myself last year, which turned out to be everything and more than I'd hoped. Project Iceland Divide (North-South) complete and legs recovered. Now onto planning the next one.
Interested to see what Natt has planned now he's ticked off the Iceland Divide? Find all his latest antics on Instagram at @natt.ewill.
Last modified: 21st September 2020