Eating and drinking mid ride are an obsession of mine. The trouble is, if you buy proprietary products, it can all get a little expensive. To this end, I have been working on the perfect home made energy bar for ages. We are all different, what works for one will probably not suit the other. I contend however, that I have hit upon the perfect bar. Packed full of energy, not too sweet and a good texture too.
First of all, credit is due to the GCN website, from where I found the basic recipe. Secondly, to those for whom cooking of any sort is daunting, this is a really simple recipe to follow. If you can measure, cut and stir things, you can make these bars.
Ready, Steady, Cook!
The ingredients:
120ml rapeseed oil. I prefer a little less, maybe 100ml, to avoid it becoming too greasy.
200g soft brown sugar
2 tablespoons of runny honey
1 tablespoon of crunchy almond butter
As an alternative, try unsalted peanut butter
A half teaspoon of vanilla extract
Take all of these ingredients, put them into a large saucepan over a medium heat. Stir continuously until you are left with a smooth paste. Don't worry if, half way through, there seems to be a lot of liquid, just keep stirring. Reduce the heat when the paste is ready.
The next phase is to add the fruit and nuts:
The next phase is to add the fruit and nuts:
4 tablespoons of pumpkin seeds
50g of flaked almonds
50g sultanas
50g chopped dates
Add all of these to the mixture and stir them in.
Finally, add 8 ounces or 226g of oats to the mix and stir. Keep stirring until the oats are well coated. This may take a while, and the mixture will get quite stiff. Occasionally it turns into large clumps but keep going. When you are happy with it, take it off the heat.
Use a shallow baking dish to cook the mixture in. The bars need to be almost an inch thick so choose your dish accordingly.
Important – line the dish with baking parchment.
Tip the warm mix into the baking dish and squash it down firmly with something like a spatula. It may try to resist but show it who is boss. Fill all the gaps and corners and make sure the mixture is evenly spread. As you can see from the picture, I have only taken up half of the dish. Don't worry, the mixture is stiff enough to retain its shape. It has never decided to meander across the dish for me but if it does, you can still reshape it while it is warm.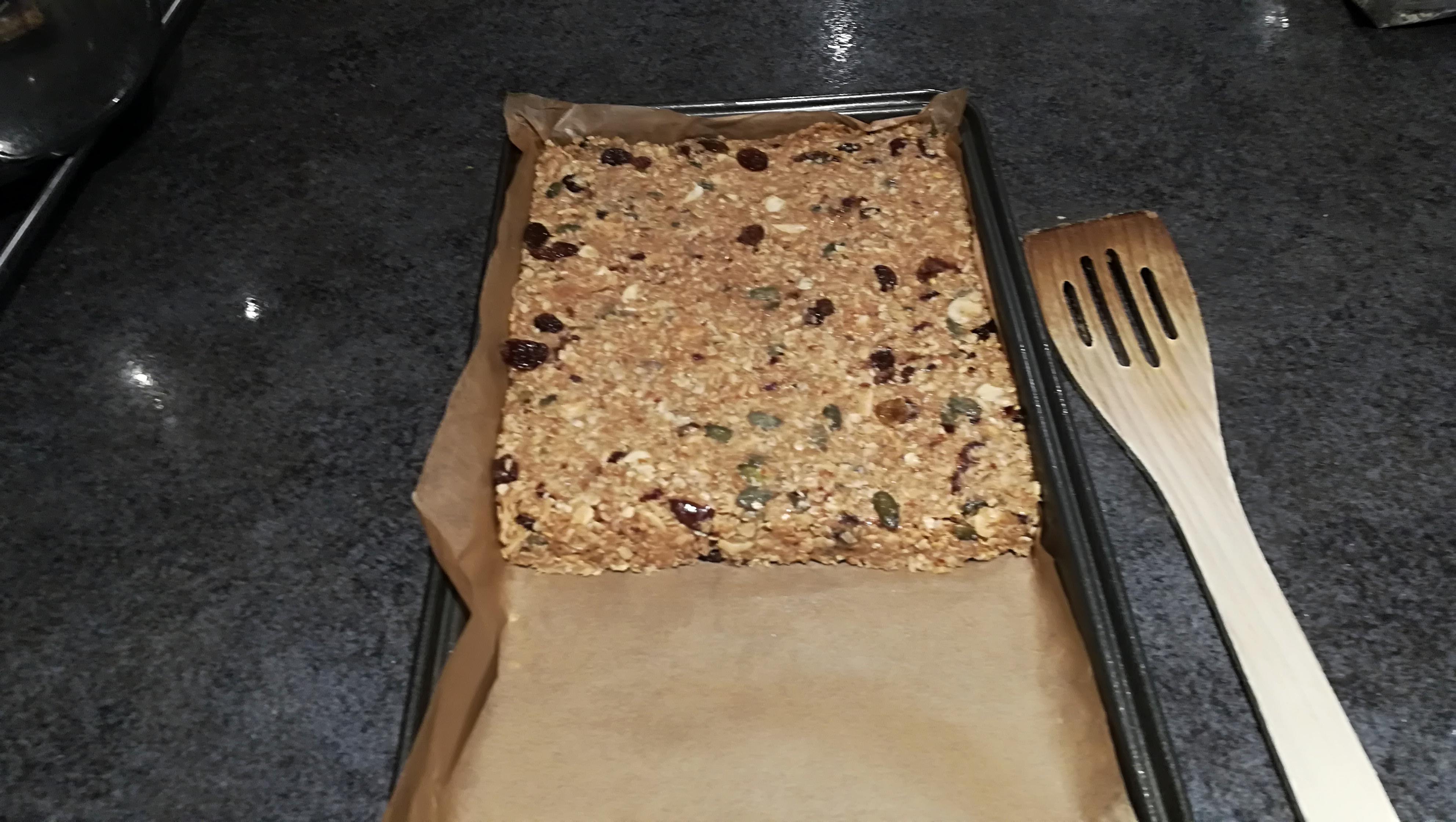 Pop it into a preheated oven (180) for 10 to 15 minutes.
When you take it out, you can square off the edges with a spatula. I get a bit OCD about this but it means that when you cut it up, all the bars are the same size.
Anyway, leave it to cool. Once cool, peel off the parchment and cut to size. I tend to keep them quite small but it is up to you.
There's no way you will eat this all in one go so put it in a tupperware box and freeze it. Before you leave home, take out as many as you need and the rest will last for ages. I wrap the individual bars in greaseproof paper. It is less messy in your shirt pocket that way!
A final word. There is no reason why you shouldn't use different fruit.
Enjoy!
Last modified: 5th April 2018