Have you ever considered a hammock for your bikepacking overnighters? While bivvy bags and tents certainly seem to be the most popular options, there's definitely merit to be explored in a system suspended above the damp earth.
Okay okay, as a hammock convert I'm totally biased! But if you're curious, here's a handy guide from a few years of experience to help you get started.
But aren't hammock options expensive?
No, they really don't need to be! You've probably been served some Instagram ads for bouji lay-flat, anchor-to-five-different-trees, multicoloured crap that costs about five times more than a decent entry-level hammock.
As price is a major factor when it comes to gear selection, let's start with the costs involved. Edinburgh-based hammock and tarp brand DD Hammocks have their entry level hammock at just £27, including webbing ropes. Compare this to a popular entry level bivvy like the Alpkit Hunka at £50, and you'll realise it's not all that expensive at all. Then you'll probably need a tarp over the top, unless you're sure you won't have any overnight precipitation, which start at £37 from DD.
So what's the basic hammock set up?
On a dry and warm night, the only two things that are essential are your hammock and sleeping bag. Some people enjoy an inflatable pillow too, although personally I just use my jacket hood or am happy without.
The next most important thing is a tarp, or tarpaulin. This will keep any rain off you in the night, and can also be used to shield you from wind. As well as keeping you and your sleeping set-up dry, it's also handy for shielding the rest of your kit, and can provide a little privacy for getting changed. With a central ridgeline tied between two points and pegged down guy ropes at each corner, these are pretty easy to set up. A 3×3 metre tarp can easily cover two hammocks, given that you have plenty of options for things to tie to!
If there's two of you, you can opt for a kind of isosceles triangle set-up, and then tie the ridgeline over the top like this;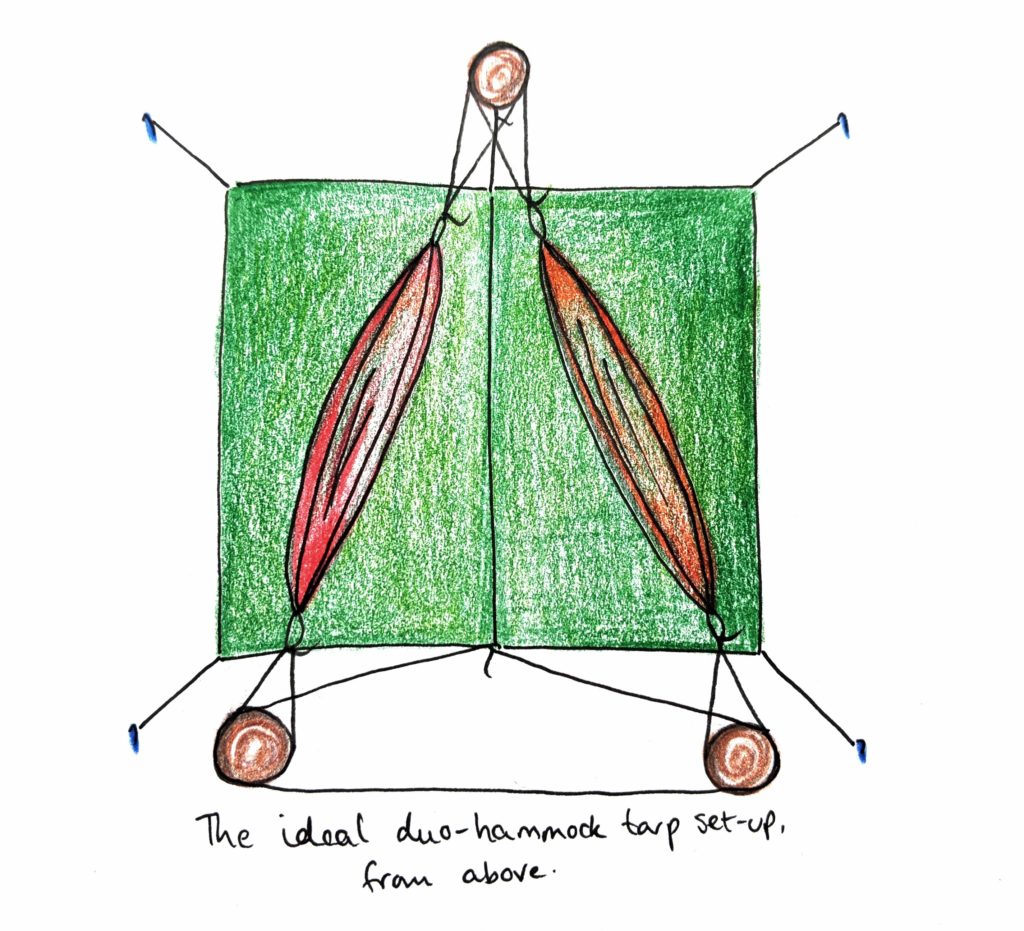 When you move from the summer season into the autumn and winter, things can get a bit chillier in a hammock. Although you don't have to deal with damp earth, being suspended above the ground means that sometimes you can get a chilling draft underneath, leading to a cold bum and thighs. To combat this, you have three options; shielding the breeze with a tarp, or adding a mat or an under blanket.
If you're setting up camp in a breezy area, peg the side of the tarp that's facing the wind lower to the ground, to block the wind before it passes under the hammock and keep you warmer.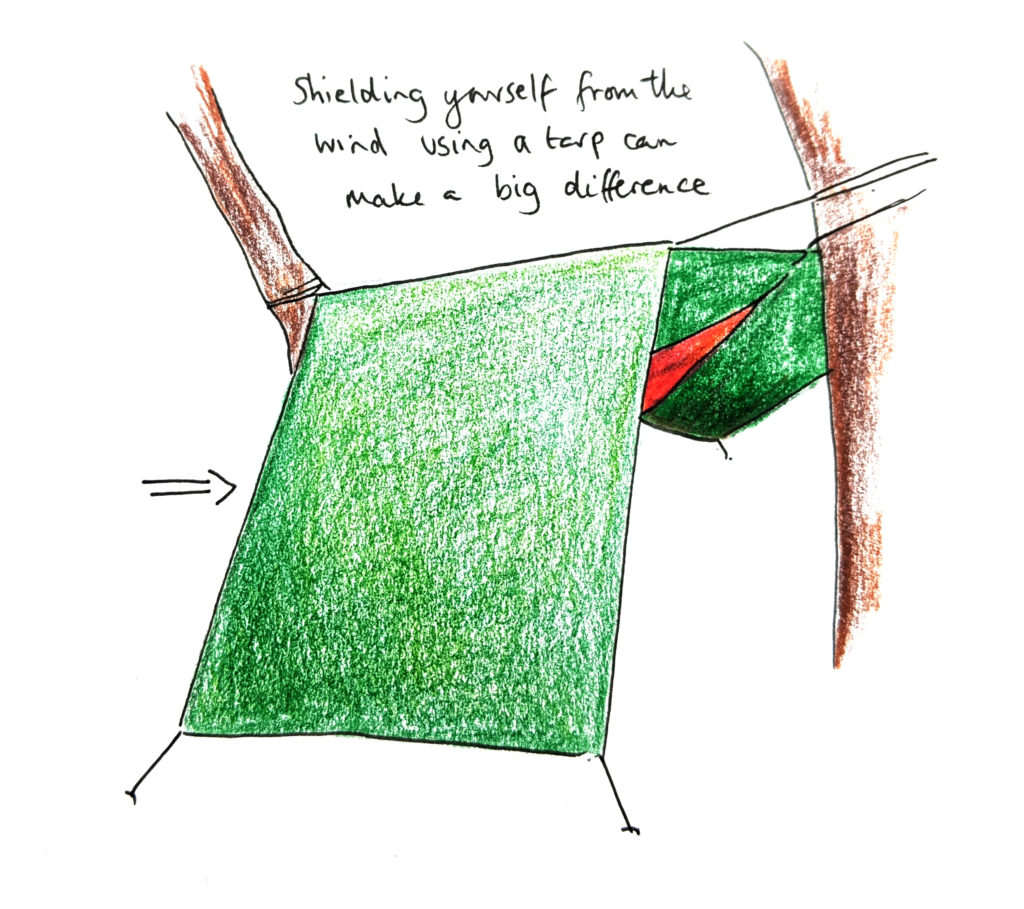 What about the cold with a hammock?
Although some people use a mat in their hammocks, it's something I've not had much success with. I found that I'd roll off it and end up with it hovering over me in the night or it would just be too noisy. Some hammocks have two layers so you can zip a mat in between.
An underblanket is the ultimate addition for cosy nights in colder temperatures. I've used the DD Underblanket (£49) in temperatures down to -2℃ in conjunction with an Alpkit SkyeHigh 500 winter sleeping bag (£155) and been perfectly warm. An underblanket is just that; a quilt that attaches to the edges of the hammock and hangs underneath you, trapping and warming a layer of air between the hammock bottom and the outside world.
If there is one disadvantage of using an underblanket it is that they're pretty bulky to pack. In my eyes though, it is well worth the effort and extra weight for an enjoyable winter campout!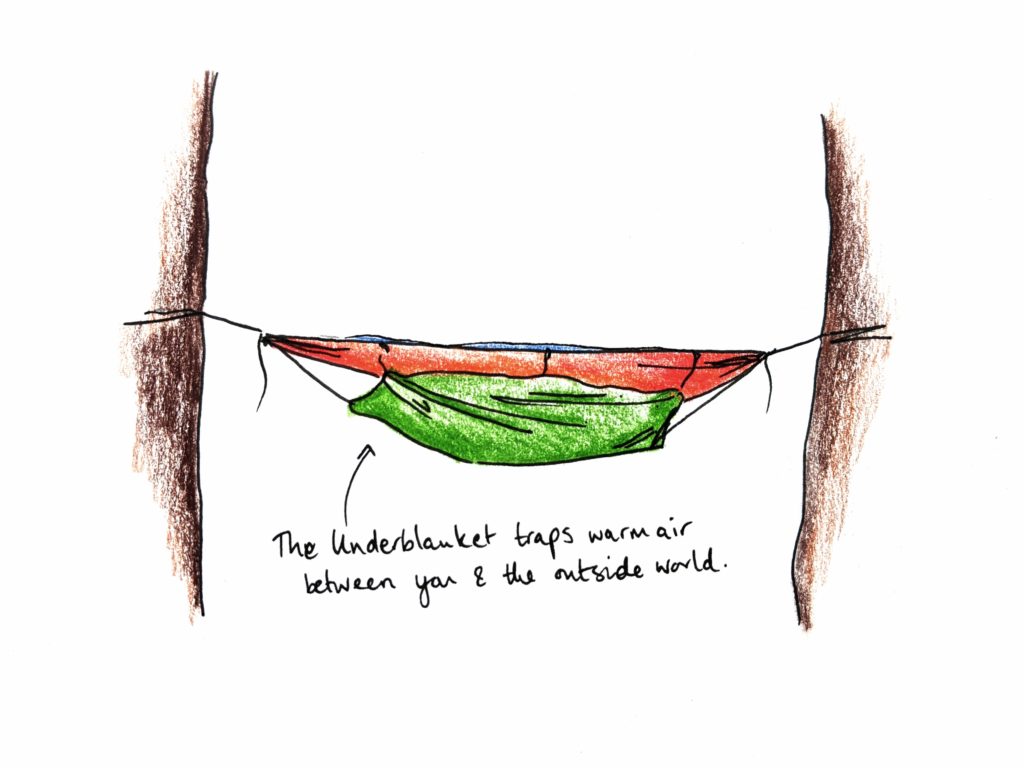 But what if there's no trees?
Ah yes, the golden question. This is where bivvy bags might just have the edge;  you can set them up almost anywhere. With a hammock, you'll need two anchoring points. This can make things a little more difficult when trying to choose a camping spot.
Having said this, I've had a lot of fun setting up hammocks over the last few years where there's been no trees at all! In marquees, in metal-strutted sheds and between fence posts on campsites; with a little imagination (and handy corners), you can usually find a place to tie up.
What about ultralight hammocking?
If you're a competitive bikepacker, or someone that counts every gram, you can opt for some lighter weight kit when it comes to hammocking. DD Hammocks offer a spacious SuperLight Tarp at £67 weighing 500g, and a single skin SuperLight Hammock for £55 at just 350g. If it's warm enough, then you won't need an underblanket or mat. And if the weather is really dry, you won't need a tarp either.
As always with ultralight bikepacking, sometimes it's better not to take the risk with these things for the sake of a few grams versus comfort and safety in more extreme situations!
Top Tips For Setup
Ready to go? Here's a few top tips for getting a great hammock set up;
Tie the hammock really taut and higher than you might think. It'll sink lower as you climb in and during the night. Tie it too low or slack and you'll end up in an uncomfortable position, or even on the floor!

Remember that you don't need level ground for a hammock, just make sure both ends are tied level. Just like in a tent or bivvy, you don't want to be sliding down to one end all night! Also make sure the length of rope either end of the hammock is equal, for the same reason.

Don't forget you can use your hammock as a comfy camp seat as well as for lying in. If you know you're heading to an area where midges or other bugs are a problem, consider a hammock with an inbuilt bug net

When tying around a tree or other anchor, make sure you wrap the rope around twice to stop any slippage

In dry weather, you can use your hammock ropes as a drying line. Perfect for washing clothing or storing kit off the ground
But how do you tie the knots?
The wonderful thing about hammocking is the simplicity. You'll tie a bowline knot to make a loop at either end of the hammock once only. You'll need to learn a simple knot to secure it to the tree or whatever anchor point you're using. No fancy straps, clips or gadgets needed, just a good length of rope (5 metres each end is a good starting point) and the knowledge of this knot. Of course other knots probably work just as well. But this is what works for us, and is simple yet strong.
Are you already a hammock convert or looking at giving it a go?
Let us know about your experiences in the comments below!
n.b. Neither ADVNTR.cc nor the author have any commercial relationship with DD Hammocks. They're just really good and reasonably priced!
Last modified: 9th March 2021