Lots of cool bikes roll in and out of ADVNTR.cc on a regular basis. So we're used to seeing nice kit, but it only hangs around so long before the brands want it back. So what would a bike tester build up as their own personal bike? ADVNTR.cc founder, James Deane shows us around his Bombtrack Hook EXT.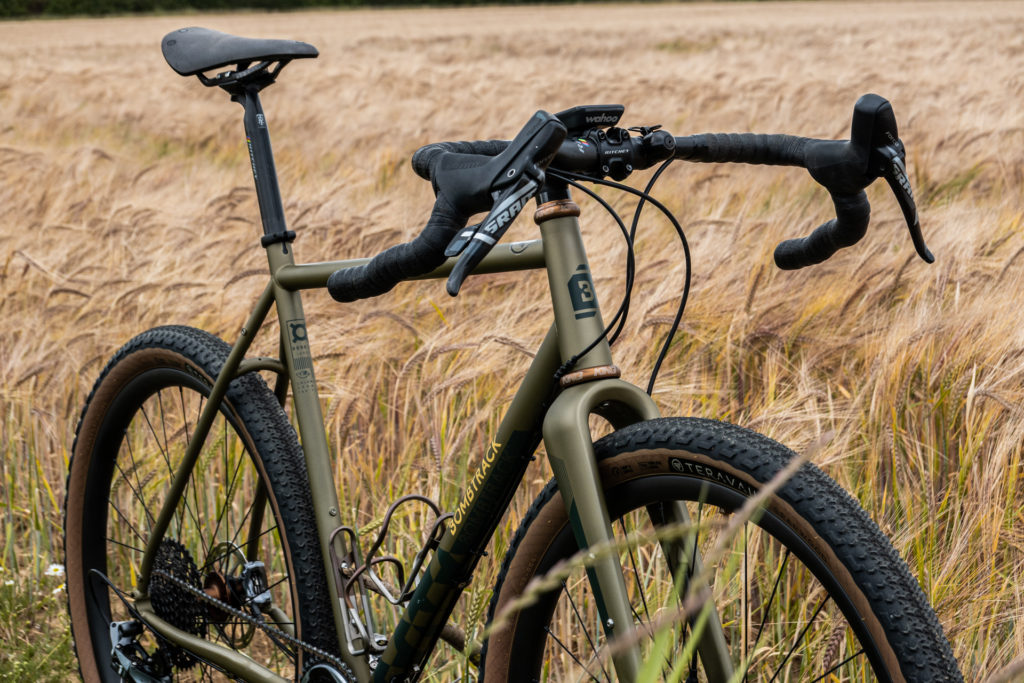 James' Bombtrack Hook EXT
A lot of the brands we meet have some really amazing gravel bikes. They ride well and look great, but behind the brand it's usually quite a faceless and corporate world. The team at Bombtrack are the complete antithesis to this. They're all super passionate about cycling and it shows through in the bikes they design.
Bombtrack are only a small team, but they manage to rock up at so many events. Usually just to ride and have a blast with other riders. Their enthusiasm is infectious. I think I caught the 'Bombtrack Bug' after riding with Manuel (of Bombtrack) at the Dirty Reiver, just chatting about bikes, music, Brexit, bikes, gravel… I thought, "this guy really gets it!" and we've traded emails back and forth ever since.
We tested a Hook EXT in 2018 and it has always stuck in my mind as one of the sweetest riding gravel bikes of all time. The spec wasn't anything to get the heart racing, but the bike felt special, involved.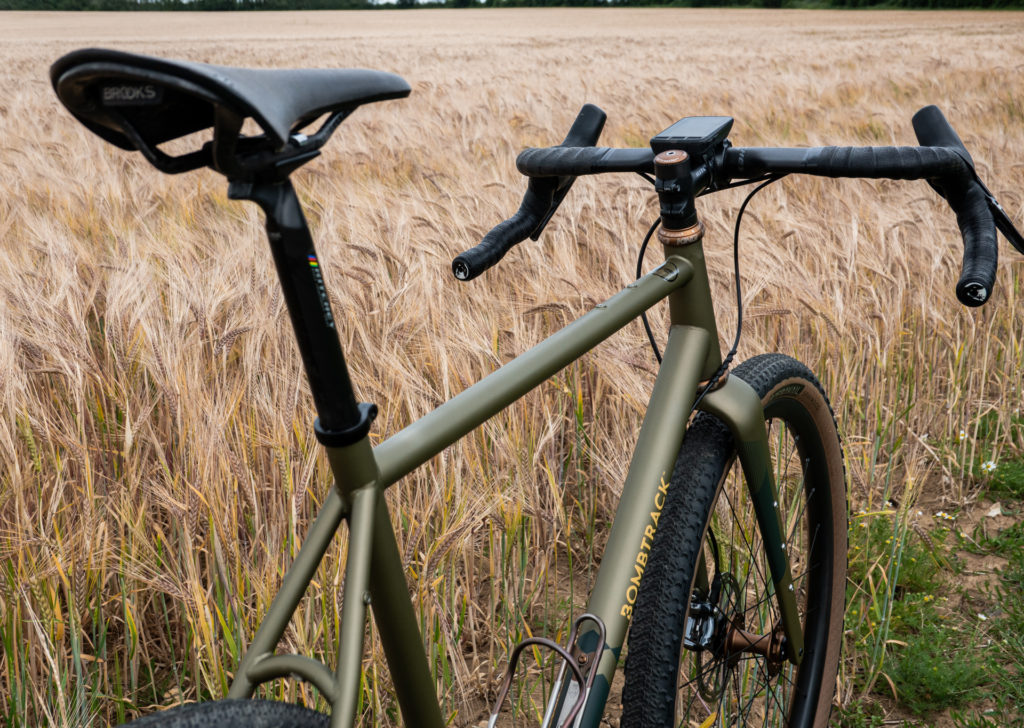 Something to go The Distance
Our involvement with Focal Events and their zany bikepacking event The Distance, led me to goad Bombtrack into signing up as host sponsor for 2020. That then led me to thinking about what to ride at the event. I could have nagged at Lyon Cycle, their UK importer, for a loan bike, but I fancied something more personal than that.
Shortly after a small hit to my credit card, a 2020 Hook EXT frameset arrived at the office. The card was already smouldering after a purchasing some small batch bourbon… Chris King Bourbon.
The first day I clapped eyes on the matte olive paintwork of the 2020 Hook EXT, I just knew King's limited edition bourbon components would look perfect. Then there were the collaborations with other small brands. Over several weeks, little parcels of anodised bourbon bike parts steadily arrived. It was turning into an obsession.
Wheels make or break the build
Chris King hubs are an investment. Their longevity means they'll likely become family heirlooms which will get passed down through generations of cyclists. Anyway, I wasn't going to sling them at just anyone with a truing stand and hope for the best.
The Sharp Gravel Wheelset we had on test impressed so much that Ben Sharp was first on my list to call. Ben's experience with hoops is well regarded, even Pro Tour riders knock on his door for personal wheel builds.
As with any wheel builder worth their salt, Ben didn't just take the hubs back to his workshop. I was interrogated. "What do you want them for? What is the bike? Where will you ride them? Have you put on much weight during lockdown?"
Custom wheels may take a little longer than factory sets, but they're worth waiting for. The end result astounded me. They're more than just a good set of wheels, they're an amazing set of wheels.
Ben had spent months testing various carbon rim designs and finally found a profile he was happy to put his name on. They're a whopping 26.5mm internal width, super light and strong enough to carry my sorry ass and some luggage. With Sapim CX-Ray spokes, this 650b wheelset weighs just 1419g. They save a bunch of rotational weight but still with great stiffness gains. To say I'm happy with Ben's work is an understatement.
I've experimented with tyre sizes but prefer the EXT on 2.1″, it's a real riot. Like a modern day interpretation of Johnny Tomac's drop bar MTB! It also makes the Hook EXT a lot more capable over the rough stuff than your usual gravel bike. Riding loaded can add a fair deal of weight and fatter tyres just makes things more stable and comfortable.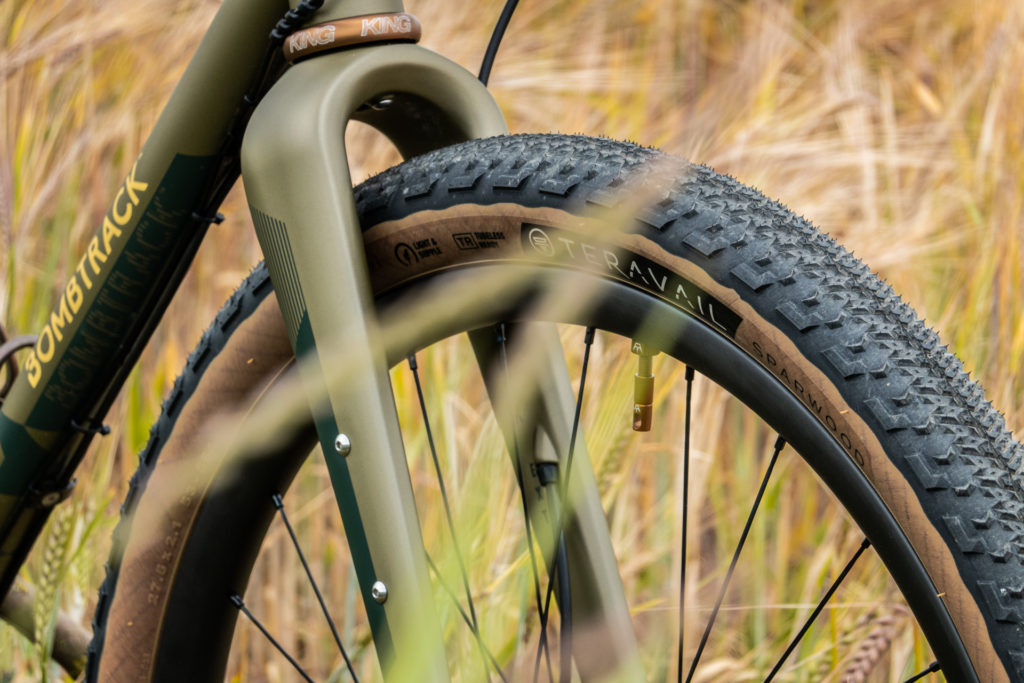 Stop and Go
My intentions for this build is for bikepacking and 'go anywhere' rides. So I opted to keep things simple with a single ring up front. SRAM has its haters, but I've honestly never had any problems and their 1x systems work faultlessly. The Force 1 on the Hook is well used, having served on various build projects before this. It keeps going and going, even with my total neglect and lack of maintenance.
Keen eyes may spot I've a 160mm disc on the fork and a 140mm rear. It's a vanity thing. I really hated the look of the rear brake with a 160mm adapter. Luckily, I still have enough stopping power!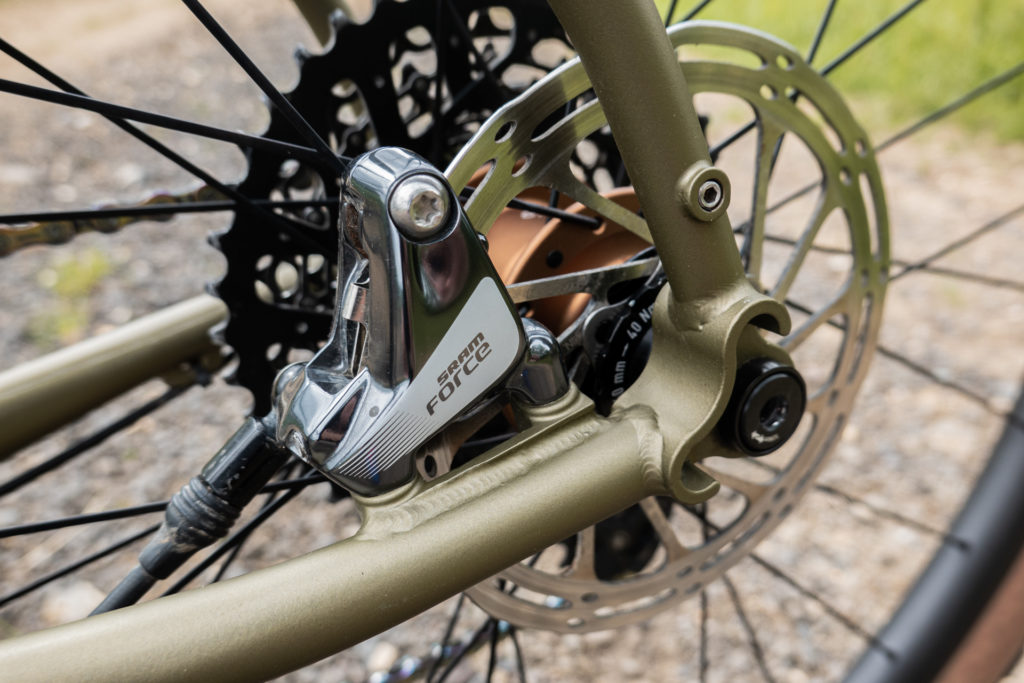 That guy, Ritchey
Steering and hill hauling duties are managed by a 44cm set of Ritchey VentureMax WCS Carbon bars. I really like the shape of the flares and the width gives great leverage in singletrack. The 'aero' flat tops limit the real estate available for mounts and accessories, but it's a great place to rest your palms on long straights.
I agonised over bar tape options for ages. Various hipster designs to match the colour scheme were considered before common sense prevailed. Comfort is way more important than looks. Lizard Skins DSP is personally the best wrap I have found for bars as it's grippy in all weathers and lasts well. My personal preference is for 2.5mm over the super chunky 3mm. That fat stuff irons out too much feedback from the trail. I'd ride on the road if I didn't like bumps!
Ritchey also takes lead on the stem, with a 90mm WCS C220. A 'careworn' Brooks Cambium C13 is anchored to Ritchey's WCS Carbon Link Flexlogic seatpost. It has just enough twang to take the sting out the tail. Normally it is wrapped in electrical tape to save it from total destruction by saddle packs.
Small things
The bourbon addiction continues with a limited edition Spurcycle bell. The amazing Shona from Keep Pedalling found this for me and it really is a cool little thing. The tone is just perfect – I usually just ride along ringing it for my own enjoyment…
Lockdown boredom makes you do weird things. I swapped out a load of the button head bolts on the frame for stainless grub screws. Zero function, they just make for a cleaner look overall.
Last but not least are the Silca Titanium cages in 'bourbon'. These are super light and beautifully made, but also a disappointment. The bourbon finish reacts badly with the world. Just touching them permanently changes their colour to a murky dark brown rather than a rich, golden bourbon.
Bombtrack Hook EXT Spec
Frame: Bombtrack Hook EXT size large
Headset: Chris King NoThreadSet in matte bourbon
Groupset: SRAM Force 1
Chain: Gussett GS-11 in 'oil-slick' finish
Wheels: Sharp Precision 650b Carbon 28h, CX Ray spokes and Chris King R45 in matte bourbon
Tyres: Teravail Sparwood 650b 2.1″
Handlebars: Ritchey VentureMax WCS Carbon 44cm w/ Lizard Skins DSP V2 2.5mm bar tape
Stem: Ritchey WCS 220 90mm
Seatpost: Ritchey WCS Carbon Link Flexlogic
Other cool bits: Silca Bourbon Ti cages, Spurcycle 'bourbon' bell, Peaty's x Chris King 'bourbon' tyre valves.
Steel, the real deal?
A lot of the bikes we test at ADVNTR.cc are of the carbon variety. They usually all tick the three main Cyclist Buzzwords: Fast, Light and Stiff. The ride of my Bombtrack Hook EXT makes such a refreshing change to these.
It's a bike that I can just spin away on for miles without feeling beat up. It's definitely fast when it wants to be, as proven by some random Strava KOMs I've picked up. The grip provided by those fat Teravail Sparwood 2.1″ tyres and the Hook's ability to soak up rough trails, delivers 'surprise speed' but most of the time, I'm just happy to roll.
Coronavirus has kicked all plans for bikepacking (and The Distance) in the head so far this year. So my loaded travels have been limited to single day tours on out and back trails. I'm itching to take it further afield and cannot wait to travel over to Wales and ride it in the Cambrian Mountains over a long weekend.
And without a doubt, it'll be the Bombtrack Hook EXT I'll ride with pride on the 22nd August for The (Socially) Distance(d).
Find out more about Bombtrack by visiting: www.bombtrack.com
Lyon Cycle are the UK distributor. Find your nearest dealer by clicking here.
Last modified: 3rd July 2020