Riders from around the globe pedalled out the miles on May 30th for Dirty Kanzelled. You can catch up on Katherine's adventures from the dusty trails of the West Country in Dirty Kanzelled: Bristol Edition. Further north, Phoebe Sneddon and her team mates from Magspeed Racing were plugging out the miles in the Peak District.
Fun is 'Kanzelled'
This summer was meant to be filled with adventures. The rides we had planned and the races we had entered were designed to fill our hearts with trepidation, our legs with lactate and our souls with the great outdoors. Then Covid arrived and with it, all fun was cancelled.
Priorities rapidly shifted and those of us working in healthcare like myself spent our spare time covering extra shifts and rewriting hospital policy. Others were furloughed, looking to fill their time with constructive activities.
As the future and our current landscape shifted, so did our focus. Our world became smaller and adventures, which are always needed, had to be found closer to home.
But then…
The Dirty Kanza had evolved into something different. Now we could all be included in a race that many of us wouldn't get the opportunity to ride. Flying out to America to ride a gravel bike even without a global pandemic is a luxury many of us cannot afford. The format was simple, design your own route – 100 or 200 miles, as much gravel/offroad as possible. Depart at 6am, 2 feed stops allowed, no competition just riding bikes for the love of riding bikes. The Dirty Kanzelled was born and with it, renewed enthusiasm.
Area of Natural Gravel
I'm lucky to live in the Peak District, an area full of superb gravel routes. Fellow Magspeeder Scot Easter was on furlough and spent his time frantically exploring and researching routes prior to the big day. Finally, he linked them all up to produce a tough but picturesque 100 mile route.
We managed to rope in another teammate – Diane Lee, a super talented ironman triathlete and cyclocross racer. Di's experience is perhaps the ideal combo for an off road endurance ride. The rough descents were no problem to a woman who won best newcomer at the Three Peaks CX a few years ago.
Our route was uploaded to Komoot and the bikes cleaned, prepped and double prepped. We wanted no mechanicals given the social distancing situation. The last thing any of us wanted to do was make that call for a four-wheeled rescue. Di and I both opted to use bumbags to fit in all the snacks we could eat.
Everything checked and doubled checked again. Then we settled down for a few pre ride G&Ts (medicinal to prevent any cramps) and set the alarm for 5am.
Rise and shine… who turned off the heat?
6am and a misty morning greeted us with a chill to the air. The heat we have been experiencing had lulled us into a false sense of security and the temperature was less than 10 degrees. We rolled out along the tops hoping for some cloud inversion as we spotted an orange dot in the distance. Di had made it. We warmed up along the road before hitting the first and probably most difficult descent; loose, rocky, off camber – I felt a little out of my depth.
Having spent lockdown honing my MTB skills, I felt out of place on a gravel bike. My Specialized Diverge has big bars with a bit of a sweep and the Futureshock took some of the sting out of the ride. I cautiously bobbled down the descent, but the Diverge is such a sweet riding thing, I had nothing to worry about. Scot's route wound through the hills of Derbyshire and over towards South Yorkshire. The route blissfully quiet so early in the morning.
Three hours in and we were ready for a break, perched on the shoreline of Ladybower reservoir, the sun just starting to burn through, feeling the warmth on our skin. Di announced she had been carrying three frozen Caprisun's in her bumbag to keep her tuna sandwiches cool. These provided the most wonderful refreshing cooling break and on we pushed.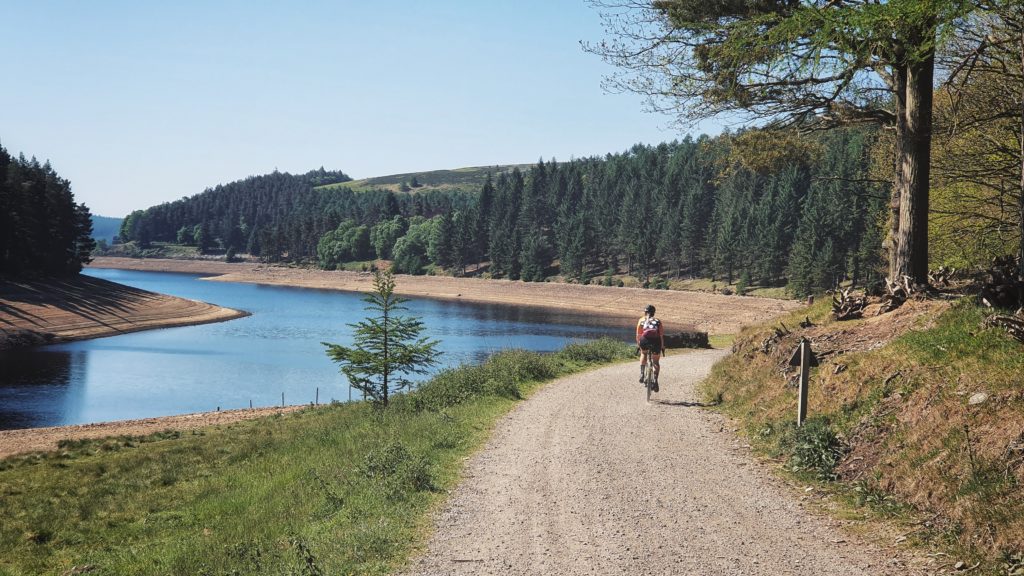 A friendship built on bikes
Over the years Diane Lee has got me out of a number of miserable situations on the bike. We spent the next couple of hours boring Scot to death regaling tales of how we first met; me laughing at Di's yellow crocs as she stood on the podium at the Monsal Hill Climb, her dragging me out of the road when I crashed hard in our first road race, feeding me chocolate buttons at the Tour of Malta when I crashed again, endless cold and muddy 'cross races, her helping me with Sabine's first ever bath.
The tales were endless, our friendship is a rich tapestry built around bikes. It felt so good after weeks of lockdown to spend the day rolling along the beautiful countryside thinking about nothing else but bikes. No virus, no hospital shifts, no politics. Just sunshine, fresh air and bikes. The miles flew by.
People Avoidance
The first third of the ride contained most of the rough tricky off road stuff, followed by a spin round Ladybower avoiding as many humans as possible. My very snazzy Chris King bell rang out as we whizzed round. We stopped to refuel at a petrol station we had tactically routed past. We weren't allowed to eat the food on the premises, so settled for a patch of grass across the road. As motorbikes razzed past, we refilled bottles, before promptly moving on as a BMW pulled over and small child got out to vomit everywhere – I suspect this was due to the combination of a BMW driver and travelling over the Snake Pass.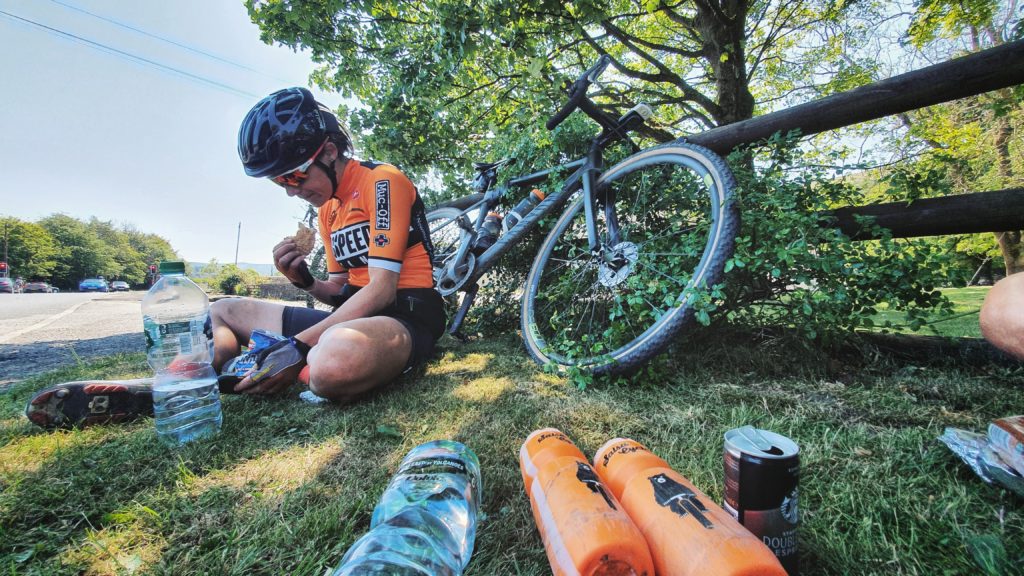 What goes up…
The next big hurdle of the route arrived, a long slog of a gravel climb, just as the heat of the day really kicked in. Luckily my Diverge has a huge spread of gears that can tame pretty much any hill. All I had to do was keep on spinning and enjoy the view.
The climbing stopped and rapidly pointed down again. What followed were a couple of bone shaking descents before we were back up to speed on the Monsal and High Peak trails. These disused railway lines now provide wonderful family cycle trails cutting through the Peak District. It was here we had our second refuel stop. My parents very kindly rode out with my mum's ebike laden with picnic goodies to deliver some socially distanced snacks and fresh water.
Fuelled like a pro
Full to the brim with sausage rolls and some very fancy jam filled iced buns, we were ready to tackle the final 30 miles. This was the easiest bit as the trails are fast and fairly flat. By this stage my legs were starting to burn and my shoulders were aching. Every direction we had travelled in seemed to be a headwind but at least it kept us cool in the heat.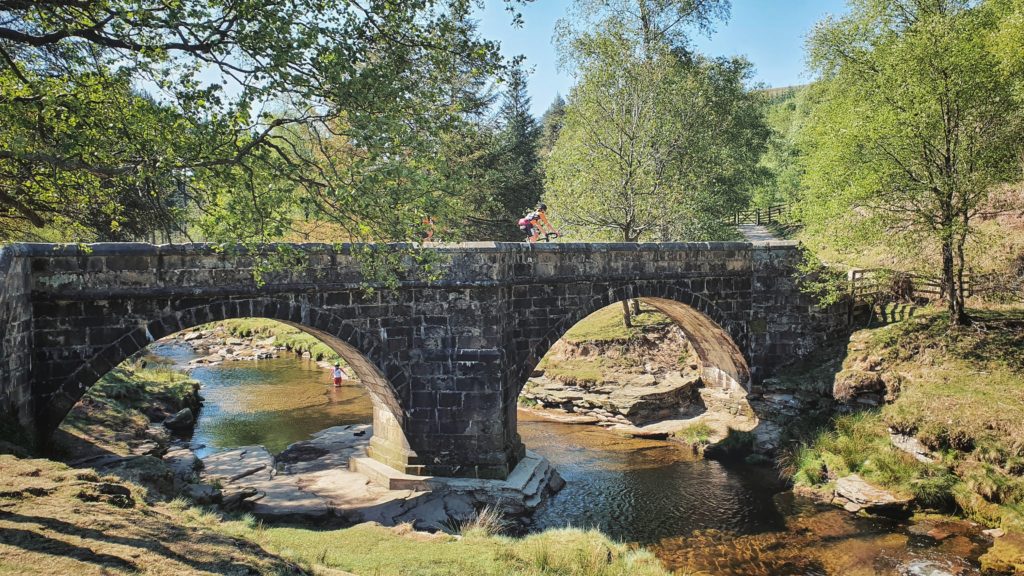 Miles fly when you're having fun
Descending down the final hill before home, we waved good bye to Di who had one more big climb up to her house; the infamous Bank Road has been the location of many a national hill climb race. I didn't envy her! Arriving home dusty and exhausted to cold cokes on the patio we reflected. The Dirty Kanzelled made for a really good day out. The weather, the company, and the nature of our route meant at no point did it feel like 100 miles.
Ride over and time to reflect, I realised how apprehensive I was before we set off. The usual nerves and worries lurking in my thoughts. Will I survive? Can I get round? Will I be too slow? Deep down I had no doubt I would be fine. I had done harder, this was on home turf and with all that has happened in the last 12 months, I am a hell of a lot tougher.
I couldn't have asked for a better day or better friends to share it with.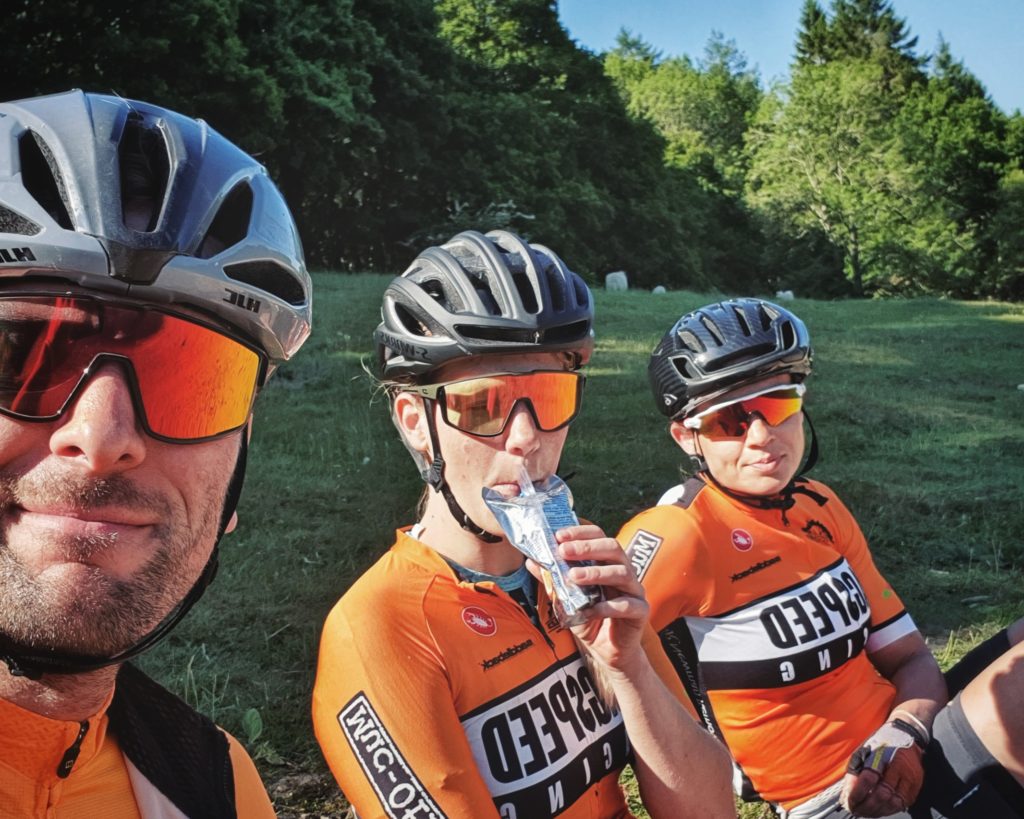 Find the route on Komoot
Last modified: 4th June 2020