In part 1 of our new mini-series by serial bikepacker, Scott Cornish, we investigate the confusing world of bike luggage and the basics required to get you out bikepacking!

Bags come in all shapes and sizes
It is probably fair to say that bags come in so many shapes and sizes, that you could comfortably cover your bike in them. Forget about handling and practicality, just revel in the load carrying capacity!
On the other hand, a more rational and practical approach will save you untold grief.
The bags you carry will ultimately be determined by the gear you need, or want, to take. Suffice to say, you should be prepared for a ruthless process of elimination if you are going to get it right.
Seatpost and handlebars – the basic bag combo.
This combo gives you the optimum carrying capacity with the least impact on your bike. As such, these are the first two bags to have on your wish list.
Beware! All bags are not created equal!
Hint: Use electrical tape on your frame where straps rub. It's  a cheap and effective way to protect your bike's paintwork from inevitable scuffs!
As the number of firms making bike luggage expands, so do the options. It is a linear progression. The one more or less generic feature is where, but not how, they attach to the bike. Expect to see straps, more straps and even more straps, all of which fit to the bike in roughly the same place.
The main variable is the material they are made from. Heavier fabric is more durable. Some material is more water resistant than others and then they all come in different sizes.
Choices, choices, choices…
Probably the main decision is whether to have a totally self contained system (where the bag and fixing straps are integrated) or one where the bags are independent of a 'harness', which remains fixed to the bike at all times.
One obvious advantage of the 'harness' option is that if damaged, it can be replaced without your having to buy a new bag. If the fittings on an integrated system are damaged, it could become expensive!
Some bags have external fittings and/or fixtures, such as webbing, for carrying additional small bags, or clothing. I have even seen an attachment for an SLR camera.
Both systems have practical advantages and disadvantages. Ultimately, it is all down to personal preference. If you have friends with different systems, see if you can borrow them, then make up your own mind.
I can't stand the rain…
Do not assume that all bags are waterproof! Read the product description carefully and, if renting bags, make sure you ask about water resistance first.
Hint: Make sure that you do 3 full folds of any dry bag to maintain water tightness, especially under heavy rain.
Some single unit bags are only water resistant (the material itself might only be water resistant, or maybe the material is waterproof, but the seams aren't taped). If this is the case, to keep your gear absolutely dry, you'll need a separate 'dry bag'.
Separate dry bags do what they say on the tin but make the set up a little heavier. As they sit inside the main bag itself, they will be less prone to damage. After a long, wet day on the bike, dry, warm kit is bliss. Wet kit is best avoided! You need to decide if being warm and dry is preferable to a lighter load.
Check, check and check again
Whichever system you choose, check your bags regularly for tiny holes or tears, especially if you select lighter weight materials. Be assured, water WILL find its way in if there's even the tiniest of holes.
Hold the bag up to the light or shine a light onto the bag and look inside for any tiny light spots. A sleeping mat repair kit works well for trail side fixes or the indispensable duct tape for a temporary repair (which you'll be carrying of course?!).
It's all about size!
Bags vary in size across brands from 5L to a whopping 16.5L for saddlebags and around 10L to 15L for handlebar bags. You might consider going even larger for winter adventures.
Capacity is listed as the maximum, and all bags can be rolled down when not completely full. The handlebar and seat bags are the principal ones to get and combined with a couple of additional smaller bags (options below), this is usually ample if gear if packed well and depending on how many of you are riding, where kit can be shared. Ortlieb offer the largest capacity bags, although you'll have to use the handlebar bag on a flat bar to take full advantage of its size.
One thing, don't go mad on bag size. On spring to autumn rides, 10-13L is a manageable, average size for a seat bag and 13L for the handlebar bag. Add a small frame bag and or top tube bag (or both) for food and/or cooking kit portage. This spreads the weight out across the bike, keeping handling stable and seatbag sway to a minimum.
Hint: Don't forget, if you are riding in a group, kit (and therefore the load) can be shared.
Most handlebar systems are designed to allow an additional small bag, of around 2-4L. These detach easily, ideal when leaving the bike to go into stores etc. They are also super handy for those small and/or valuable items, such as money, passport, spork and items you may want readily to hand such as arm/knee warmers, hat and waterproof gloves.
How many bags do you need? B+1
As we will see, there are enough bags to fill every space on a bike. The trick however, is not to see how much you can carry but how little. Experience will help you find the best balance between gear, weight distribution and handling. You should also take into account the availability of resources en route such as water and food. As time progresses, you will learn just how little you need.
Racing is another kettle of fish. Weight will take preference over comfort. Multi day races can be completed with a single set of shorts, a spare jersey, a base layer and plenty of chamois cream!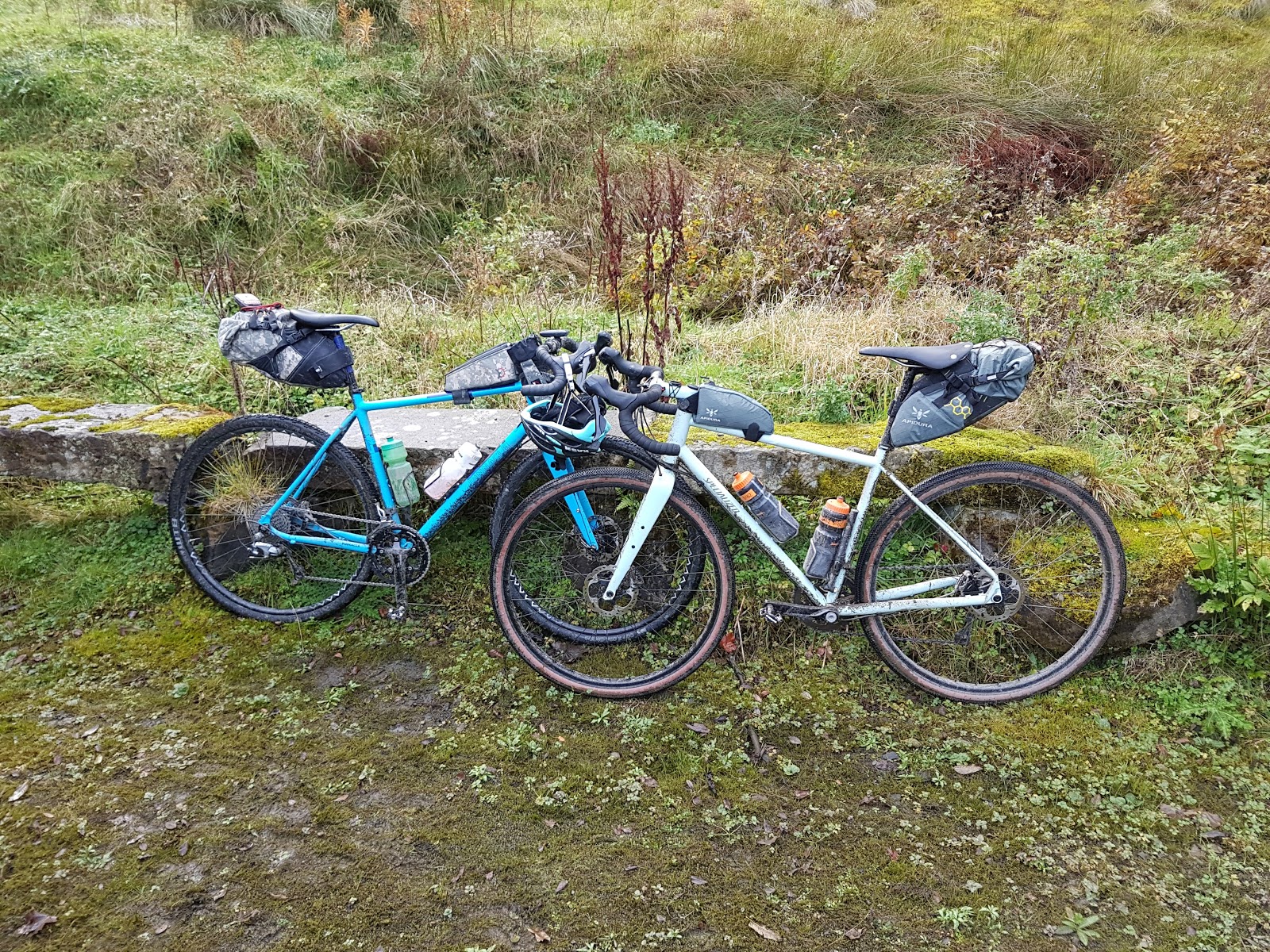 The Fuel Tank
The fuel tank is a semi permanent attachment to many gravel bikes. Sitting on the top tube, tucked behind the stem, it is ideal for phones, battery packs or in my case, food.
Fuel tanks come in a variety of sizes. The larger the bag, the greater the potential for it to sway while riding, or to rub against your knees. Look for one with some lateral stiffness and solid fittings, The Topeak Fuel Tank is a good example.
Rear Top Tube
If the junction between your seat post and top tube is more or less 90 degrees, you can fit a little, triangular bag.
Look for one that is compact enough not to hit your legs. With space at a premium, this is best used for bike spares – tubes, links, mini tool and "bottom care" products!
Frame Bags
A frame bag will partially, or completely, fill the main triangle. Neutral, from a handling perspective, this is a great way to increase your load carrying potential without ruining the ride. If you buy an off the shelf product, be prepared – some adjustment may be required!
Custom options are available from companies such as Wildcat Gear
Fork Bags
Some bikes come with mounts for bottle cages or larger "anything" cages. As with all bags, it is up to you what you put in them. Clothes, food, anything. The world (or rather the bag) is your oyster!
Conclusion
As you will have gathered, there is a bag for every whim. The trick is to keep the luggage down to a minimum. Make sure you don't compromise the handling of your bike. Finally, it goes without saying that the more you pack onto your bike, the fitter you will have to be.
Last modified: 23rd November 2017