Andrew Cullen resides in Edinburgh and most weekends, hops on the train with his friends to get in some bikepacking trips. His latest weekend adventure took him and his pals out to the Cairngorms for a two day trip.
A plan is formed
Riding in Scotland in early March is always a hit-and-miss gamble with the weather. We hoped that by now, most of the snow would have cleared from the Highlands, making it a suitable time to revisit the Cairngorms. Camping would still be a bit too cold so our thoughts turned to bothy stops rather than bivi spots. The main challenge is finding ones that could be linked up with decent riding trails and doubletrack.
The chat went back and forth until our Route Maestro, Scott, laid out the route for a two day trip that would take us up and over to Glas Allt Shiel. Nothing too far distance wise, but some good riding and scenery to take in on the way. With a bigger ride on day one and a shorter return route for a nice ride back the next morning.
Day one. A gentle push
Our ride commenced with a quick road section heading out of Braemar. A smooth tolling road with a tailwind behind us made for an easy first 5km. We then hit some great double track that climbs up out of the Braemar Valley. The lower part of the double track was dry and the going was easy. With little effort required, banter was on form and the riding relaxed. There was very little snow, which meant the ride should be a good one. Emotions were high.
Our optimism was short lived as we broke out of the woodland and out onto the open hills above. At 400m we hit snow, the going slowed and we were reduced to pushing! Ross and I had ridden this part of the route a year or so back in around 26°c and brilliant sunshine. Today was the polar opposite. And it was proper Baltic to boot. The wind had stirred up deep snowdrifts, making for tough work pushing a loaded bike. We trudged on for an hour and with the crest just in sight, thoughts turned to gaining at least enough momentum to ride down the other side!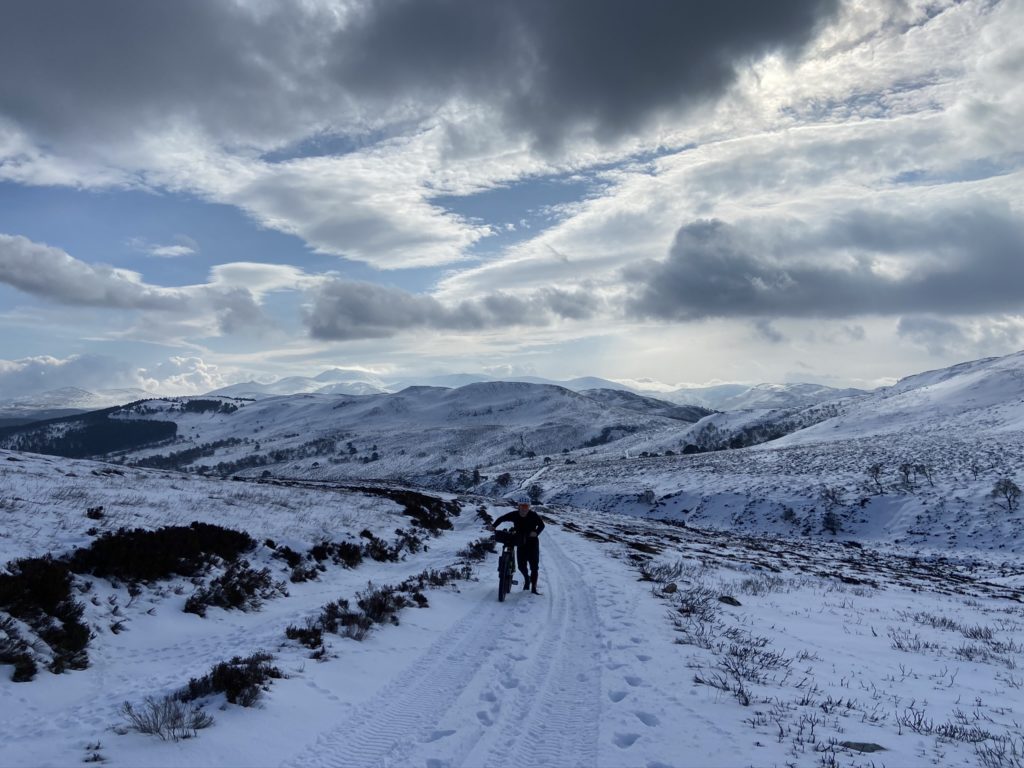 Dual Slalom
The next part of the route has a fantastic section of fast doubletrack descent. At least that's the case when not covered in snow. Our efforts to ride the descent in the snow were wasted. It was just too deep for any chance of riding more than a couple of feet before falling off. So again, we resigned to pushing our bikes down the hill. At least we had some great views to take in.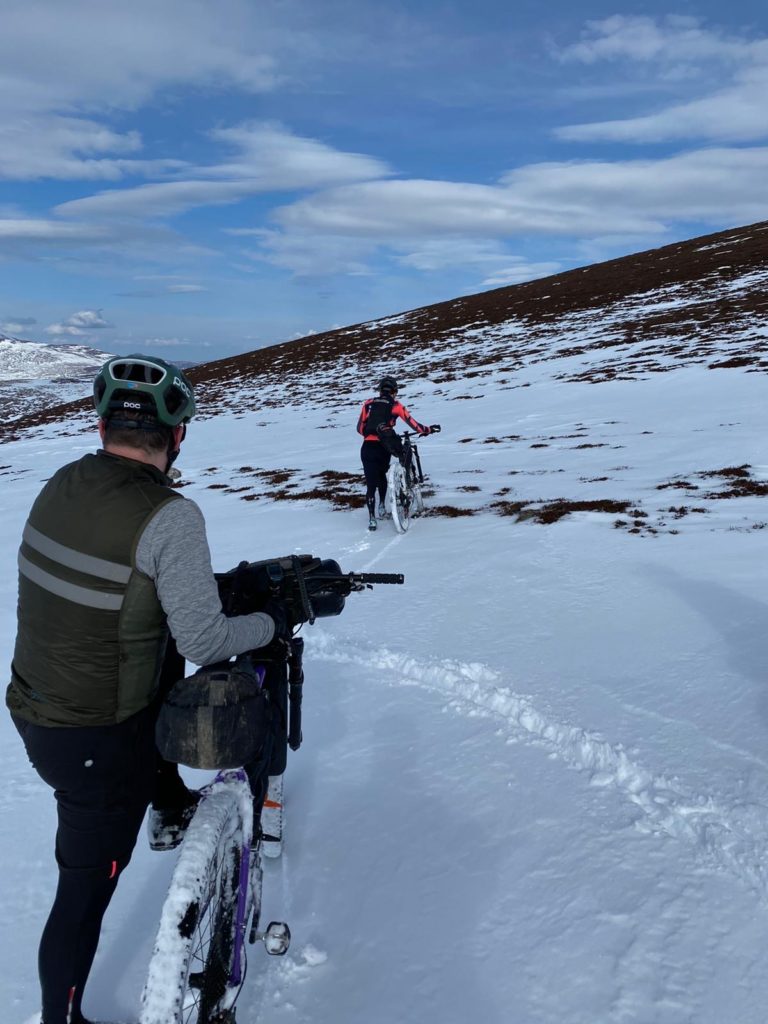 Always make time for lunch
Finally after another hour of hike-a-bike, the snow cleared enough for some actual bike riding! Not a lot mind, but almost enough to make it feel worth our efforts. If you choose to ride this route late spring to early autumn, conditions will be more favourable and you'll be able to make it to Ballater for lunch. There's plenty of cafes open and even a Co-Op so you can stock up on supplies. Unfortunately for us, our slow going through the snow meant that we only had time for a spot of trail side snacking.
After lunch, we got riding again. The trails now completely clear of snow, revealing fast rolling tracks and a clear view of the descent so our progress could be rapid. Not that we had anywhere to be in any hurry, but the pleasure to be riding again was enough excuse to take the speed up a notch.
Our progress was so rapid on the snow free trails that we actually made it to Ballater for some much needed snacks. We also called in with the guys at Cycle Highlands for chain lube. The snow having done an incredible effort at degreasing our drivetrains. Richard the owner is also a local expert on the trails so if you need any tips on routes, he's the man to talk to.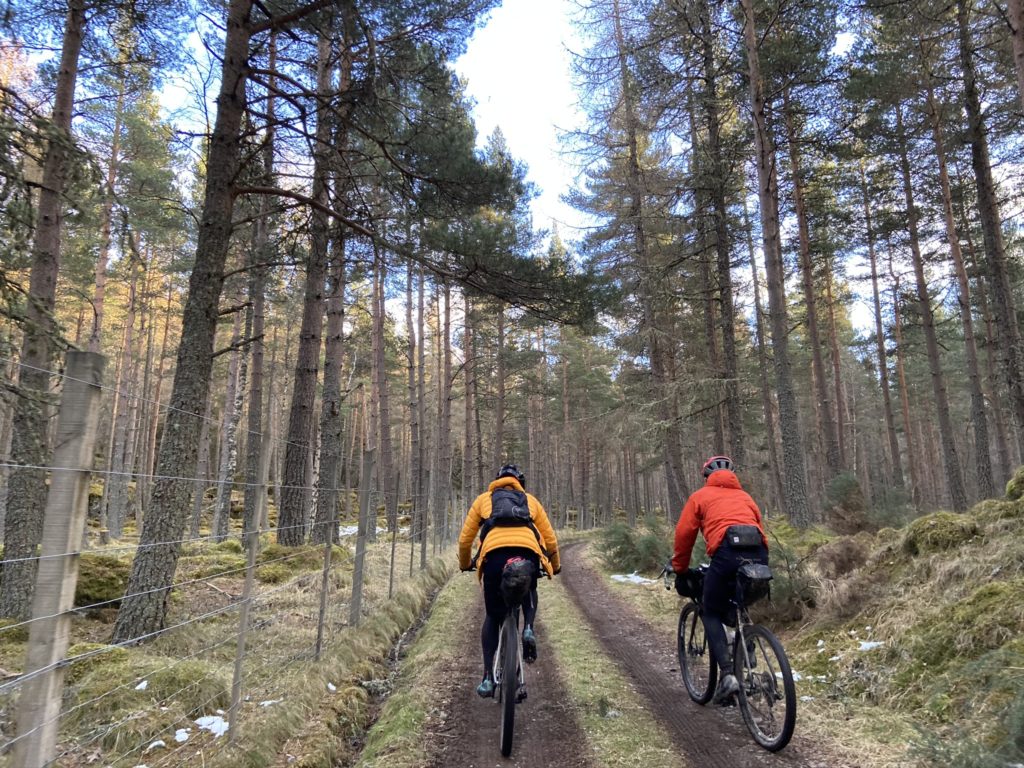 The value of local knowledge
Due to our earlier delays, we had decided to stick to the road for the next section of the route to make up some time to the bothy. But Richard from Cycle Highlands pointed out a gravel track that would take us the whole way to the bothy. Gravel over road anytime! After a coffee and some much needed chips we headed off down the road with another 20km until we reached our stop for the night. With daylight running out fast, it was high time we got our pedal on.
At this stage we were all feeling the cold and tiredness had well and truly set in after all the pushing. The next part of the route took in more double track through the valley all the way to Loch Muick. This 3.2km long freshwater loch lays at the head of Glen Muick, on the boundary of the Balmoral estate. With the sunlight slowly fading, it made for some majestic views as we slowly pedaled along through the valley.
A Royal Bothy
We all powered down the last 20km not just to cover ground quicker, but to try and stay warm! With barely a few minutes of light left, we entered a forested area and then all of a sudden, the imposing shadow of Glas Allt Shiel appeared. What a sight. Built in 1868 for Queen Victoria, the lodge was described as her "widow's house". And was where she could escape the world after the death of her husband, Prince Albert. Unfortunately this grand house isn't the bothy, but the outbuilding in which it is situated is still one of the more grander bothies you'll find. It even boasts a candelabra.
You never know who you are going to meet when staying at a bothy. It's one of the great things about having this vast network of places to stay. Sometimes however, it is nice to have one to yourself especially if you've had a tough day in the hills. Tonight we were in luck, the place was empty. There was no time to kick back and enjoy the peace and quiet though. It was proper freezing inside and the first task was to get the fire going, pronto.
Ross set back into the cold, dark, night to gather firewood and we all did our bit to get the fire going. Temperature slowly rising, we unpacked our food and beverages for the night. Riding with bike packing gear, you are always limited on how much luxury you can carry with you on an adventure. But I managed to squeeze a beer in my seat pack and Ross as always, had his hip flask filled to the brim. We settled down in front of the fire, relaxed and bellies full, it wasn't long until we moved to the warmth of our sleeping bags. Within a few minutes, we were all out for the count.
Day 2
We wake up early, the bothy cold and not quite as hospitable now the fire isn't roaring away. As a result, it's a reluctant struggle to emerge from our sleeping bags. Eventually we're all up and ready, coffee on the boil and porridge bubbling away, I pear out of the window. Hmm… not looking quite as promising as yesterday I think to myself.
We pack up and leave the bothy as tidy as we found it before stepping out the door. Heading away from Glas-allt-Shiel, our route climbed up into yet more snow, and yet more unrideable track. Thankfully this didn't last long before we had some clear riding again. taking in the views and motivated by the thought of breakfast rolls back in Bramear all spurred us on.
The next part of the road took us through the Balmoral Estate, which isn't always open to visitors. It's usually pot luck whether you've an open pass or not. Today however, we were in luck and able to pass through. There's some incredible views as you pass through the estate, so it is well worth the effort.
After our tour of Balmoral, we were on the home straight. It wasn't long until our gravel trail gave way for tarmac and we found ourselves back on the short road section into Braemar for second breakfast. For a decent bite to eat, call into the Bothy Braemar. This little cafe is open most of the year is well worth a post ride visit!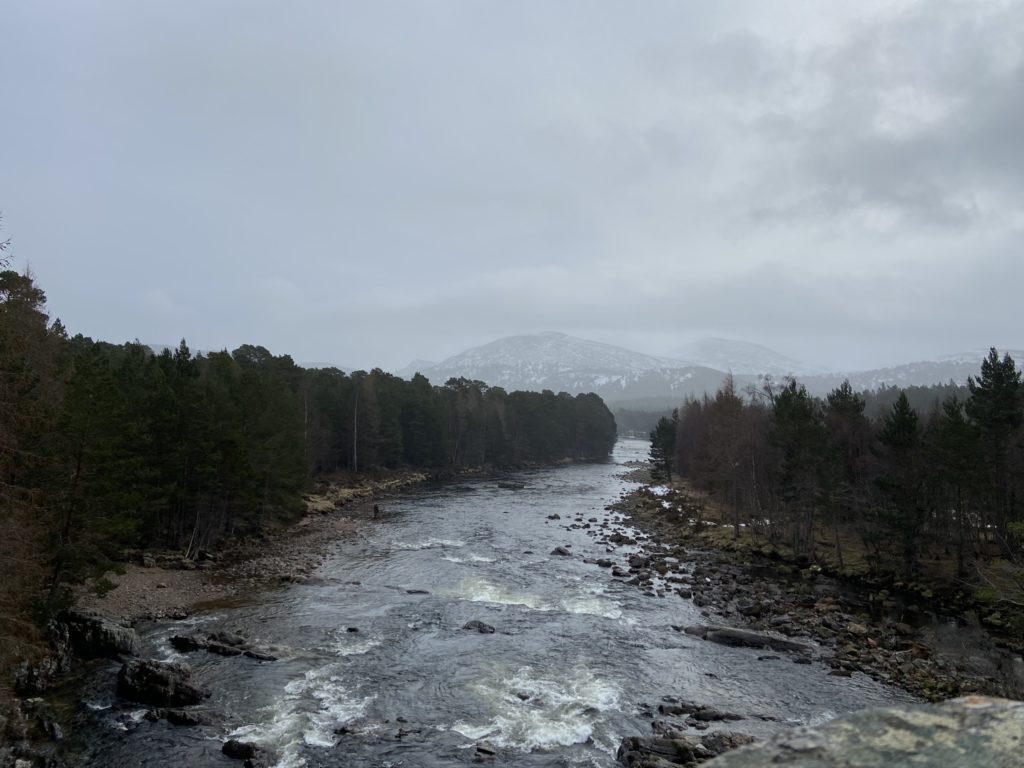 Tips for our Cairngorms Ride
This ride is perfect for either gravel or hardtail mountain bikes. The gearing of a mountain bike and suspension would provide some welcome relief on some of the chunkier 'gravel sections'. Our group were on a mixture of gravel and MTB and both worked well. Lets just say, you'll never always be on the right bike all the time!
The route can be broken down into 60km on the first day and 30km on the second. There are resupply options on route, so carrying a lot of food isn't necessary.
The purpose of this route was to feature a bothy for the overnight stay. A very welcome sight in the depths of winter or early spring. In summer, this route would be fine a tent or bivy with more than enough options along the way for a pleasant pitch. Just remember that up here, the summer months are midgie months!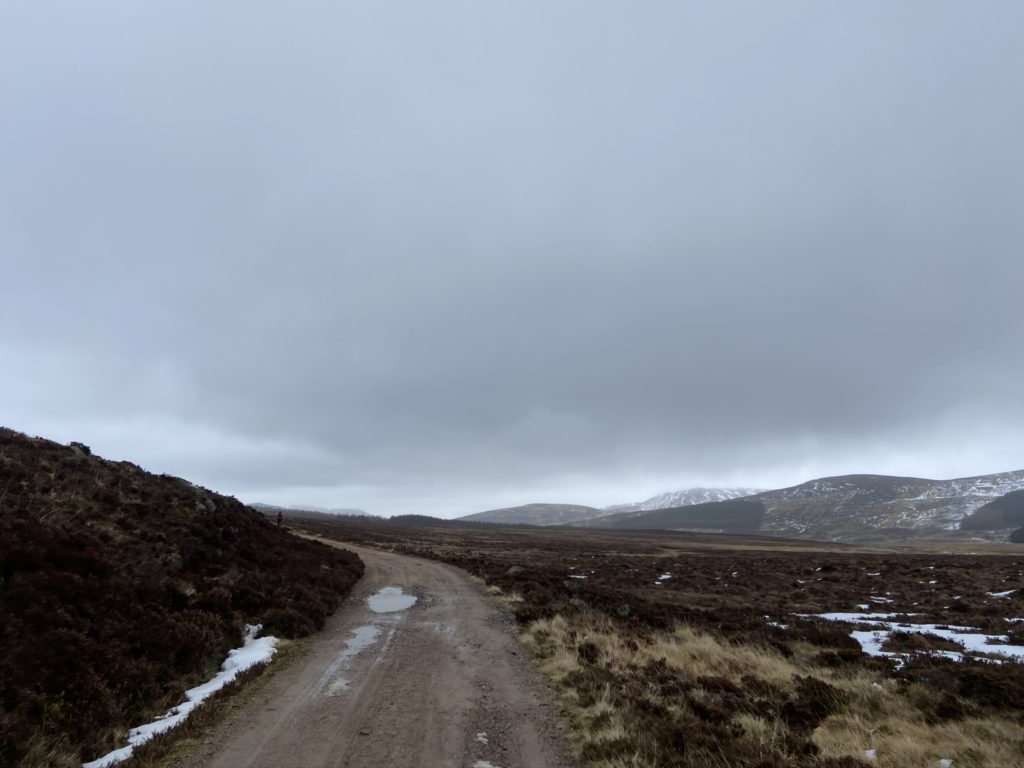 Our ride on Komoot
Last modified: 16th February 2021